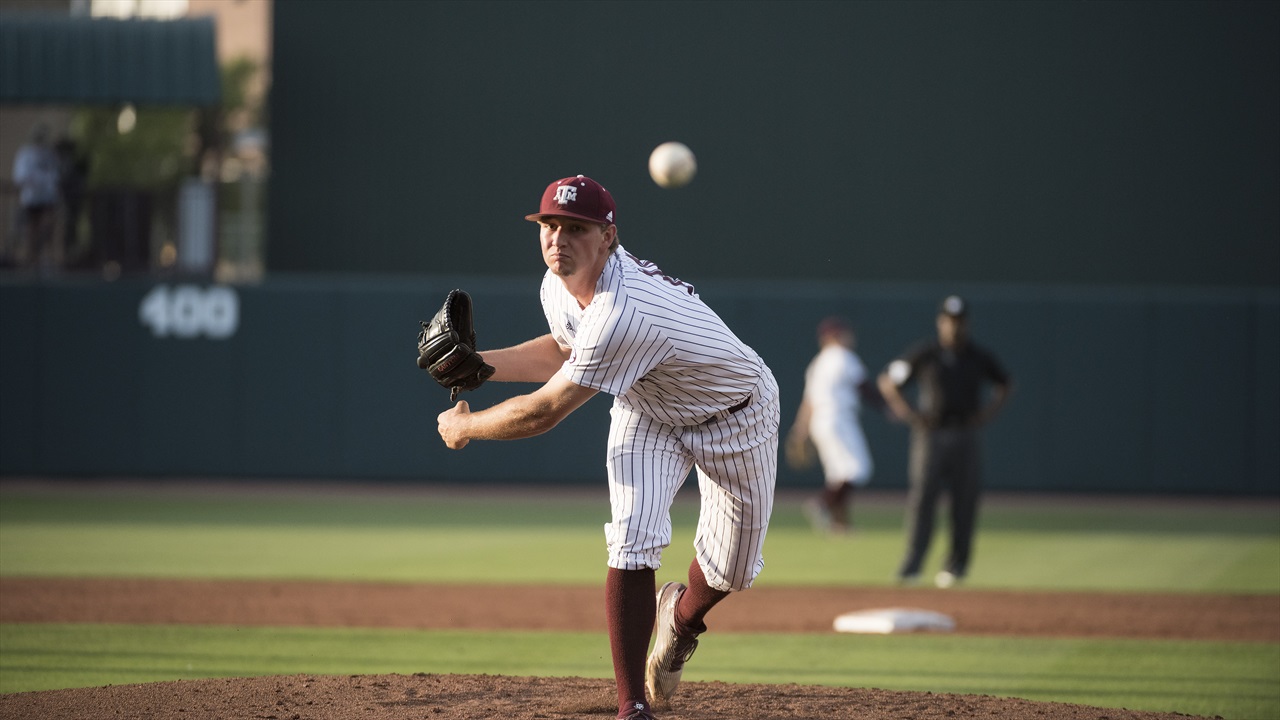 Photo by Brian Okosun
Texas A&M Baseball
Improved Aggie ace John Doxakis building on last year's strong finish
---
Since the time John Doxakis stepped on campus at Texas A&M, he has been oozing with talent. Head coach Rob Childress has called him "as talented a left-handed pitcher" as he's ever coached. Even when Doxakis struggled as a freshman in 2017, Childress continued to give him opportunities, knowing that eventually everything would click for him.
Sure enough, it all came together for Doxakis toward the end of his sophomore season. After beginning the year in the bullpen, Doxakis quickly worked his way into the weekend rotation and was the Aggies' best pitcher in the final month of the season. He was outstanding against Arkansas and South Carolina, then took it up a notch in the postseason against Auburn and Indiana, two starts in which he went 2-0 and combined to strike out 22. He allowed only three hits in those two starts and walked two.
"I think it was just being able to create a feel for multiple pitches and knowing where to throw them," says Doxakis, a junior from Houston Lamar. "Just figuring out which sequence works best for me is what happened last year, so I've just taken that and ran with it."
Over the summer, Doxakis was selected to play for the Team USA College National Team, where he played alongside some of the best college baseball players in the country. He received coaching from LSU's Paul Mainieri and Virginia's Brian O'Connor, which Doxakis says added to the experience.
"It's always nice playing around good players like that," he says. "You learn from them, and there's another set of coaches to learn from. You take little bits and pieces from them and try to mold yourself and find new ways to approach things."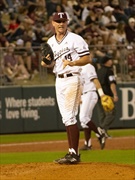 Tarah Cochran, TexAgs
What we are now left with is a new version of Doxakis that could be even better than he was when he outdueled the No. 1 pick in last year's draft, Casey Mize, in the SEC Tournament. And even better than he was when he won the Aggies' lone game in the Austin Regional, a six-inning masterpiece against Indiana.
That improvement was on full display last Friday when he blanked Fordham on opening night, striking out 12 and walking none in seven innings. The only hit he allowed was an infield squibber that second baseman Bryce Blaum nearly fielded up the middle. Doxakis needed only 85 pitches to breeze through his seven innings, a feat that might have been impossible for him last year.
"I feel like I've gotten better command-wise," says Doxakis, the reigning SEC Pitcher of the Week. "Friday I was able to bounce the slider in the middle of the plate instead of inside. Last year I hit a bunch of people with the slider, and this year we're hoping that doesn't happen.
"I used to walk 2-to-4 people per outing last year, and I hated it. It always drove the pitch count up, so you just learn to trust your stuff, throw it down the middle, and let it run, cut, or whatever it wants to do."
Moreover, Doxakis has also learned to trust his teammates and developed into one of the Aggies' leaders. He knows he doesn't have to strike every hitter out because he has a defense behind him that has played four errorless games in a row. Even though Doxakis is one of the superstars of the team and likely a high draft pick in next year's draft, he is always willing to give advice to a teammate, trying to help them out with a certain pitch or technique.
"Coach Childress always harps on scholarship or not, it doesn't matter, he's going to play the best nine," says sophomore outfielder Zach DeLoach. "When you have a sense of entitlement as an individual, that's where it's going to divide the team and not make us successful. I think Dox does a great job of being a leader and not really focusing on himself but focusing on others.
"With that being said, I feel like he's going to be a great pro player as well because he knows he has to trust his defense and the players he's with. Without trust in your pitcher, you're not going to want to back him up and go 110 percent for him."
Doxakis relied solely on his fastball and slider last season but is feeling more comfortable with his changeup in 2019. That weapon could make him even more unhittable, regardless if he's facing right-handed or left-handed hitters.
"With our bullpen, you don't really think about how deep you're going to go that day. You just try to get as much out of your body as you can to set the team up for a win."
"As a right-handed hitter, a left-handed pitcher with a fastball and a slider didn't make me super uncomfortable," said former A&M third baseman Boomer White. "But if I had to worry about something slowing down and going away from me – like a low and away changeup − then you had me off-balance."
The improved command should pay dividends in many areas for Doxakis, especially being economical with his pitches and pitching deep into games. While he doesn't necessarily need to do that with the Aggies' dominant bullpen ready to relieve him, Doxakis should pitch late into games on most Friday nights throughout the season.
"With our bullpen, you don't really think about how deep you're going to go that day," Doxakis says. "You just try to get as much out of your body as you can to set the team up for a win. It makes it a lot easier to pitch with the bullpen we have, to just pitch with a free mind and not worry about much."
Doxakis with a free mind usually spells trouble for the opposing lineup, and he will try to build on last weekend's excellence when he takes the ball this Friday against University of Illinois-Chicago. First pitch is scheduled for 6:30 p.m. and can be seen on SEC Network +.
Never miss the latest news from TexAgs!
Join our free email list