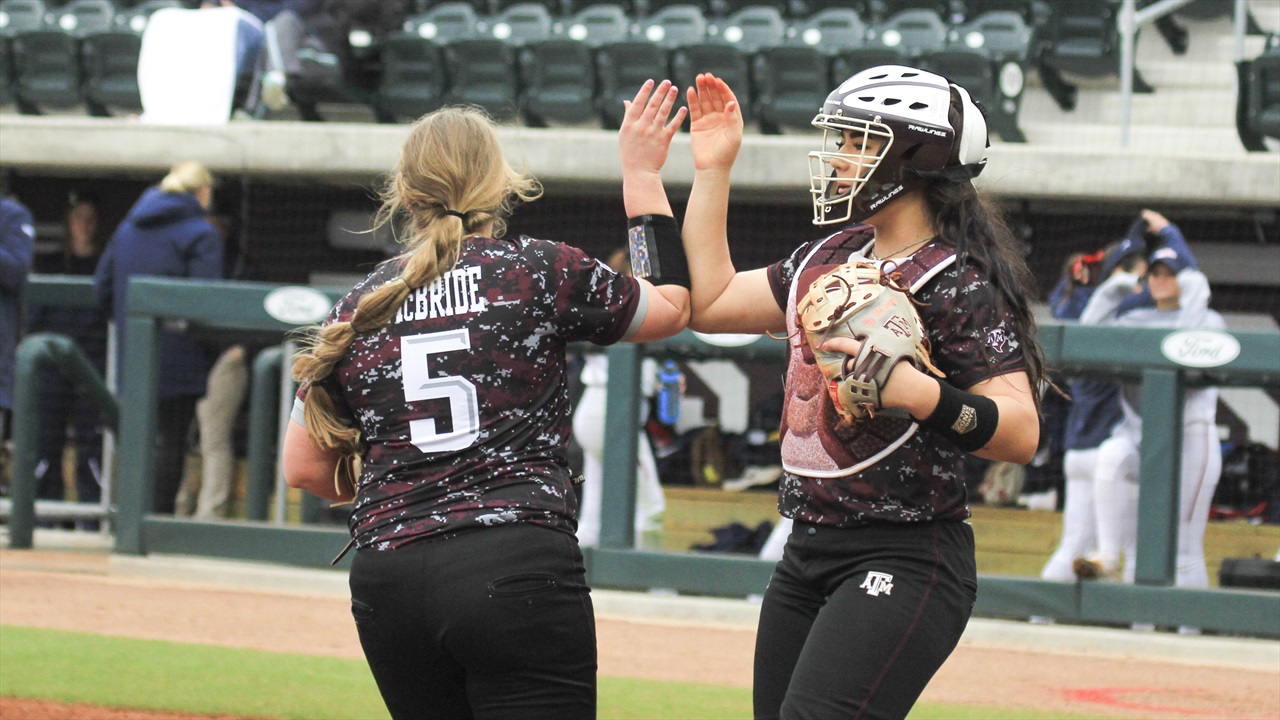 Photo by Angelina Alcantar, TexAgs
Texas A&M Softball
Texas A&M defeats Liberty 1-0 in game one of Saturday's double-header
---
No. 22 ranked Texas A&M softball notched their seventh win of the season after defeating Liberty 1-0 in seven innings. It wasn't pretty, but the Aggies found a way to win.
Texas A&M was looking for revenge after suffering their second loss of the season to Liberty less than 24 hours ago. The Aggies allowed 4 runs and 10 hits in the previous matchup, while also struggling at the plate, only accounting for 2 runs and 3 hits themselves.
Texas A&M was able to flip the script in this game. The Ags got more production from their bats and enjoyed a solid pitching performance from Junior Payton McBride. McBride also had a great day offensively. She went 3 for 3, including a double that was a just shy of clearing the fence.
Liberty's Amber Bishop was the only Liberty player who seemed to be giving McBride trouble. She went 3 for 3 at the plate, accounting for 3 of Liberty's 5 hits.
The game in its entirety was a bit of a chess match. However, things started to heat up in the top of the sixth inning.
After catching a rocket line drive hit directly to her to end the top of the inning, Senior Riley Sartain hit a ball just over the head of Liberty's right fielder for a big double and her second hit of the game. Texas A&M coach Jo Evans then opted for more speed and decided to have Freshman Taudrea Sinnie pinch run for Sartain.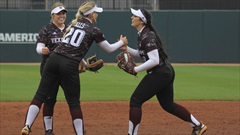 Angelina Alcantar, TexAgs
Evans' strategy proved successful. After a sacrifice bunt from Baylee Klinger that advanced the runner to third, Freshman Cather Haley Lee hit a sacrifice fly ball to deep left field that allowed Sinnie to tag up and score the only run of the game for either team.
After A&M gained some much-needed momentum, Sophomore shortstop Ashlynn Walls made a pair of highlight plays for the first two outs of the seventh inning before McBride ended the game with a strikeout.
Although it was not as high scoring and flashy as some of their wins last weekend, Texas A&M still managed to add another tally to the win column. The Aggies played perfect situational softball in the sixth and seventh innings, and that proved to be the difference in a close game.
Never miss the latest news from TexAgs!
Join our free email list