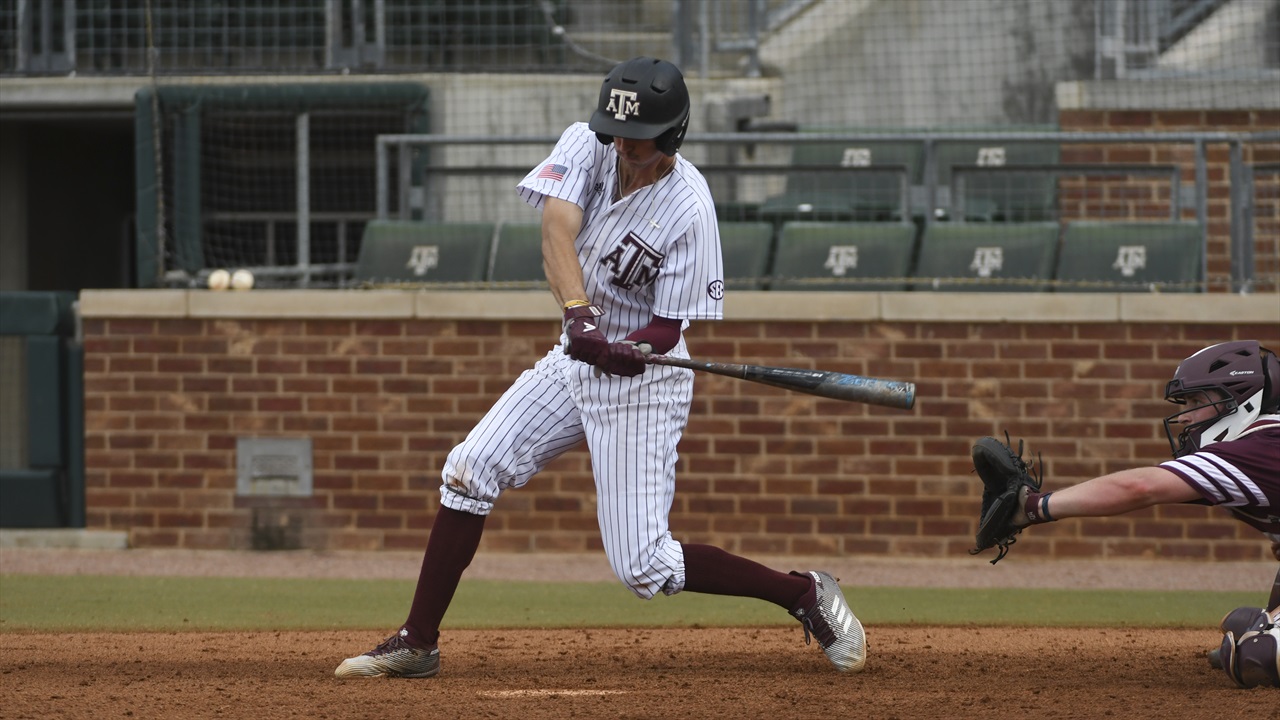 Aggie Lead Off
John Doxakis
Texas A&M Baseball
6 Days 'til Aggie Baseball: Saturday scrimmage observations
---
Every day leading up to the start of the 2019 Aggie Baseball season, the TexAgs baseball coverage team will post a story diving into various storylines surrounding the A&M squad. Be on the lookout for daily articles from Gabe Bock, David Sandhop, Ryan Brauninger and Heath Clary between now and Opening Day, February 15th against Fordham. You can keep up with the full series here: 2019 Aggie Baseball Preview Series.
---
I went out to the Saturday scrimmage as part of Aggie Lead-off. Here are a few postgame thoughts.
1. B-Team more than held its own vs. projected starters
For the most part, it was a great day on the mound for Team Maroon, as a trio of young bullpen-types held the starting lineup scoreless through the first five innings. The A-Team, wearing all-white, finally got off the mat in the sixth inning with a pair of runs on three hits and added three more runs against freshman right-hander Landry Wideman to steal a 5-4 win on a bitterly cold and windy day at Olsen Field at Blue Bell Park.
Sophomore right-hander Christian Roa drew the start for Team Maroon and tossed three no-hit frames against the first team starters. Freshman righty Brandon Birdsell looked good in a 1.1-inning relief stint, allowing no runs on two hits. Freshman RHP Justin Ruble also looked good in relief for Team Maroon, allowing a single and a walk in one-plus innings of work before getting pulled in the sixth. Both runners on base when he was removed from the game ended up scoring off of Wideman, but you could see that Ruble has good stuff out there for a young and developmental arm under coach Rob Childress.
Offensively, fifth-year senior and HBU transfer Jonathan Ducoff got Team Maroon off and running with an absolute rocket way beyond the wall in left field in the first. He deposited a Jonathan Childress fastball off a pillar in front of the Rec Center for a solo shot as part of a 1-for-2 afternoon, putting the maroon squad up 1-0 early. It was cool to see a cancer survivor hit a big shot on Vs. Cancer Day.
Ty Coleman plated a run in the third with an RBI double down the third base line as part of a 1-for-3 day from the leadoff spot. The maroon squad scored two more runs in the seventh and final frame on no hits, two walks and a throwing error by third baseman Allonte Wingate.
For Team White, none of the starters and projected first team bats had a multi-hit game and there was only one extra-base hit – a seventh-inning double to left center off the bat of Cam Blake. There were several hard-hit balls for singles by Bryce Blaum, Mikey Hoehner and Will Frizzell.
The A-Team offense did next to nothing before waking up in the final two frames and did most of its damage against Wideman, who had a world of trouble locating the strike zone. The white squad scored two runs on three hits in the sixth, thanks to a sacrifice fly off the bat of Braden Shewmake and an RBI single by Frizzell. Childress left Wideman out there for the seventh inning, and the white team went back to work against him, plating three runs on one hit. The freshman walked a man in the sixth and walked three more in the seventh, adding a hit batsman to his line. After a Blaum sacrifice fly to deep left field pulled Team White to within a run 4-3, Wideman plunked Shewmake with the bases loaded tie the game at 4-4. Hoehner ended the game one batter later with an RBI sacrifice fly to right field.
It got away from the A&M backup squad in the late innings, but I was impressed with Team Maroon's poise on the mound for most of the scrimmage. I think that Christian Roa and Brandon Birdsell will have a great chance at carving out a significant spot in the A&M bullpen, likely in middle-relief and setup duty. I also think Ducoff is the one hitter on Team Maroon that will get every chance to start for this baseball team. He's a veteran power bat with speed and can play both corner infield spots and all three outfield spots. Look for him to battle early in the season with Wingate for third base duty.
2. Freshman lefties shine on the mound for Team White
Coach Childress rolled out a pair of freshmen on the mound for the A-Team and had to like what he saw from Jonathan Childress (no relation) and Chris Weber (no relation). Childress started for the white squad and went 4.2 innings, allowing two earned runs on four hits. He walked two batters and struck out six and was consistently low-to-mid 90s with the fastball while also featuring a plus breaking ball. Childress got better as his start wore on, allowing just two hits over his final 13 batters faced. He certainly made a strong case to grab that Sunday starting spot to open the season.
You can say the same thing for Weber, who came on with two outs in the fifth inning and didn't allow a base hit in 2.1 innings in relief of Childress. Weber, a 4.0 student in Aerospace Engineering who didn't allow a run all fall, did walk two batters in the seventh but should have gotten out of the mini-jam unscathed. He allowed a pair of unearned runs, thanks in large part to Wingate's throwing error with two on and one out.
Rob Childress has a tough decision to make, but I firmly believe the decision will come down to Childress and Weber, with Roa also garnering strong consideration to crack the weekend rotation. My gut feeling is that Childress will get the call first.
3. Lineup nearly set for Opening Day
A&M essentially went 1s vs. 2s in the scrimmage, hitting 10 guys on the first team and 11 guys on the second team. Here's what the first team lineup looked like today:
1. Blaum - 2B
2. Foster - RF
3. Shewmake - SS
4. Hoehner - DH
5. Frizzell - DH
6. Wingate - 3B
7. Walters - 1B
8. Blake LF
9. Coleman - C
10. DeLoach - CF
I get the sense that Logan Foster is making a strong push to once again hit near the top of the lineup on Opening Day. He's been really, really good in January and February and has done a great job of cutting down on the swing and miss in his bat. He walked three times today, and at last check with the A&M coaches, he had just one strikeout all preseason to this point. Now, Logan has always been a guy who has beat up on the little guy but has struggled against SEC pitching. But now he's a junior and has played a ton of baseball. Look for him to take that next step as a hitter in a "money" year entering an all-important junior season.
I'm very interested to see what they do with Hoehner in the lineup. I expect him to eventually find his way in the two-hole with Foster hitting in the lower half, but Mikey hit cleanup today. If Foster can maintain his spot hitting second, look for Hoehner to be more around the five, six or seven spot.
The other interesting element is where they wind up slotting DeLoach. He hit tenth today. I'll go ahead and predict that he will not hit tenth in the lineup this year. Look for DeLoach to hit in the bottom half of the order, likely around the six or seven spot.
Here's my predicted Opening Day lineup:
1. Blaum - 2B (R)
2. Foster - RF (R)
3. Shewmake - SS (L)
4. Frizzell - DH (L)
5. Hoehner - C (R)
6. DeLoach - CF (L)
7. Walters / H. Coleman - 1B (L/R)
8. Ducoff / Wingate - 3B (R/R)
9. Blake - LF (L)
Tomorrow on the Daily Countdown to Aggie Baseball, David Sandhop will take a close look at the 1-2 punch of John Doxakis and Asa Lacy and a co-ace situation at the top of the A&M rotation.
Never miss the latest news from TexAgs!
Join our free email list