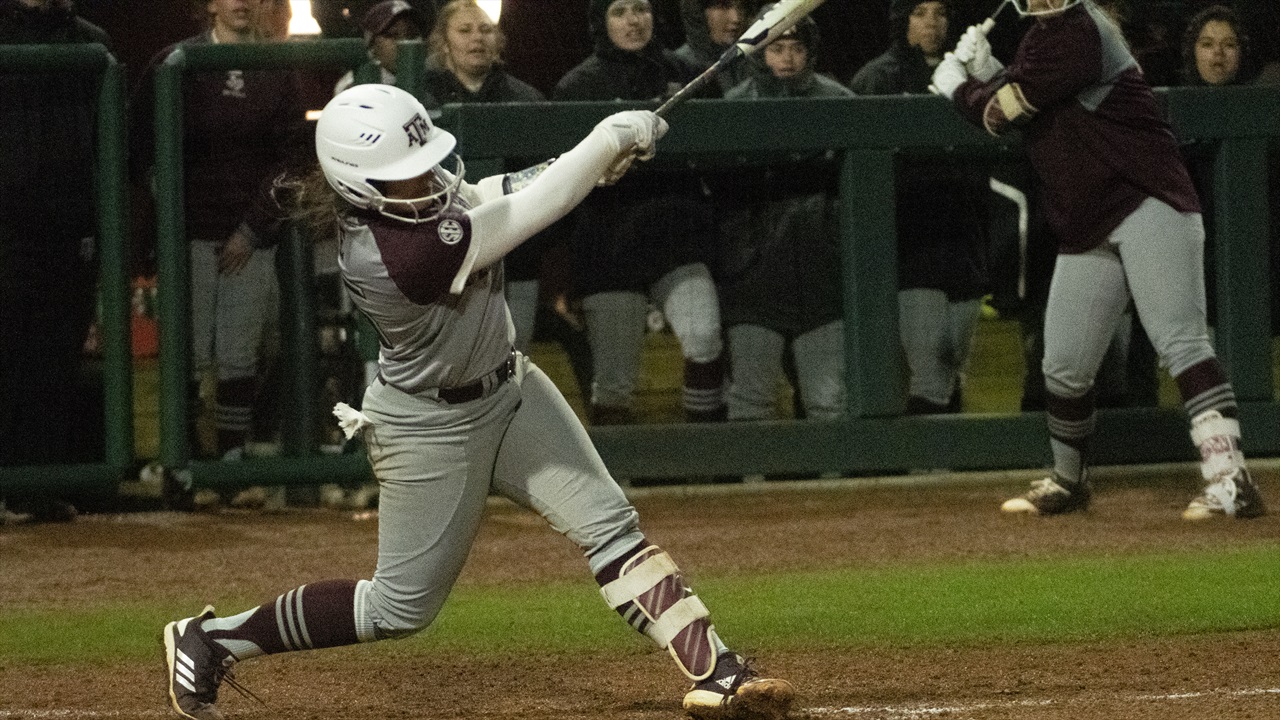 Photo by Elisa Schmitt, TexAgs
Texas A&M Softball
No. 20 A&M softball run rules Cal Baptist 9-1 in first season opener on new Davis Diamond
---
The freezing weather was pretty brutal this Friday at the Davis Diamond during the opening day of the 2019 Aggie Classic; however, the Texas A&M softball team made it well worth the while.
The Aggies run-ruled Cal Baptist in the fifth inning, en route to a 9-1 win. The cold weather didn't slow the maroon and white down as they notched their first win of the season.
After more than an hour and a half delay, the Aggies started off the first inning strong, putting two runs on the scoreboard after Galvez from CBU put up 1 in the top of the first. Blake-Ann Fritsch and Kelbi Fortenberry scored for A&M; runs brought in with the help of Baylee Klingler and Payton McBride.
The rain started to drizzle over Davis Diamond and so did the quick outs in the second inning. The Aggies continued their great defense in the top of the third with their three-up, three-down performance.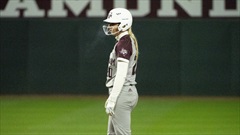 Elisa Schmitt, TexAgs
Senior Aggie Riley Sartain hit a beautiful home run over left center field to bring the Aggies up 3-1 in the bottom of the third inning.
The top of the fourth inning ended with a bang for the Aggies as junior Kelbi Fortenberry caught Thieroff's hit to left-center field.
Haley Lee singled out to left field in the bottom of the fourth and Taudrea Sinnie pinch ran and was able to steal second before scoring off of Walls' single to left field. Walls kept up the aggression by then stealing second base on a wild pitch before being brought in by singles from Fritsch and Fortenberry.
The crowd erupted as the Aggies successfully completed a double steal in the fifth. Fortenberry stole second while Fritsch stole third. After further hits from a fired-up Aggie Softball squad, Sinnie, Walls, Fritsch, Fortenberry, Sartain, and Klinger scored, bringing the Aggies up 9-1 by the top of the fifth.
CBU struggled to score in the top of the fifth; rewarding Texas A&M with a fifth-inning run-rule win. The 2019 A&M softball season started off with a bang as the Aggies notched their first win of the season on Friday night.
Never miss the latest news from TexAgs!
Join our free email list