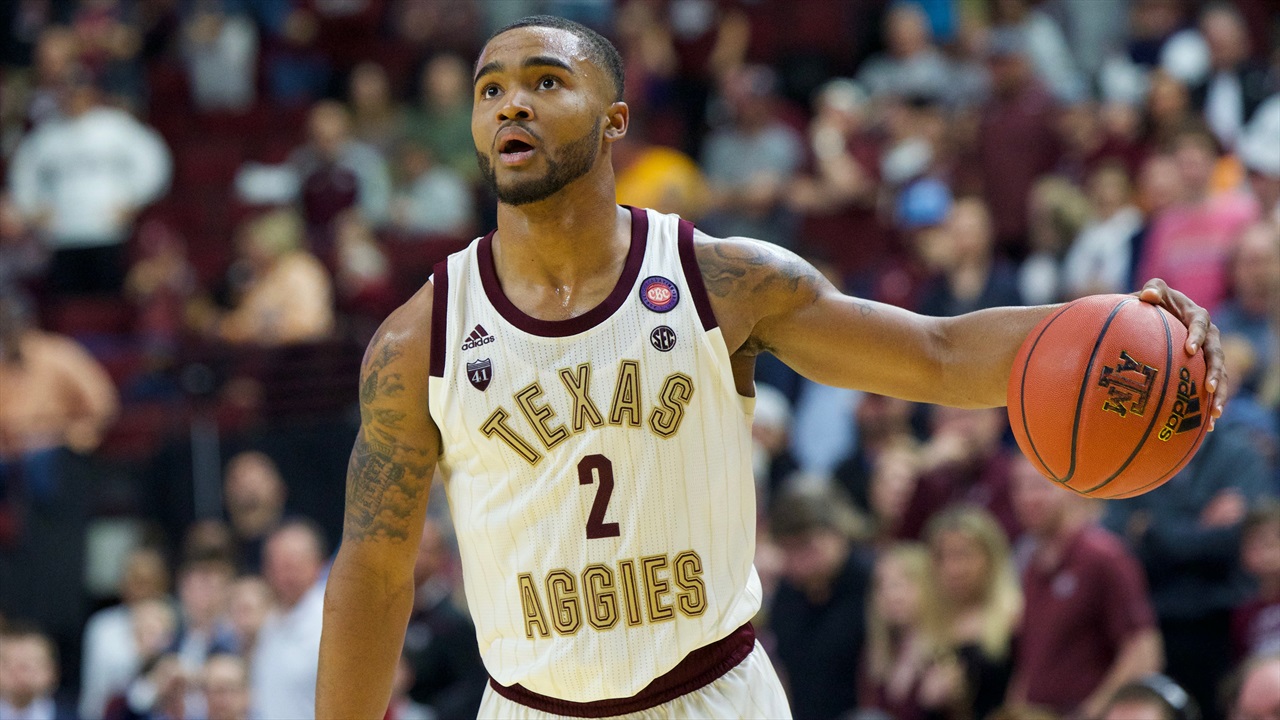 Photo by Lia Musgrave, TexAgs
Texas A&M Basketball
Key to bouncing back from six-game SEC losing streak may be Starks finding his rhythm
---
A big key for Texas A&M to end a six-game Southeastern Conference basketball losing streak may be getting more than six minutes from T.J. Starks.

Starks, A&M's leading scorer, was benched after only six minutes of a 75-71 loss to Ole Miss on Wednesday because of lack of effort.

The Aggies (8-13, 1-8) likely will need a strong effort from Starks — and everybody else — to end their skid when they face Missouri (11-10, 2-7) at 5 p.m. in Columbia, Mo.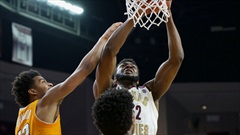 Lia Musgrave, TexAgs
A&M might be without junior forward Josh Nebo, who has emerged as perhaps the best player on both ends of the court. Nebo has not practiced since the Ole Miss game and Kennedy said he hopes Nebo is available against the Tigers.
That would seem to further underline the importance of getting Starks back in the lineup and playing effectively.
Starks missed his only shot and committed two turnovers against Ole Miss, but coach Billy Kennedy insisted that wasn't why he took the sophomore guard out of the game.
"It's really not basketball related," Kennedy said. "It may be effort or execution-wise. Just demeanor and body language. Those things are important to me."
"He's not the only one that does that. It just seems like it comes up on him. Sometimes it's the second guy in situations that doesn't handle things well. (It) Doesn't matter. It's about handling things right all the time."

Kennedy did not say whether Starks would be back in the starting lineup but confirmed he would play against Missouri.
"He needs to get the message at some point. This is another opportunity for him to grow from it and get better at it."
"He needs to get the message at some point," Kennedy said. "This is another opportunity for him to grow from it and get better at it."

Starks was also yanked early on Jan. 19 in a previous clash with Missouri, in which the Aggies offense was abysmal in a 66-43 loss.

Starks managed only two points in that game, but he was hardly alone in his ineffectiveness. A&M made just 13 shots while shooting 26 percent overall in that game. The Aggies converted only 4 of 22 attempts from 3-point range.

A&M has made recent offensive strides. The Aggies have hit 23 treys in the last two games with Brandon Mahan making 11 of 13.

"When he's open he can make shots," Kennedy said. "He's being more aggressive. His confidence is at an all-time high and we need to lean on that some at Missouri."

In contrast, Missouri has experience recent struggles from behind the arc. Missouri, which has lost three of its last four, remains one of the SEC's best from 3-point range despite shooting just 28.8 percent (28 of 97) in the last four games.

A big reason for that decline in productivity is the loss of guard Mark Smith, who's been sidelined with a sprained left ankle. Smith leads the Tigers with 48 treys and boasts an SEC-best 47.5 shooting percentage from 3-point range.

Though Smith's absence has hurt, Missouri still has a 3-point threat in guard Jordan Geist, who leads the Tigers in scoring at 13.7 points per game. Geist had 17 points and four 3-pointers in a 66-43 victory over A&M at Reed Arena on Jan. 19. Smith also had 13 points and three treys in that game.
"The first 15 minutes we actually played okay," Kennedy said of the first meeting. "Then we made a stretch when we just could not score we missed a lot of shots. We let it affect our defensive intensity and our effort. That's what we cannot allow to happen."
Never miss the latest news from TexAgs!
Join our free email list