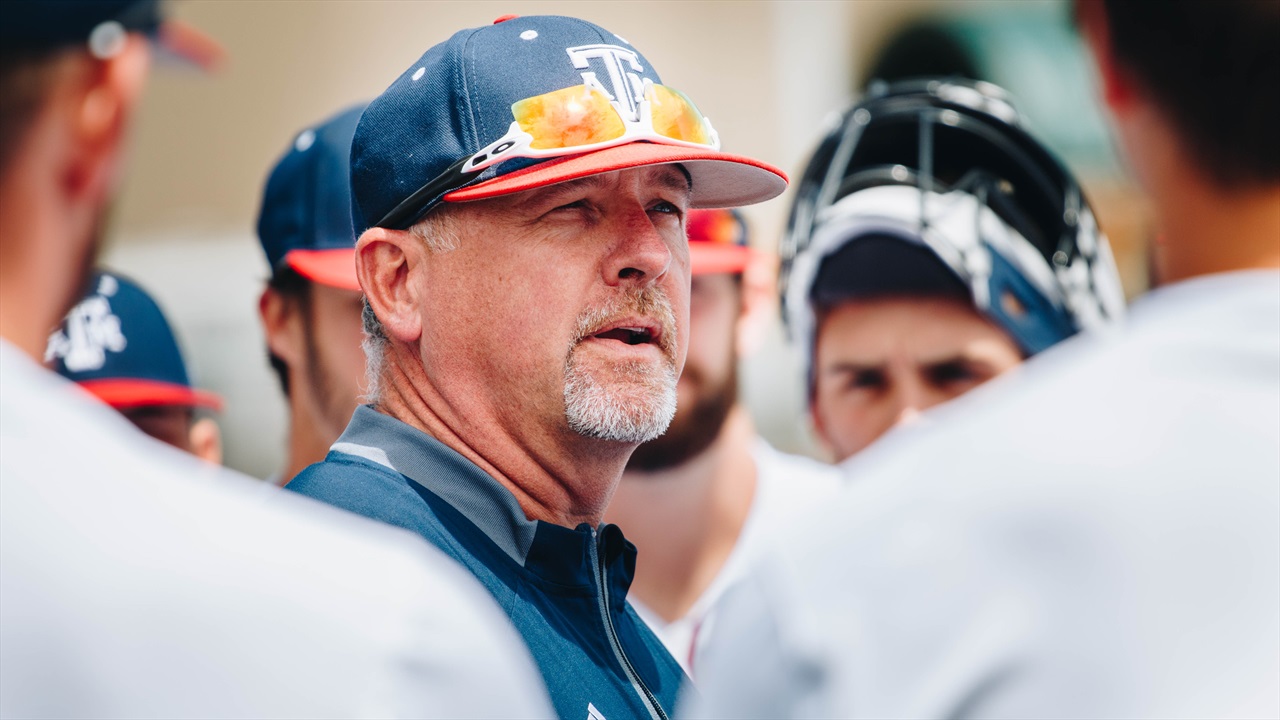 Photo by Rey Romo, TexAgs
Texas A&M Baseball
Rob Childress talks A&M lineup heading into 2019, Jonathan Ducoff's journey
---
Key notes from Rob Childress interview
We've been very fortunate to be outside consistently. We've dodged a few rain drops. We probably won't be 100% ready to rock by Opening Day, but we'll be pretty darn close. We're still trying to get back up to speed.

There is a lot of competition at each position, certainly on the mound. We've got a situational scrimmage today at practice. We're tying to get pitch counts up for our guys on the mound and get them prepared for the season.

We've got a few guys that are trending well. John Doxakis was outstanding last week. His mid-season form was dominant. Chandler Jozwiak was really as efficient. Dustin Saenz has been really good for us. We've gotten Joseph Menefee back on the mound. He's still nowhere near 100%, about 10 months from Tommy John surgery, but his stuff is electric. Chris Weber, as a freshman, has shown some really good things.

Chris Weber has a high baseball IQ to go along with his overall IQ. He's an aerospace engineer and has a 4.0 GPA. With all the things that go into being a pitcher that don't have to do with throwing like fielding and other aspects of the game, he's been really good.

Mikey Hoehner has done great things for us. Braden Shewmake continues to find the barrel. We're trying to get Will Frizzell better. Bryce Blaum has been the guy that excites me the most with his energy and enthusiasm. His play is matching his intent. He's competitive at the plate and a great defender.

Zach DeLoach will probably bat sixth or seventh in the lineup and be a run producer rather than driving in runs. Zach was an every day guy for us as a freshman and we expect that out of him this year.

Aaron Walters has a beautiful swing. He has a lot of great days and then there are days where he doesn't show up in the box score. He needs to show up every day.

Transfers have been such a blessing to our team. Bryce Blaum is one of those guys. Jonathan Ducoff is another. He played at Baylor, and then Houston Baptist. Last December, he doesn't feel great and goes to Urgent Care, and a scan finds a mass that ends up being Leukemia. He got his undergraduate degree and was just going to come to A&M to get his Masters, but the NCAA granted that last year of eligibility. He can play a lot of different positions. He hasn't gotten off to a great start this spring, but with what he did in the fall, his presence in the lineup will be felt.

There are a few freshman that have really impressed me. Hunter Watson was a big time recruit for us. He pulled a quad last week and just got back to practice, and I'm really looking forward to having him back. He's such a physical presence. Ty Coleman has a really good wing, He's very versatile and has gotten off to a good start.

We're excited about shaving our heads and our entire campaign to help end cancer. We're all in on this. It will be the entire coaching staff and players. We're tankful to have this opportunity, and it really hits home now that we have Jonathan Ducoff.
Never miss the latest news from TexAgs!
Join our free email list