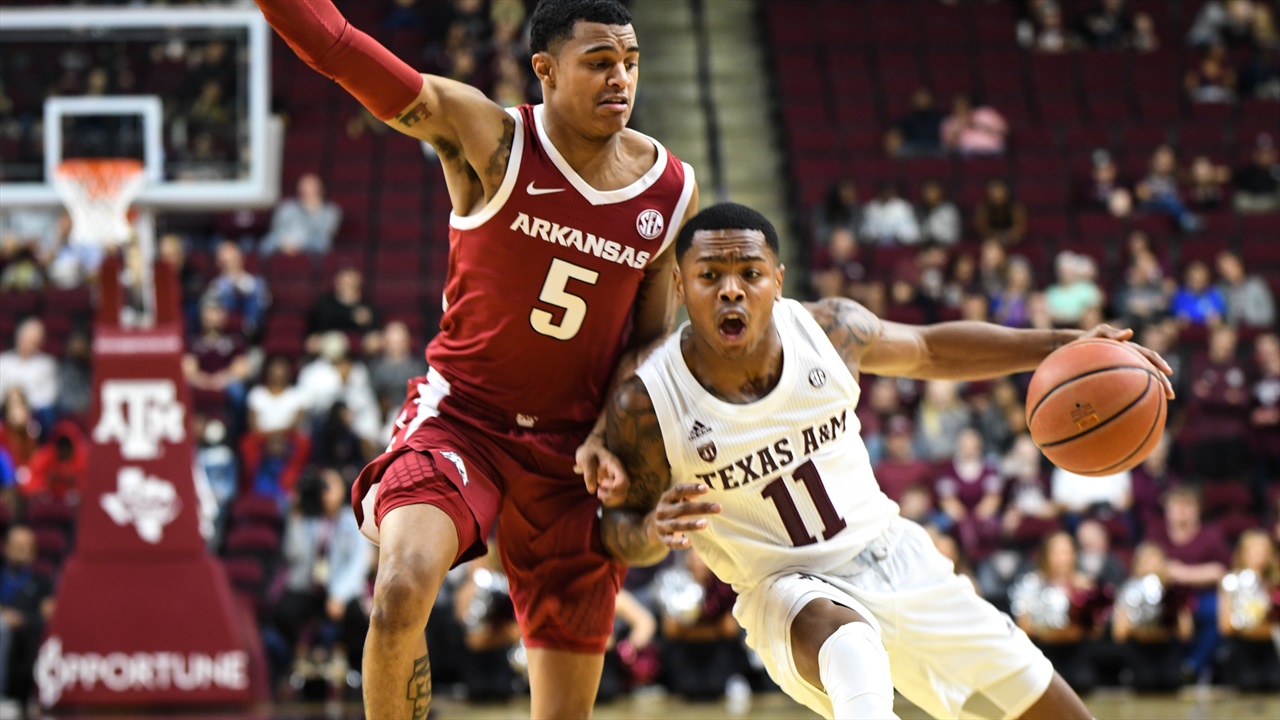 Photo by Jackie Ysaquirre, TexAgs
Texas A&M Basketball
Texas A&M looks to make strides in offensive efficiency against Alabama
---
The Aggies have shown they can play well against Southeastern Conference basketball competition, but haven't shown they can win.
That's the task at hand when Texas A&M (6-7, 0-2) travels to Tuscaloosa to face Alabama (10-4, 1-1) on Saturday at 2:30 p.m.
A&M played reasonably well in a conference-opening 73-71 loss to Arkansas. The Aggies then turned in one of their top shooting efforts at 48.2 percent (but also committed 19 turnovers) in an 85-74 loss to Kentucky.
They aim to maintain that accuracy and decrease those turnovers against Alabama, which is coming off a loss to LSU.
"Hopefully, we're learning from some pain," A&M coach Billy Kennedy said. "You hate losing and you hate missed opportunities that we had. We've got to learn from it. If we don't learn from it and keep making the same mistakes we're going to keep getting the same results.
"Offensively, I think, we've got to be more efficient. You can't turn the ball over 19 times an expect to win in this league."
"We've got to change. Offensively, I think, we've got to be more efficient. You can't turn the ball over 19 times an expect to win in this league."
Aside from the turnover issue, the Aggies appeared to be making progress in the Kentucky game.
They shot 41.7 percent from 3-point range, hit 92.3 percent at the free throw line and had four players in double figures, led by guards T.J. Starks and Jay Jay Chandler with 18 each.
Starks, who scored 23 points in a 71-70 loss to Alabama the SEC Tournament last season, has been hot of late. He's averaged 18 points over the last four games.
"He's actually playing really well," Kennedy said. "He's been more efficient. Played well against Kentucky. Played well against Arkansas. We need him and Savion (Flagg) to continue to play very well. Hopefully, we can get that third guy to step up."
Unfortunately, the supporting cast has been painfully inconsistent. Prior to his 18-point performance against Kentucky, Chandler had scored seven points or less in six of the previous seven games.
Junior guard Wendell Mitchell had a solid 10-point output against Kentucky. In the previous game against Arkansas he scored just seven points and missed all seven shots he attempted from 3-point range.
The Aggies desperately need a consistent third or fourth scoring option. Meanwhile, Alabama has had consistency issues of its own.
In early December, the Tide suffered consecutive losses to Central Florida and Georgia State. But then Alabama defeated Arizona to start a five-game winning streak that included a 77-75 toppling of Kentucky.
However, the Tide followed that Kentucky victory with an 88-79 loss to LSU. Alabama shot just 40 percent in that loss as starters Donta Hall, Tevin Mack and Dazon Ingram combined for for just 15 points.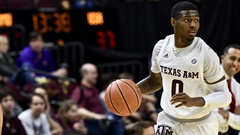 Lia Musgrave, TexAgs
Hall scored more than that against A&M in Tuscaloosa last season when he totaled 17 in a 79-57 Tide victory. Meanwhile, Ingram averaged 12.3 points and guard John Petty averaged 13.6 points in three games against the Aggies last year.
Mack sat out last season after transferring from Texas and did not face A&M. Neither did freshman guard Kira Lewis, who leads Alabama with a 14.3 scoring average.
The Aggies must shoot well to keep up. They hit 8 of their 17 3-point shots against Kentucky, but overall have struggled from 3-point range.
"We're capable, but you've got to do it," Kennedy said. "You've got to produce. We've got to do it in a game. That's something we haven't consistently done. It's about production at the end of the day. That's why our results haven't been what we want."
Never miss the latest news from TexAgs!
Join our free email list