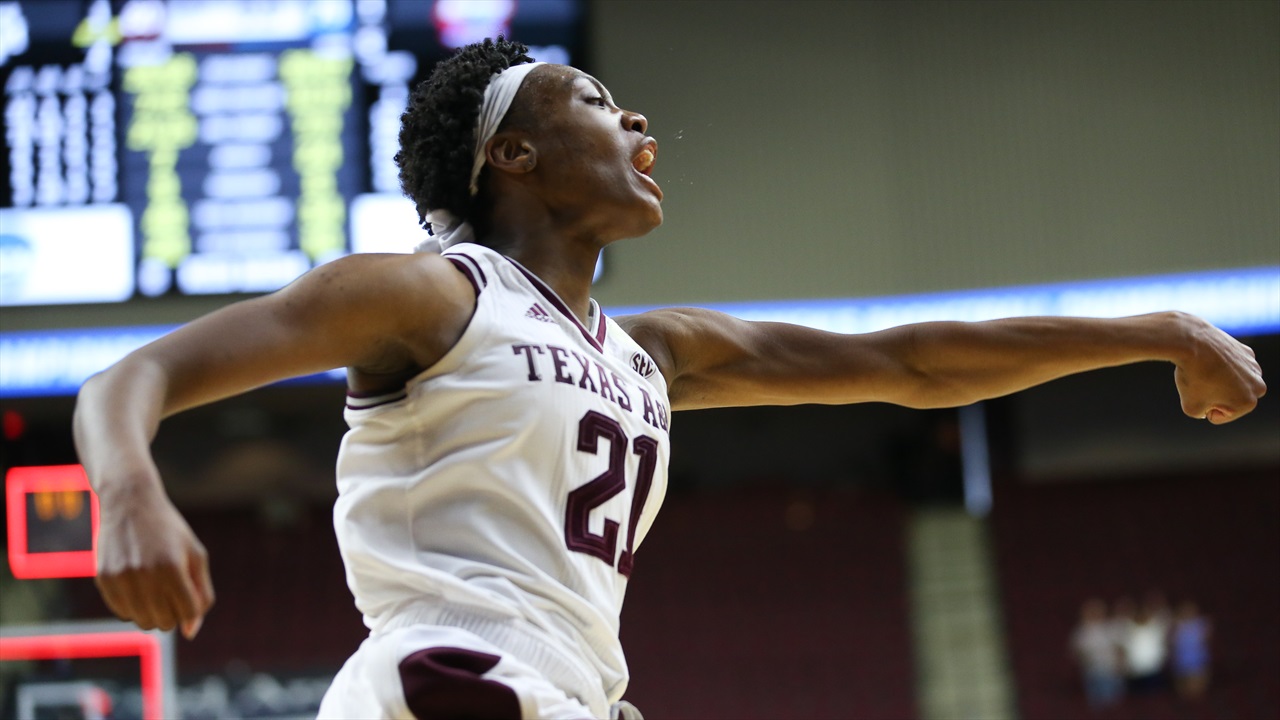 Photo by Matt Sachs, TexAgs
Texas A&M Women's Basketball
No. 23 women's basketball defeats UTRGV, extends win streak to seven
---
In a game without sophomore Chennedy Carter, worry typically enters the minds of A&M women's basketball fans. Today's game should help to ease possible future worry if such a scenario were to occur again, as the No. 23 ranked Aggies handedly defeated the Vaqueros of UT-Rio Grande Valley 84-61.
Prior to the game, it was learned via radio that Chennedy Carter (21 points per game) was out with the flu. She is also still nursing a foot injury from Maui.
With Carter out, it was expected that Kayla Wells would be the player to step up, but she got off to a slow start. In fact, the Aggies got off to a slow start in general. If it wasn't for the nice play from sophomore forward Ciera Johnson and sophomore guard Aahliyah Jackson, the A&M 18-11 lead after the first quarter would have been much narrower. Johnson had five points and six rebounds, while Jackson had seven points of her own.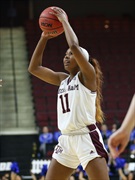 Matt Sachs, TexAgs
The second quarter saw Kayla Wells come alive and domination by Ciera Johnson. Wells scored 12 points and Johnson totaled her third double-double of the season, with 12 points and 10 boards at the half. The Aggies had a clear size advantage inside which led to lots of post touches and getting to the foul line. Wells and Johnson combined for 13 of the team's 16 free throw attempts in the first half. The Ags made 13 of them, an 81.3 % clip.
Moving into the 3rd quarter, A&M improved a 45-30 halftime lead to a 60-40 lead, but it wasn't without some adversity. The Ags had to overcome a scoring drought of nearly five minutes where they went 0-7 from the floor. A Shambria Washington three-pointer eventually got things going for Texas A&M, but the scoring did not come from Kayla Wells, who cooled off after her explosive second quarter.
Wells only scored five points in the second half, but she did finish with 21 points, her third 20-point performance in the last four games. The Ags were able to get things going in the second half after the scoring drought from continued excellent play by Ciera Johnson as well as a very nice contribution from sophomore Jada Walton. Johnson finished the game with 17 points and a career high 17 rebounds, a nice present, given that it is her birthday. Walton played 24 minutes and scored a career high 14 points, her first time in double figures.
Walton spoke after the game on her performance. "The point guard position just came. Sham (Shambria Washington) got into foul trouble. When I went in, I didn't want a drop-off. I just made simple plays."
The fourth quarter featured a lot of garbage time basketball where more Aggies were able to get some opportunities to play more minutes. One of those players was junior Jasmine Williams who finished with a career high seven points, including two made threes. "Give Jasmine Williams kudos. She came off the bench after waiting her turn and played under control tonight. She did a good job. I was happy for her," said Coach Blair.
This game can be understood clearly from the box score. The Aggies dominated in the paint winning the rebounding battle 48-17 as well as the points in the paint battle 42-18. They also shot the three-ball well, which is a great sign because three-point shooting has been a struggle without Carter on the floor. The Ags shot 5-10 from distance.
"We definitely are (ready for South Carolina). Of course, we'll get into the drawing boards. This game was a momentum game for us. South Carolina is a great team and we're ready for them."
However, the Ags did have a few hiccups, which can be expected with both primarily ball handlers, Aaliyah Wilson (ACL and MCL) and Chennedy Carter (flu and foot) out. Coach Blair was not thrilled with his team's 20 turnovers. "There's no excuse to have 20 turnovers against somebody that's not really pressuring you. It was our lack of ball handling."
Looking forward, the Aggies are finished with non-conference play and will now prepare for the first home conference game against South Carolina on January 3rd at 8 pm.
The Aggies look to continue in their momentum after an undefeated December, the first of such since 2008.
Jada Walton seemed confident heading into SEC competition. "We definitely are (ready for South Carolina). Of course, we'll get into the drawing boards. This game was a momentum game for us. South Carolina is a great team and we're ready for them."
---
Special thanks to Mac Resource Computers for their sponsorship of all women's basketball content produced throughout the season at TexAgs.com! For the seventh consecutive year, all WBB content will be available to you for free!
Never miss the latest news from TexAgs!
Join our free email list