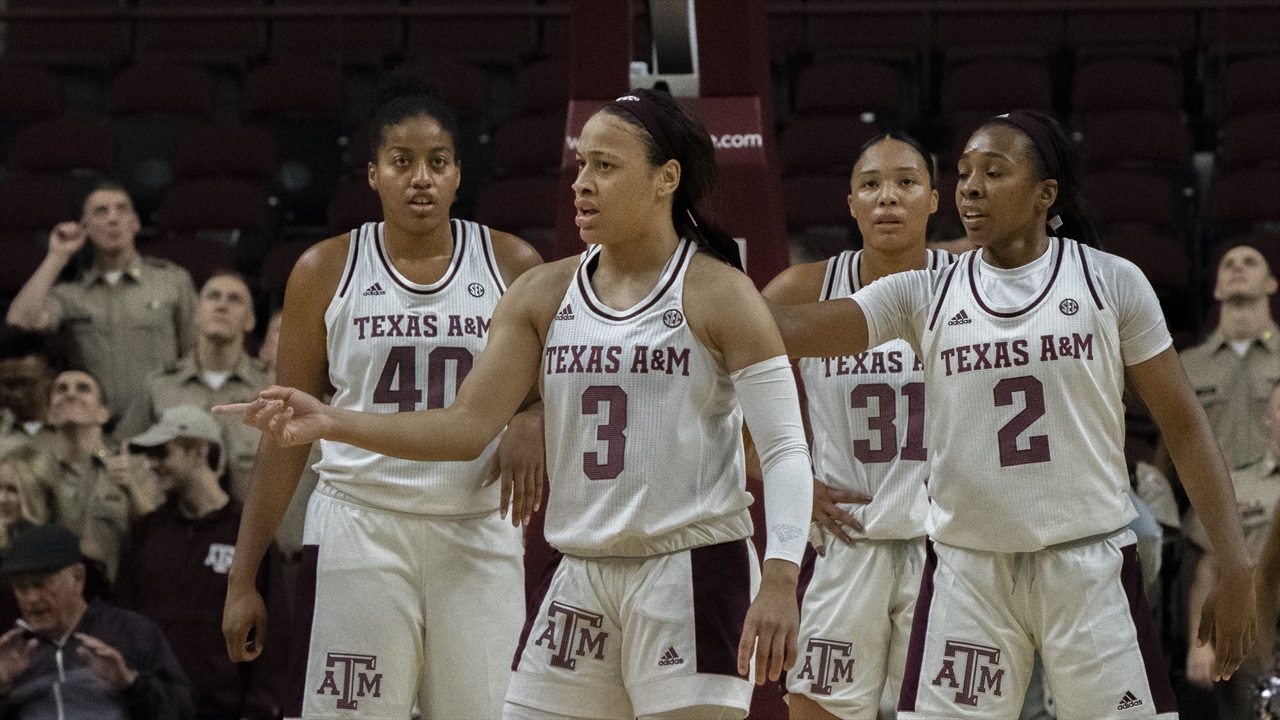 Photo by Elisa Schmitt, TexAgs
Texas A&M Women's Basketball
No. 20 Women's basketball shuts down Arkansas State, 97-56
---
The No. 20 Texas A&M women's basketball team dominated the Arkansas State Red Wolves with a season-high 97 points Friday night at Reed Arena, with a final score of 97-56.
Texas A&M took a dominant start early in the game, putting up 10 points before Arkansas State could score at all. The early lead set the tone for all four quarters, as the Red Wolves were only able to tie the game for 12 seconds and struggled to come up with an answer for the Aggies' strong defensive effort.
"We made a pretty good team look average tonight," said head coach Gary Blair.
As strong as the Aggies played defensively, Texas A&M controlled the momentum throughout the entire game on the offensive end of the court. The Aggies played man and zone offense better than they have all season, putting up 18 points off turnovers and outscoring Arkansas State 54-20 in the paint. Forward N'dea Jones put up 13 points and 2 assists for the Aggies and led the team in rebounds with 13.
"We made a pretty good team look average tonight."
"We've been practicing and focusing a lot on rebounding and making sure we have a presence in the paint," Jones said.
The practice paid off for the Aggies, who collected 46 rebounds during the game, doubling the 23 by Arkansas State.
Sophomore guard Chennedy Carter led the Aggies in scoring while setting her teammates up for success. Last year's unanimous National Freshman of the Year finished with 23 points on 10-13 shooting and 3 three-pointers. Coach Blair credited Carter for finishing up nicely despite struggling in the second half.
"She looked like an All-American running our team in the first half," said Coach Blair.
Although Carter had a strong performance, the team shared the basketball during all four quarters, skyrocketing their season-high 17 assists to 30. Despite 25 team fouls, five Aggies finished the game with double-digit points, consistently leading Arkansas State by at least 30 points in the second half.
"We played very well in the first half," said head coach Gary Blair. "I think that was as good as we've played offensively."
The Aggies return to action next Thursday, November 29 for an 11 a.m. tipoff against the Lamar Cardinals.
---
Special thanks to Mac Resource Computers for their sponsorship of all women's basketball content produced throughout the season at TexAgs.com! For the seventh consecutive year, all WBB content will be available to you for free!
Never miss the latest news from TexAgs!
Join our free email list