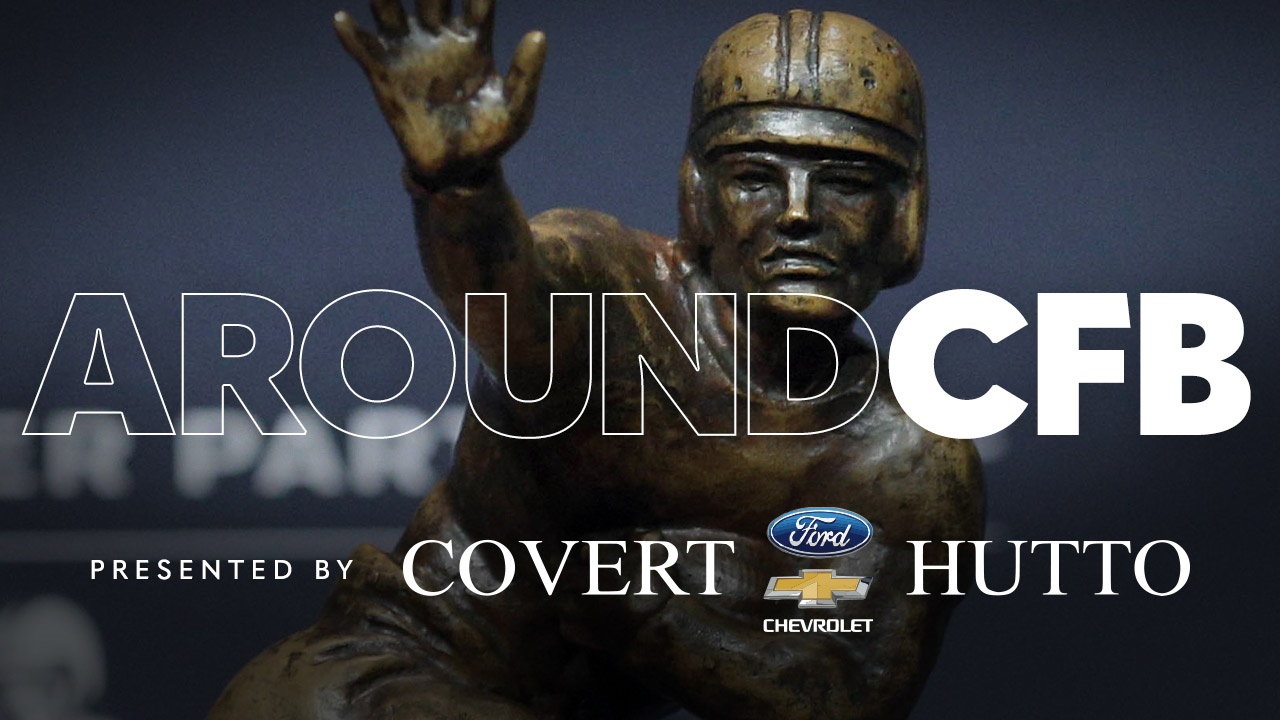 Photo by Brad Penner-USA TODAY Sports
Texas A&M Football
Around CFB: Championship fields to be determined by rivalry week
---
More than 26 years ago then-Michigan quarterback Jim Harbaugh guaranteed a victory over rival Ohio State.
The Wolverines then went out and eked out a 26-24 victory in Columbus.
So, maybe it's a good sign for Michigan that running back Karan Higdon made a similar guarantee for this week's showdown against Ohio State.
Both teams are 10-1. The winner advances to the Big Ten championship game to face Northwestern.
"Yeah, I do (guarantee victory)," Higdon said Monday during the team's weekly news conference. "I do. That's how I feel. I believe firmly in my brothers, and his team and this coaching staff. And as a captain, I'll take that stand. Why not?"
"It's a must-win. We've got some lofty goals that we set out for ourselves early on. They're a team that's going to stand in our way to achieve them."
"Yeah, I do (guarantee victory)...I believe firmly in my brothers, and his team and this coaching staff. And as a captain, I'll take that stand. Why not?"
That's how Rivalry Week — the final games of the regular season — is supposed to be.
There should be big talk for big games with big stakes on the line.
Unfortunately, that's not typically the case this week.
No doubt, Michigan-Ohio State is a marquee game as is the Apple Cup clash between Washington and Washington State, which will determine the Pac-12 North Division winner.
The other "Rivalry" games have much less appeal.
There's little intrigue in the Iron Bowl matchup of No. 1 Alabama (11-0) and Auburn (7-4).
Notre Dame (11-0) is unbeaten, but arch rival USC (5-6) limps in to South Bend still hurting from a 34-27 loss to UCLA last week.
With an unlikely upset South Carolina (6-4) could conceivably knock Clemson (11-0) out of the national playoff picture. The same goes for Georgia Tech (7-4) against Georgia (10-1).
Most of the other rivalry games have very little at stake. Sure, the "Holy War" between BYU (6-5) and Utah (8-3) is always nasty, but outside of the state of Utah who really cares?
The other rivalry games don't even match teams with winning records. Florida State (5-6) is just trying to gain bowl eligibility against Florida (8-3), which could land in a New Year's Six bowl game.
Likewise Arizona (5-6) is seeking bowl eligibility against Arizona State (6-5), while bowl eligibility is at stake as well as the "Old Oak Bucket" for Indiana and Purdue. The Egg Bowl can't even provide that intrigue because (5-6) Ole Miss is ineligible and cannot reach a bowl game even if the Rebels beat Mississippi State (7-4).
Those games figure to inspire ennui more than intensity.
Thankfully, Michigan-Ohio State is back to the form that once made it the most heated rivalry in college football.
That hasn't been the case in recent years. Ohio State has won six straight and 13 of the last 14 in the series.
Michigan appears superior this season. Yet, ,the Wolverines — even Higdon — know that doesn't matter in a true rivalry game.
"It's a different game. This isn't a typical regular-season game," Higdon said. "This is the game that (turns) everything up to a whole different level. They're going to bring their best game and we've got to bring our best game."
That's how it's supposed to be on Rivalry week.
Heisman watch
1. Tua Tagovailoa, Alabama, QB: He passed for 340 yards and three touchdowns in a 50-17 victory over The Citadel. That increased his season totals to 2,865 passing yards and 31 touchdowns with only two interceptions.

2. Gardner Minshew, Washington State, QB: Set a Washington State record with seven touchdown passes in a 69-28 victory over Arizona. Minshew completed 43 of 55 passes for 473 yards with no interceptions in that win. He leads the nation with 4,325 passing yards and 36 touchdowns.

3. Kyler Murray, Oklahoma, QB: By his standards he had a rather pedestrian passing performance in a 55-40 victory over Kansas. He threw for 272 yards and a touchdown. However, he more than compensated by rushing for 99 yards and 3 TDs. That included a 75-yard run. Murray has accumulated 4,049 yards of total offense (3,310 passing, 739 rushing) to rank third in the nation in total offense.

4. Dwayne Haskins, Ohio State, QB: Completed 73 percent of his attempts while passing for 405 yards and 3 touchdowns in a 52-51 win over Maryland. He also rushed for 59 yards and 3 TDs. Haskins ranks third in the nation in passing with 3,685 yards and shares the national lead with 36 TDs. He's fifth in the nation with 3,778 yards of total offense.

5. Will Grier, West Virginia, QB: Don't blame Grier for the Mountaineers' 45-41 loss to Oklahoma State. He still passed for 364 yards and 2 touchdowns, though he only completed 56 percent of his attempts. Still it was the ninth time in 10 games Grier exceeded 300 passing yards and had multiple touchdown tosses.
Predicted playoff participants
1. Alabama: Unbeaten Tide has won every game by at least three touchdowns.
2. Clemson: Five of Tigers last six opponents have been held to 10 points or less.
3. Notre Dame: All that stands between Notre Dame and a playoff berth is USC, which has lost four of its last five.
4. Michigan: Defense is ranked No. 1 in the nation and the offense has scored at least 31 points in five of last six games.
Best games:
No. 4 Michigan at No. 10 Ohio State: Wolverines are looking to clinch Big Ten East and end a string of six-consecutive losses to Buckeyes.
No. 6 Oklahoma at No. 9 West Virginia: Mountaineers can throw Big 12 into a three-way tie a win (assuming Texas beats Kansas). That would eliminate OU from the Big 12 championship game.
No. 8 Washington State at No. 18 Washington: The Apple Cup seems a de facto Pac-12 championship game. At the very least it decides the North representative in the title game.
No. 23 Utah State at No. 25 Boise State: Winner advances to the Mountain West Conference championship game to face Fresno State.
Houston at Memphis: Cougars can clinch AAC West Division with a win. A UH loss could create a four-way tie with Houston, Memphis, SMU and Tulane.
Never miss the latest news from TexAgs!
Join our free email list