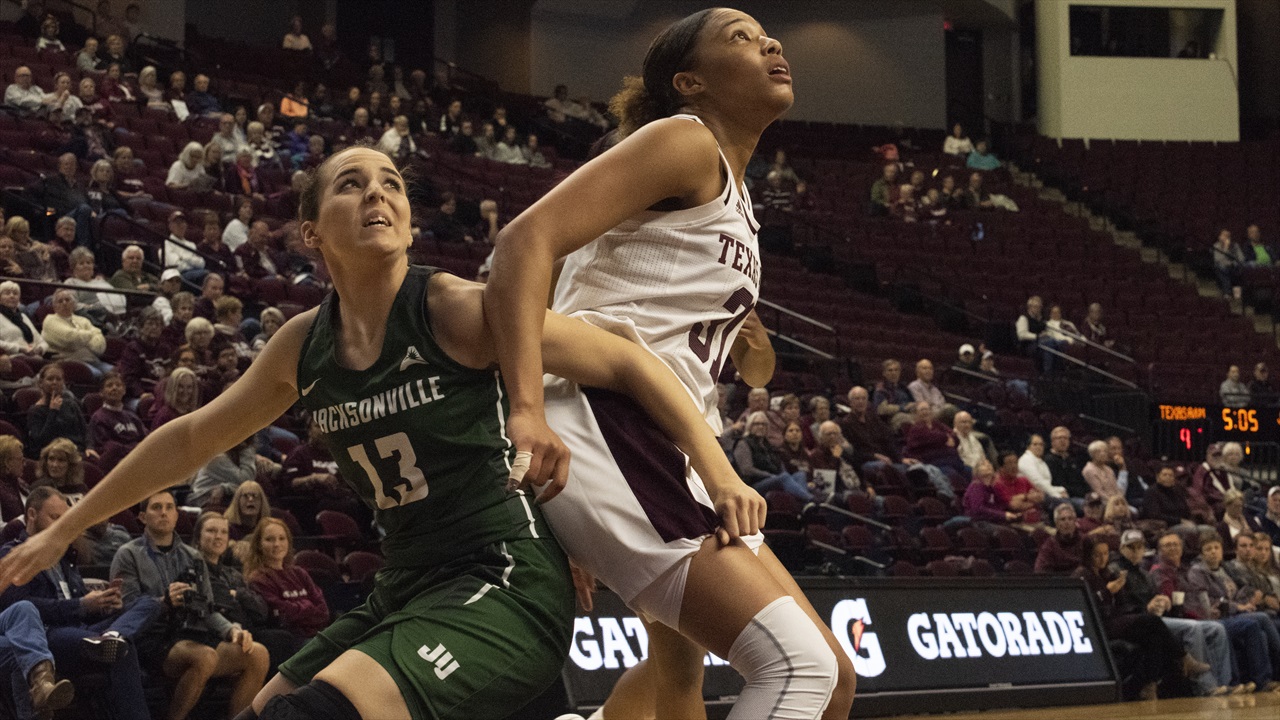 Photo by Elisa Schmitt, TexAgs
Texas A&M Women's Basketball
No. 20 Texas A&M women's basketball takes down Jacksonville at home, 73-53
---
The No. 20 ranked nationally Texas A&M Aggies defeated the Jacksonville Dolphins, where they handily won the contest 73-53 behind a potent offense and strong rebounding.
Sophomore guard Chennedy Carter started the game off strong by leading the Aggies to a 9-2 start. Her seven quick points led to a timeout, but that didn't stop Carter and the Aggies who finished the first quarter up 19-8.
The second quarter saw a momentum change, however. Jacksonville's 3-2 zone was able to start getting stops against the Aggie offense that saw Chennedy Carter go scoreless in the quarter. To counteract this, posts Ciera Johnson and N'dea Jones were able to get things going through crashing the glass. Coach Blair spoke on this. "Both posts realized they could score off of offensive boards." Johnson and Jones combined for eight rebounds, including three on the offensive end, just in the second quarter.
Jacksonville head coach, Darnell Haney, spoke on how rebounding and the A&M size advantage ended up being the difference in the game. "The game is about matchups and the game is about identity. So, Texas A&M is a big team with a star at guard. They're big, so they're going to take advantage. They were better at their identity than we were tonight. We have to get better at who we are."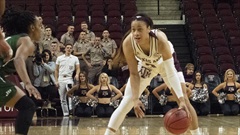 Elisa Schmitt, TexAgs
Moving into the second half, the Aggies continued the crash the glass to open up opportunities for points against a zone that seemed to be giving them some problems. However, the defensive side of the ball was where the young Aggie players struggled, giving up 36 points in the paint. Coach Blair addressed two issues on where improvement needs to occur. "First, we have to quit giving right hand drives. Second, what we need to do is keep them in front of us instead of letting them get so deep. They're a talented team. They were spin reversing on us and doing a pretty good job with their left hand."
The rest of the game was played in the paint. A&M and Jacksonville both had over 40 paint touches that led to a combined 72 points in the paint. The length and size of the Aggies made it difficult for Jacksonville to get off jumpers, while the Jacksonville zone made it tough on the Aggies to get good shots. Despite the difficulty, Coach Blair is thrilled about the defensive looks they've gotten so far this season. "This was a great matchup 3-2 zone against us because we're going to play Syracuse who's going to play 40 minutes of zone against us the whole ball game. That's what their men's and women's teams are known for. What's so good is that we've played two teams to start the season that get us ready for that top level that we're going to have to play."
Despite some of tonight's difficulties, Chennedy Carter is hopeful about the development of the team. "We're a young team full of new players, and I think we're growing. We're all learning each other's strengths and weaknesses and that's the biggest thing with us. Everything isn't going to be picture perfect. It's going to take time and hopefully by conference play we'll be ready to go."
Next, the Aggies head to New York to play Syracuse, but also get to enjoy some time exploring the area. Coach Blair said "It's going to be a lot of fun even though we're playing an hour outside. We're going to take our kids to Time Square and let them see what it's all about."
---
Special thanks to Mac Resource Computers for their sponsorship of all women's basketball content produced throughout the season at TexAgs.com! For the seventh consecutive year, all WBB content will be available to you for free!
Never miss the latest news from TexAgs!
Join our free email list