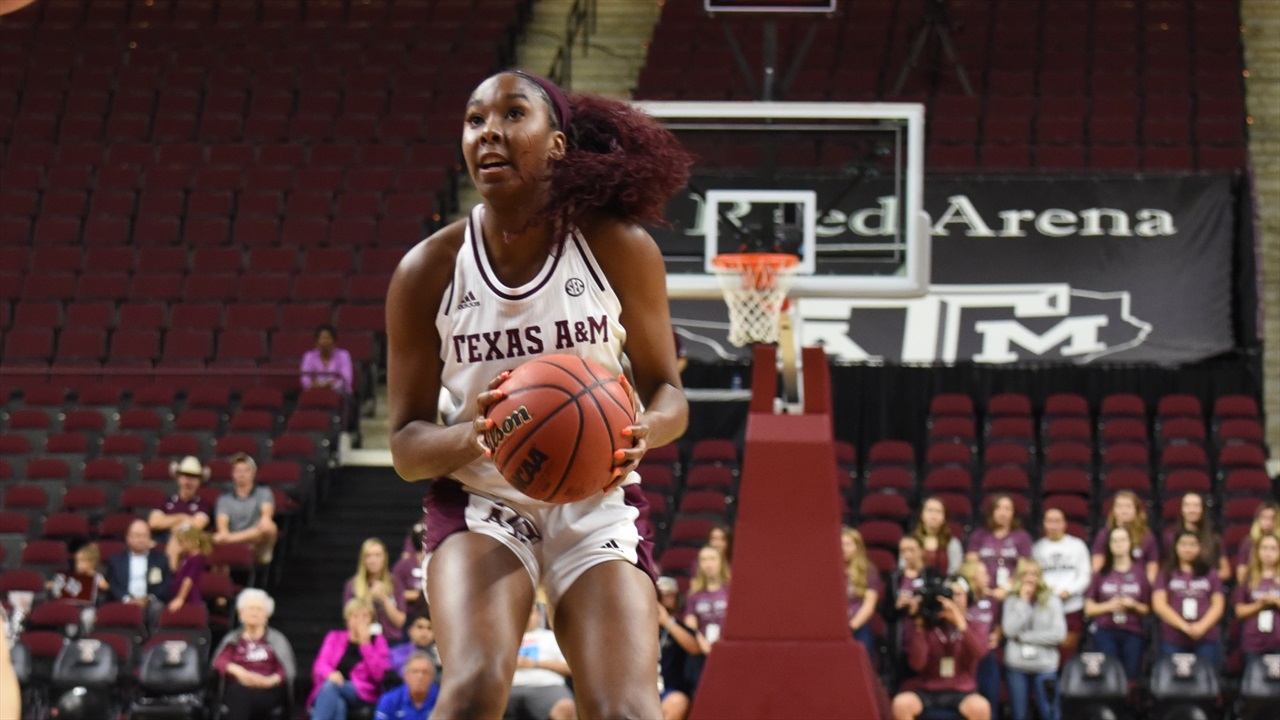 Photo by Elisa Schmitt, TexAgs
Texas A&M Women's Basketball
No. 20 Texas A&M defeats Oklahoma City 81-40 to open exhibition play
---
Basketball season is back ladies and gentlemen. The preseason No. 20 ranked Texas A&M Aggies defeated the reigning NAIA champs in the Oklahoma City Stars at Reed Arena 81-40.
It was a slow start for the Aggies, falling to an early 7-2 deficit before a timeout with 4:16 left in the first quarter. The Aggies weren't able to get anything to fall from distance, so the adjustment was made to begin scoring from within the arc.
"It was the game plan after we opened up one for 10. I said to quit shooting threes. Shoot fifteen footers, drive the ball, get your confidence up. I think we were down 7-2 and everybody got shot happy," said Coach Gary Blair.
The new game plan worked immediately. The Aggies finished the first quarter up 16-10, with 12 of those points coming from inside the paint.This trend continued into the second quarter and throughout the rest of the game.
The Aggies finished the game outscoring Oklahoma City 46-10 in points in the paint. A good portion of those 46 points came from 13 post touches, largely from 6'4 sophomore Cierra Johnson and 6'3 senior Caylinne Martin. Coach Blair applauded their play.
"I thought Cierra Johnson and Caylinne Martin both had some good points in the ball game. They were very active and did a good job for us." Johnson and Martin finished the game with a combined 18 points.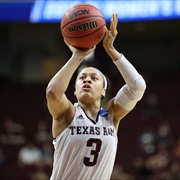 Matt Sachs, TexAgs
The Aggies had several solid performances but sophomore guard Chennedy Carter was the story of the game. She was able to score against any look Oklahoma City threw at her, specifically when they went to a 2-3 zone midway through the second quarter. Carter used ball screens near the top of the zone and either knocked down elbow jumpers or looked to dish the ball to a teammate sealing a defensive player inside.
Last season's unanimous National Freshman of the Year finished with 21 points on 10-17 shooting, yet still got her teammates involved, impressing Coach Blair.
"I thought Chennedy was very unselfish today trying to set up her teammates," Blair said.
Defensively, the Aggies looked impressive. Oklahoma City had a hard time getting inside the paint and, as a result, had to settle for long, contested jumpers. Coach Blair said this defensive performance boils down to their philosophy in defending their basket.
"What we want to do is stop paint points first. If a team hits a few threes on us, we're going to have to live with it sometimes."
Blair, in his 16th year with the Aggies, didn't stop there. He went on to explain how his team still needed to improve.
"We were late on some rotations. Oklahoma City was doing a good job having to make four or five passes because they couldn't get it inside, and I thought that was our strength. Our weakness was when we rotated and didn't get to the backside and they got a couple wide open looks."
Looking forward, Texas A&M plays Rice at Reed Arena on November 7th, a team that Coach Blair said should've beat them last season. He noted that Rice has a good team and A&M will need to play better, but he's encouraged because of the experience gained from tonight's game.
"Oklahoma City gave us what we wanted them to because they had a 6'5 JUCO post player, and Rice has a 6'9 kid. So, this game will give us some good looks."
We've got one game in the books, folks. Let's get excited for a great season.
---
Special thanks to Mac Resource Computers for their sponsorship of all women's basketball content produced throughout the season at TexAgs.com! For the seventh consecutive year, all WBB content will be available to you for free!
Never miss the latest news from TexAgs!
Join our free email list