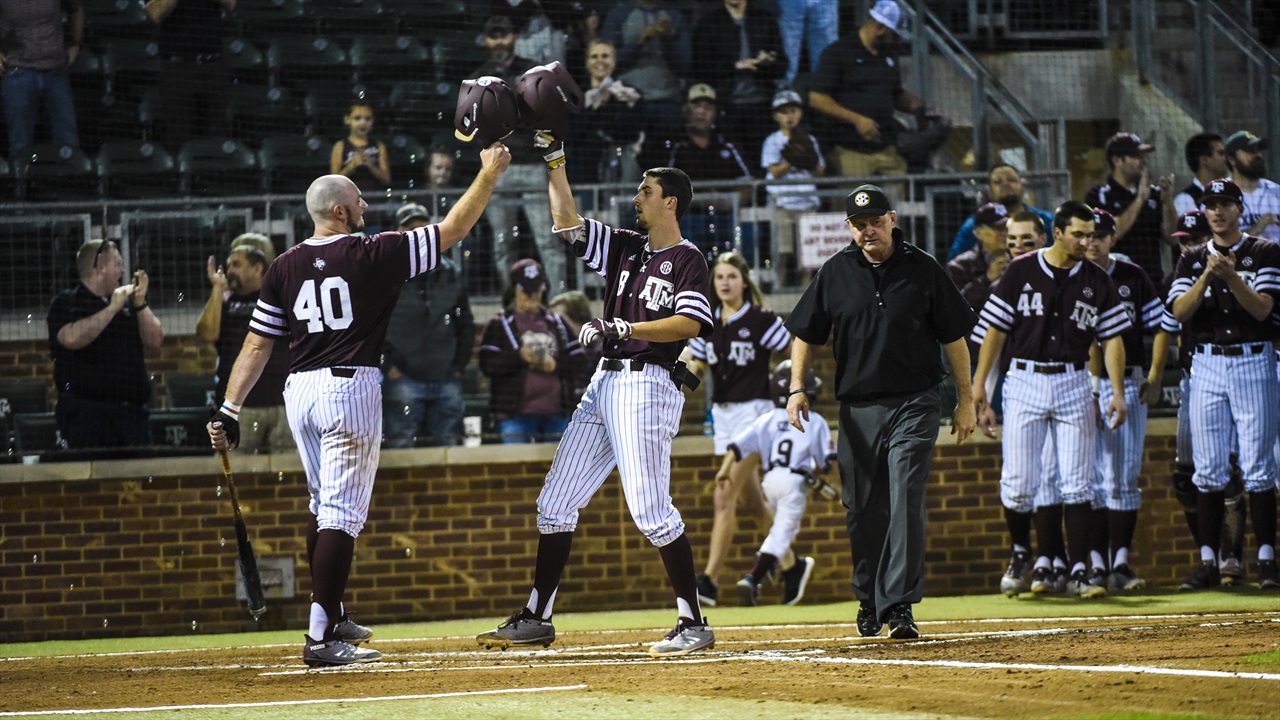 Photo by Morgan Kates, TexAgs
Texas A&M Baseball
Free and Easy: Battle-tested Aggies prepared for NCAA Tournament play
---
The Aggies' backs were against the wall heading into Hoover, Alabama last week. It was pretty much a foregone conclusion that they needed to win at least one game if they wanted to make the NCAA Tournament.
However, instead of pressing, playing tight and getting overwhelmed by the pressure, A&M proceeded to go 3-1, beating Auburn's prized ace, Casey Mize, and clinching a spot in the Austin Regional in the process.
That remarkable success was due in large part to four stellar pitching performances, nearly error-free defense and some timely hitting, but it was also thanks to an easygoing mentality that belied the gravity of the situation.
"We had no expectations from the outside and we just knew we could go there and essentially just play free and easy with no fear of consequence," slugging first baseman Chris Andritsos said Monday. "I think it'll stick with us — everyone's in a good spot right now."
In other words, instead of treating the SEC Tournament as a high-stakes situation where they needed to play perfect to win, the Aggies entered Hoover with a nothing-to-lose approach. It worked out, and they will try to keep that attitude this weekend in Austin.
"I think that's when we play our best, when we go out there and play for each other and just play 100 percent free."
"We played free — we didn't worry about what was going to happen or what might happen," third baseman George Janca said. "I think that's when we play our best, when we go out there and play for each other and just play 100 percent free. Not worried about consequences and what might happen if we might get in [to the postseason] or we might not, and now we're in so all the pressure is off."
Maintaining the clean baseball from last week will also be critical if A&M wants to advance to its fourth-straight Super Regional. The Aggies always knew they had it in them to play at this high of a level, but it was not always on display as they navigated through their brutally tough SEC schedule.
Playing in a conference that sent a whopping 10 teams to the NCAA Tournament means that even the smallest mistakes are magnified and can easily turn into losing streaks, but the Aggies hope that the competition prepared them for the postseason.
"The league for 10 weeks, now 11 weeks, in the Southeastern Conference has prepared us for anything that we're going to see for the rest of the season," head coach Rob Childress said. "It's calloused us up, it's made us tougher and I know our guys are feeling really good about the way we've played. It's just about going out and playing well again and providing ourselves an opportunity to win the game late."
Said All-SEC shortstop Braden Shewmake: "This team's always had a lot of confidence, but I think that's been boosted a little bit more. We know we can play with anybody because we play in the best conference day in and day out where any team you play against is unbelievable."
Childress indicated he would start John Doxakis in the Aggies' first game against No. 2 seed Indiana, but he will not confirm that until he delves deeper into the Hoosiers' scouting report. Whatever he ultimately decides, the pitching staff appears primed for success.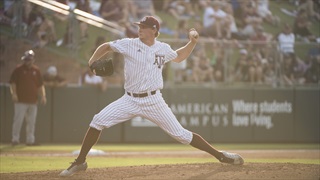 Brian Okosun
Doxakis took a no-hitter into the eighth inning in his last start against Auburn, Mitchell Kilkenny tossed six innings of two-run ball against the potent Ole Miss offense on Saturday and the lefty duo of Kaylor Chafin and Asa Lacy each turned in impressive six-inning starts of their own.
Add in the fact that Nolan Hoffman has shown no signs of slowing down out of the closer's role and Cason Sherrod has notched five scoreless outings in a row, and Childress' pitching staff looks as good as it has all season.
"I would say we feel a lot better about the situation and where we are as a team than we did 10 days ago going into the conference tournament," Childress said. "We didn't play very well against South Carolina, we needed to go play well in Hoover and we did that. I would say we're in a much better spot mentally leading into this week."
Offensively, the Aggies also showed signs of resurgence in the Yellowhammer State. Michael Helman led the way with six hits and several other hard-hit balls, Zach DeLoach went 3-for-3 against Mize and the duo of Chris Andritsos and Logan Foster appeared to get back on track as well.
Andritsos hit two towering home runs out of the cleanup spot to seal the Aggies' win over Georgia, while Logan Foster hit .357 (5-for-14) with two triples and two RBI in the SEC Tournament. Having those two power bats in the middle of the order makes the A&M lineup much more intimidating to opposing pitchers.
"We've known the whole time that they can do that and that they've had that in them," Shewmake said. "Them coming back and doing what they need to be doing and what they should have been doing all year long if you ask them is really nice for the lineup."
The potential A&M-Texas matchup will probably garner most of the headlines from the Regional, but first the Aggies will have to take care of Indiana. The Hoosiers boast a .284 team batting average that is identical to the Aggies and they also have two big-time starting pitchers in Pauly Milto and Jonathan Stiever, the latter of whom leads the Big 10 in strikeouts.
In the end, though, none of the three teams in the Regional will be more of a test than the murderer's row of Florida, Arkansas and South Carolina that the Aggies played down the stretch or the seven other tournament teams they battled over the course of the season.
If that is the case, then maybe all the struggles the Aggies experienced this year were worth it.
"It was a little up and down throughout the year, but we got in and that was our goal," Janca said. "We made the postseason but now we've got bigger things ahead of us. We have to focus on our first game, which is Indiana. They're playing really good baseball, but we need to take it one step at a time and keep playing good baseball."
Never miss the latest news from TexAgs!
Join our free email list