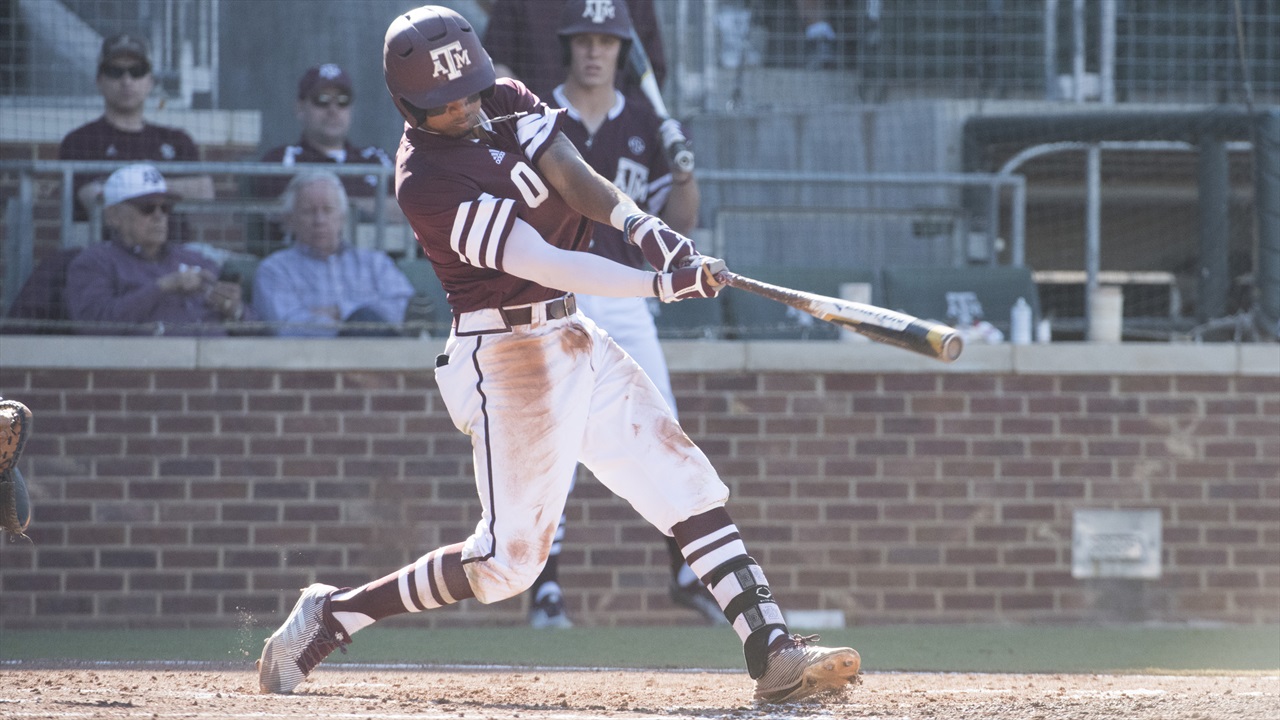 Photo by Stephanie Aiple
Texas A&M Baseball
Dugout Chat: Allonte Wingate making impact for Aggies as utility extraordinaire
---
(Click "play" above to listen to the Dugout Chat in full.)
The term "everyday player" in baseball usually refers to a player who is constantly in the starting lineup, someone who rarely leaves the field and plays a big role in the success of the team.
In the case of Allonte Wingate, the latter part is still true but he is deployed differently than most "everyday players." The uber-versatile utility man from Beaumont has played in all but four of the Aggies' games so far this season, making appearances at second base, third base and all three outfield spots, sometimes playing two positions in the same game.
"I love it, just wherever I can help our team, wherever I can play," Wingate says in this week's Dugout Chat. "Getting in the lineup is pretty hard with how much talent we have here, so whether it's in the infield or outfield I'm down for whatever."
Wingate is one of only four A&M players hitting over .300 at this point in the season, but he is such a valuable piece coming off the bench as a pinch runner or defensive replacement late in games that the coaching staff has elected to keep him in that role rather than pencil him into the lineup full-time.
"When we got him to come that was the plan all along," says A&M assistant coach Justin Seely. "He's a guy that can play multiple positions and gives us a chance to have some versatility and a chance for him to play every day, which he pretty much does. He's done a very, very good job with his role as a ballplayer — he's been a big help for us.
"You're always weighing things try to figure out what's in the best interest of the team. What we don't want to have happen is get hamstrung with six or seven right-handed bats in the lineup at the same time.
"Tay being right-handed and being able to play all over the field, well now we can play defense at the most critical time of the game. That's really the balance of whether we're going to start him or bring him off the bench, knowing we're going to play him every day."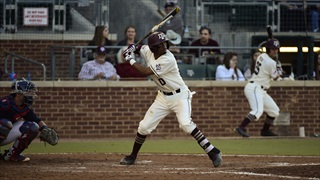 Justin Oster, TexAgs
When he has gotten the chance to hit, Wingate has been impressive. He does not possess home run power, so he doesn't try to hit home runs. That approach seems like common sense, but not everyone is able to stay within themselves like that at the college level.
Wingate is hitting .301, has scored 20 runs and is getting on base at an impressive .404 clip. He started in right field against Sam Houston State on Tuesday night and more at-bats may be in store for him moving forward.
"I'm just sticking to my approach, trying to stick to my role," Wingate says. "Not trying do too much or get too big at times. It's just been a roller coaster — I've had my fair share of strikeouts and struggles this year just like everyone else. It's just trying to do what I can for the team."
Says All-American shortstop Braden Shewmake: "He's unbelievable. He does whatever anybody asks him to do, whether it's one of us or one of the coaches. He's a great teammate and he always puts the team ahead of himself, which makes him a very likeable guy in the dugout. Everybody loves him, he's a great guy and he can do it all. He can play in the infield, the outfield and the man can hit as well. He knows his approach, he knows what he can do and he sticks to that, he doesn't try to go outside of that.
"He makes jokes in BP all the time like, 'I think I'm going to drive one out today,' but he doesn't try to do stuff that he knows he's not going to do very often. He sticks to his approach and obviously it works for him."
Wingate played mostly shortstop growing up and did not start playing in the outfield until last year at Cisco College, where he hit .350 with 12 doubles. He has adapted quickly to the new spot on the diamond and has developed into a reliable defender wherever he plays.
He played at the University of Houston as a freshman in 2016, seeing action in four games and drawing two walks in five plate appearances. He decided he needed a change of scenery, so he transferred to Cisco, regarded as one of the better junior college baseball programs in the state.
According to Wingate, playing at the junior college level helped him improve his game both physically and mentally.
"Just the reps in junior college," he says. "You play two games every time you play someone. It's really good to learn yourself as a hitter and see a lot of different pitching. You're not going to see as much velocity as you see here, obviously, or people who can command as many pitches as they do here, but you still see some really good competition."
Wingate played last summer for the Brazos Valley Bombers, which was the first time he seriously came across the Aggies' radar. Cisco head coach David White had brought up Wingate's name to Seely before, but with the SEC schedule heating up and postseason play fast approaching last season, there was no time to go watch him play until the summer.
"We felt like we needed some more versatility, you always want to have a guy that can do exactly what he's doing and when you put him in the game, you feel like you're going to get exactly what we're asking for — that's what he does."
"I saw a guy that moves well, has good hands and pretty much knew who he was," Seely, the Aggies' recruiting coordinator, recalls. "He was at a point in his career where he was going into his junior year in college, and he had a good idea of who he was. We felt like we needed some more versatility, you always want to have a guy that can do exactly what he's doing and when you put him in the game, you feel like you're going to get exactly what we're asking for — that's what he does."
The Aggies had already made an impression on Wingate without even knowing it during the 2016 season, when A&M traveled to Houston to play the Cougars. Wingate was playing for U.H. at the time, and what stuck out to him was that there was more maroon in the stands than red. The level of enthusiasm that the Aggies brought impressed him, and it was an easy decision when they decided to offer him a scholarship late in the summer.
"Just to hear all the fans screaming and yelling, excited about baseball — that was kind of nice, I wanted to be a part of that," Wingate says. "Somehow the opportunity ended up coming across for me, so it was just a no-brainer."
It didn't take long for the news of his commitment to travel to the rest of the A&M players, as he immediately began getting follows and direct messages on social media from his new teammates.
One of the first to reach out was Shewmake, who was coming off a stellar freshman campaign and a stint with Team USA. The two went to eat together at Panda Express, where they instantly bonded.
"We went to Panda, sat down and talked a little bit," Shewmake says. "I knew immediately I was going to love the kid. He's a well-spoken guy, he likes to have fun but he's not too crazy. He's a great dude."
Recalls Wingate: "It really meant a lot. Freshman of the year, just for him to show the maturity to do that. That was a big step for me, like this is actually a family. They practice what they preach."
Wingate will be back at Olsen Field Thursday night as the Aggies begin their final weekend series of the regular season. Red-hot South Carolina comes to College Station looking for their fifth-straight SEC series win while the Aggies are trying to get back to playing their brand of baseball and bolster their NCAA Tournament resume before the conference tournament.
The 6-foot, 175-pound Wingate may or may not be in the starting lineup against the Gamecocks, but either way he will get in the game at some point and more than likely make an impact.
"He's so smooth defensively it's unbelievable and the thing that one of the coaches said was if he's able to hit, then he's going to really help us," Shewmake says. "Obviously he has been able to. He's surpassed a lot of expectations and I know he has even bigger expectations for himself."
Never miss the latest news from TexAgs!
Join our free email list