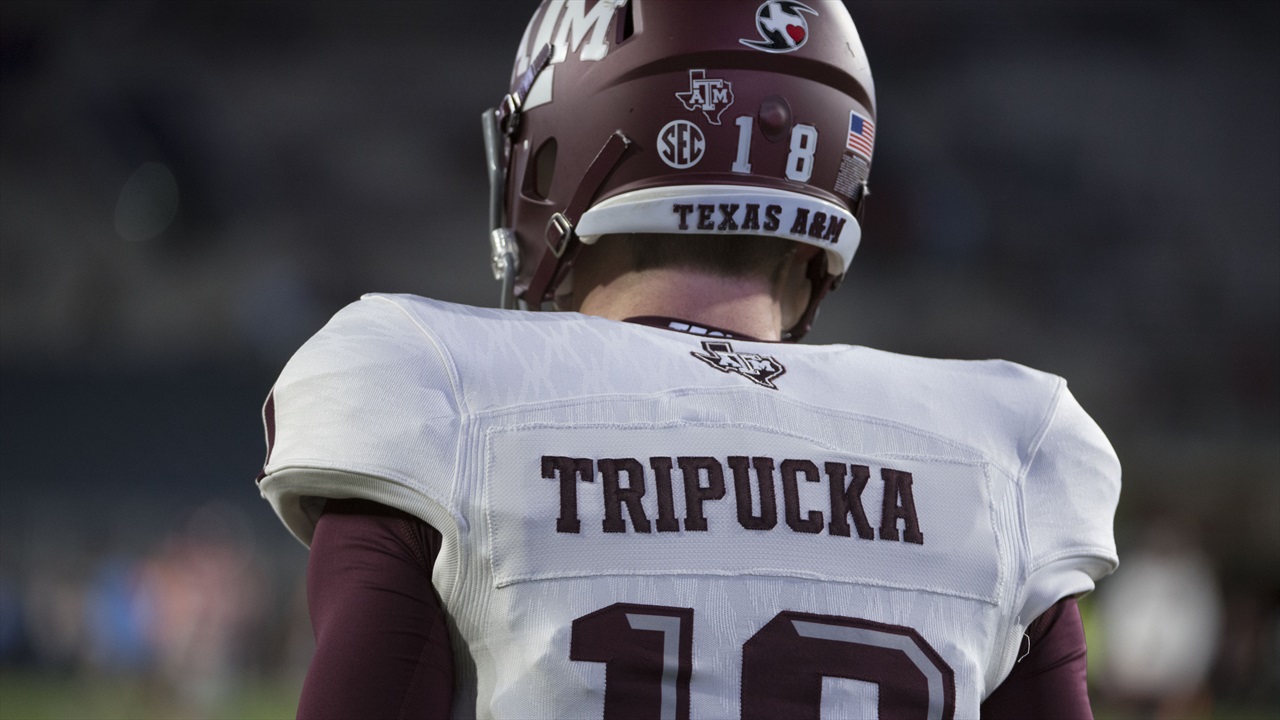 Photo by Margaret Connett, TexAgs
Texas A&M Football
Shane Tripucka discusses preparing for the NFL Draft, his time at A&M
---
Key notes from Shane Tripucka interview
I'm more excited than you could imagine about the draft, it's definitely a mix of emotions. A little nervous and excited at the same time.

Everything is vague and it's hard to figure out what every team wants from you. I have talked to every team at this point and there are a good group of target teams that I have been talking to a lot. It's just a lot of waiting to hear from teams right now.

There are not usually a lot of punters taken, maybe one or two, but this year a lot of teams are looking and I think that there will be three or four this year. For me, it's good and bad, because a lot of teams need punters but there are also a lot of punters coming out this year. I talked to five or six teams and they want someone that will come in and try to win a spot. Sometimes it's better to go the free agency route because you get the chance to pick which teams you want to go look at. I'm just excited to fulfill my dream of being a punter in the NFL.

The SEC had a lot of good punters this year, which made it a fun battle every week. I would go out there and try to help win games from the punting side of things. The SEC definitely produces some good punters.

A lot of my lack of touchbacks was not even me, it's those gunners on the outside running down and making plays. I just had to put the ball down there and they would go get it. Like Josh Reynolds, who is doing it for Johnny Hekker and the Rams now.

I may not have an awesome average or anything, but I pride myself on my situational punting. Being able to punt away from a certain returner or put the ball in certain places on the field.

It would have been really cool to play for the Broncos, where my grandpa played, but you can't blame the Broncos for getting Marquette King, he is a great punter.

Being a punter coming out of school is definitely different than most other positions. I've been all over the place getting ready. You have to stay fresh and not over kick. The biggest thing is taking a couple days off, every other week. It can be an exhausting process and you have to let your leg rest but be ready to get right back into it.

I've always looked up to guys like Shane Lechler, and Hekker with the Rams and Sam Koch with the Ravens. It's all about watching those guys and emulating what they do. They'll be wheeling Lechler out on a wheel chair to punt kicks before he retires.

I think Braden Mann is going to do a great job. He's got a huge leg and kicks it really well. I'd like to see him go out there and beat all those records. I think it's going to be a good year for him.
Never miss the latest news from TexAgs!
Join our free email list