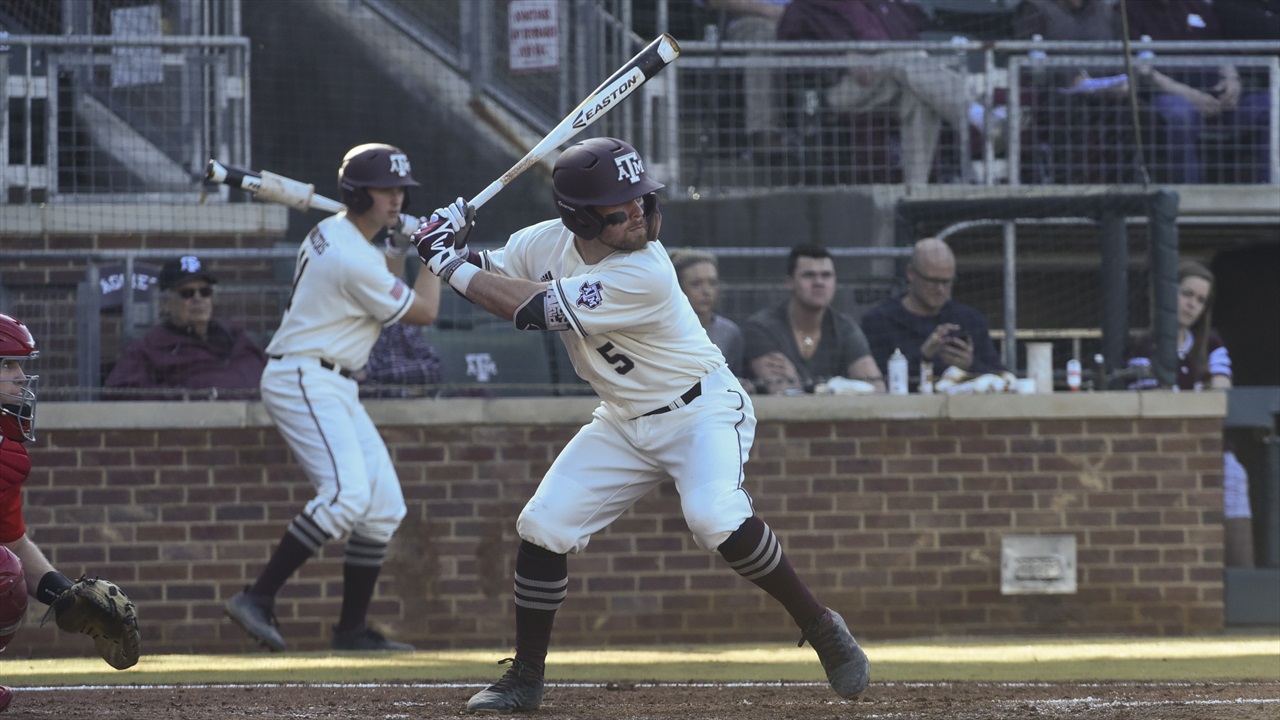 Photo by Justin Oster, TexAgs
Texas A&M Baseball
Dugout Chat: Logan Foster smashing baseballs again with retooled swing
---
Before Logan Foster departed College Station for Wisconsin to play summer ball in the Northwoods League, he sat down with head coach Rob Childress and hitting coaches Will Bolt and Justin Seely for his exit meeting. They delivered a stern but unsurprising message: Foster had to improve his swing.
He was coming off a freshman season where he hit a respectable .280 with six home runs, but he limped down the stretch and lost his starting spot as his violent swing and big leg kick were exposed against SEC pitching.
"All three of them told me a leg kick is used to be on time, and you haven't been on time, so something needs to change there," Foster recalls in this week's Dugout Chat. "They sent me to summer ball and said, 'You need to figure it out.'"
He exploded onto the scene in the early part of the season, immediately becoming one of the Aggies' better hitters, but his bat cooled considerably when conference play came around. He looked out of sorts against the improved competition, he chased pitches out of the zone and struck out with alarming regularity.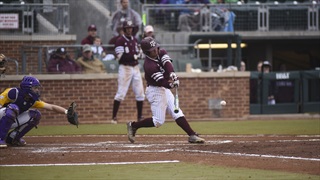 Stephanie Aiple
The problem with Foster's swing was that he wasn't using his leg kick as a timing mechanism, he was using it to start his swing. This caused him to commit to pitches early, leaving him vulnerable to offspeed pitches in the dirt and also made it hard for him to catch up to higher velocity.
"He just had a lot of moving parts, a lot of things that are high maintenance for a hitter," Bolt says. "He chased up and down a lot because of that and he just had a lot of length in his swing. If he got ahold of it he could hit it 450 feet, but he doesn't need to do that. If it goes 400 it's going to get out of most parks, so he just needed to be on the barrel more often.
"We talked about some improvements that he needed to make going into the summer. Pitch recognition, plate discipline and making more consistent hard contact. We had that conversation with him, and what's good about doing it before the summer is that guys can go out and work on stuff and there's really nothing on the line."
So Foster packed his bags and headed out to summer ball, where he played for the Wisconsin Woodchucks alongside Aggie teammate Hunter Coleman.
Foster and Coleman spent many hours in the batting cage together in June and July as Foster tried to adjust to the toned-down swing. Being away from campus he did not have the luxury of working with Bolt and Seely, so he had to figure it out himself.
"I played around with different things," Foster says. "I looked at video of guys like Tyler Naquin with the tap-and-go [approach] and just tried to get a feel for it. I think it's something that's really helped me be able to see the ball and not get myself in a hurry."
He saw some early returns from his new swing and approach, hitting over .300 and drawing more walks in 34 games for the Woodchucks than he did in 52 for the Aggies in 2017. However, he felt like toning down the violence in his swing had sapped some of his power, a problem he addressed when he was back with his coaches in the fall.
He worked with Bolt to get his legs more involved in his swing, which returned his power and allowed him to blossom into more of an all-around hitter who can hit for power and average while drawing walks as well. So far in 2018, he is hitting .338 with a team-leading seven homers while drawing 23 walks, the second-highest total on the team.
His .566 slugging percentage leads the team and his robust .999 OPS trails only Michael Helman for the team lead.
"I feel like he's been a lot more under control with a lot fewer swings and misses," says Coleman, the Aggies' cleanup hitter. "He's a guy with obviously a lot of power. He puts on a show during B.P. and in the games — he hits some of the farthest balls I've ever seen.
"He's a guy that just needs to get a pitch to drive. One swing of the bat from him can change the game, so when he gets that pitch now he doesn't miss it as much. Last year sometimes he would get big and swing through it, but this year the adjustment has been huge for him."
"He's a guy that just needs to get a pitch to drive. One swing of the bat from him can change the game, so when he gets that pitch now he doesn't miss it as much. Last year sometimes he would get big and swing through it, but this year the adjustment has been huge for him."
Says Bolt: "He's just been putting the ball in play more consistently. There's still some swing-and-miss in his game and there are still some things that he's continuing to work on, but he's certainly finding the barrel more consistently. When he's on the barrel he hits the ball as hard as anyone on the team, so there's going to be more hits in there."
Growing up in Lincoln, Nebraska, Foster was not always a power hitter. Ace reliever Nolan Hoffman, also a Lincoln native, says he doesn't remember him hitting for so much power even in high school, but the 5-foot-10, 190-pound Foster did enough to earn a scholarship offer from the hometown Cornhuskers.
But Foster had lost interest in Nebraska since Childress left there to become the head coach at A&M. Foster grew up going to daycare with Childress' daughter Hannah, who is one year older than him, so when he got an offer from the Aggies, it was an easy decision.
"When they offered me, it was a no-brainer," says Foster, a lifelong Nebraska football fan who plans to move to Lincoln when his baseball career concludes. "I've always wanted to play for Coach Childress."
Foster started the 2018 season strong, going on a tear right before conference play began with a four home run week that earned him Collegiate Baseball's National Player of the Week honors, but then struggled when SEC play came around.
He turned it around quickly, however, and has elevated his game even further now that he is hitting in the two-hole in the Aggie lineup. In the seven games since moving into that crucial position, he is hitting a whopping .458 (11-for-24) with a home run and nine runs scored. Consequently, the Aggies have won all seven of those contests.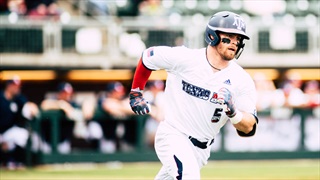 Perry Hawley
"He is quietly putting together a really nice year for us," Childress says. "We've moved him up to the two-hole and he's done a nice job for us there with a lot of gritty at-bats. It's been awfully fun to watch Logan Foster mature and grow as a player and a young man."
While Foster's patience and contact skills are significantly improved this year, his enormous raw power has still been frequently on display. His seven home runs have averaged 391 feet in distance with a blistering exit velocity of 103.4 mph off the bat.
"He's already passed his home run total from last year, and he's not trying to hit home runs — I think that's a big difference," Bolt says. "I think last year he kind of got caught up trying to hit home runs, and now he's just trying to hit the ball hard."
The Aggies hit the road for Tennessee this weekend as they try to win their third-straight SEC series. Foster will try to build on his 2018 success, which he has made a point to enjoy more following his struggles as a freshman.
"Just being able to relax and treat it like you did as a kid, having fun. You're out there with your boys playing, being able to play with my roommates every single day," Foster says. "Just soaking it all in making the memories that are going to last a lifetime. At the end of the day you don't want to worry about the numbers and chase the statistics, you're going to remember the times that you had with the guys around you."
Never miss the latest news from TexAgs!
Join our free email list