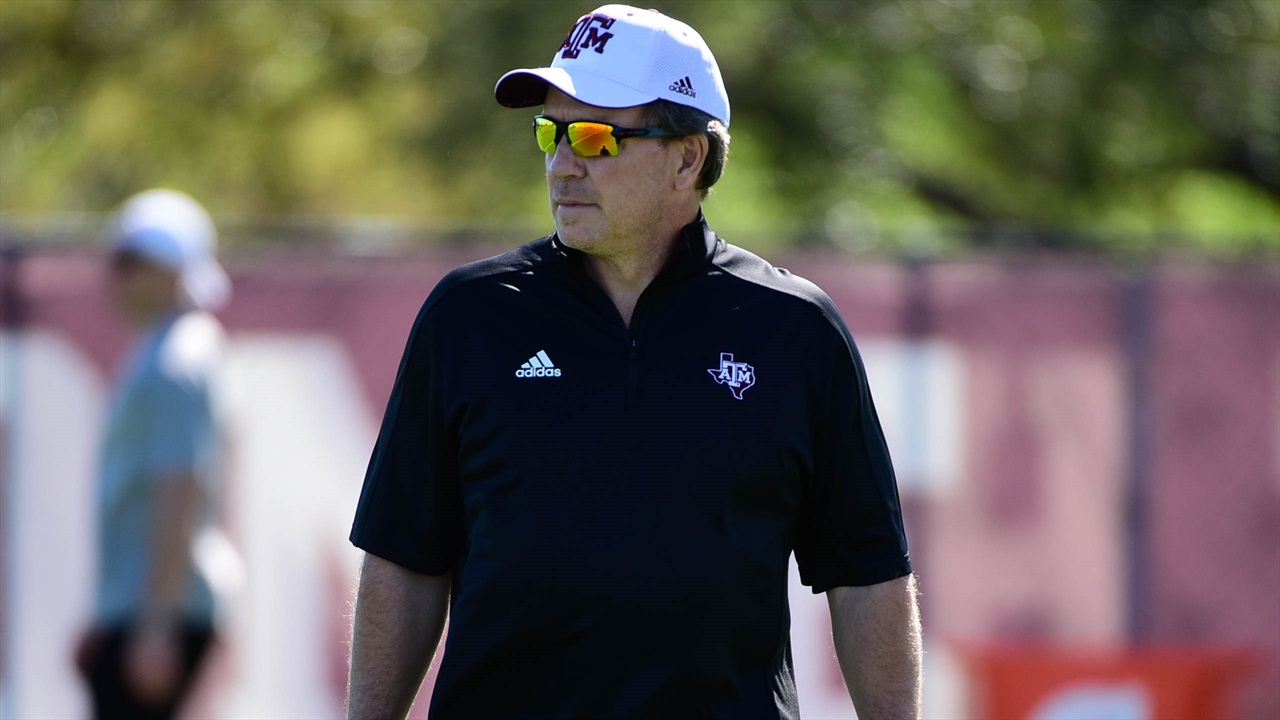 Photo by Andrew Kilzer, TexAgs.com
Texas A&M Football
Crash Course: Fisher implementing new offensive scheme in spring ball
---
Every football coach wants speed burners on his roster.
But for now, Texas A&M coach Jimbo Fisher wants speed learners.
After the first day of spring practice on Tuesday, Fisher spoke about quarterbacks under center, production at the tight end position and the importance of a physical running game. But first, the Aggies have to learn what to do in Fisher's new offensive system.
"You can never judge a guy's ability until he knows where he's going and how fast he can go," Fisher said. "How quickly they learn is what you're really going to be judge.
"Of course, got to get a lot better on things. But I like the attitude and I like the effort, the execution. It's getting better. They're learning. Hopefully, in the next couple of days they will start to pick all that stuff up and they'll gel more and more each day.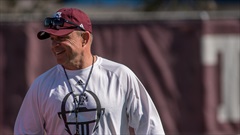 Clay Taylor, TexAgs
Fisher said picking up the nuances and new expectations at various positions is a matter of attitude.
He indicated that he's been encouraged by the players' attitude in their approach offseason workouts with new Strength & Conditioning Coach Jerry Schmidt.
"I thought Schmitty did a great job," Fisher said. "Our body fats have dropped. Strength got better. But it should be. We cranked them real hard.
"We had a great offseason program. They had a great attitude. They worked real hard in the weight room. We're not out of shape. We didn't have nobody cramp. We had nobody miss practice. We had nobody come out tired. We had a lot of reps. We went fast. We're very pleased with that part."
That extra strength and less body fat figures to help Fisher build the physically dominating offense and defenses he desires.
Last season A&M ranked a mediocre 78th in the nation in rushing offense and 71st in rushing defense. It's obvious he expects to improve in both of those categories.
"In this league (SEC) you've got to be able to run the football and you have to be able to stop the run. No doubt," Fisher said. "You're going to make your plays. You're going to throw the ball. You can spread and do all those things, but you've got to have the physicality and that's lining up in two-back formations. It will definitely help our defense because they're going to see it and see the blocking schemes and have to play those kind of blocks."
Previously, Fisher has said quarterbacks will take snaps from under center and a tight end will be used extensively.
That will be a big difference for quarterbacks Nick Starkel and Kellen Mond.
They haven't thrown to tight ends much, either. Last season just 10 passes were completed to A&M tight ends. Fisher vowed that would change.
"You'll see (quarterbacks under center) at times," Fisher said. "Sometimes we'll be in the (shot) gun. We'll be in both. That is something different for these guys. They haven't been under center as much, but there are things we want to do in our offense that I think you need to be under center. They worked on it hard on their own in the offseason taking snaps. It went pretty well today. Some of those guys have never been under."
They haven't thrown to tight ends much, either. Last season just 10 passes were completed to A&M tight ends. Fisher vowed that would change.

"Those tight ends may not have 80 or 90 catches, but they're going to have 30, 40, 50 catches," he said. "It's how they get them … big third downs, red zones, to keep drives alive. There's so many nuances for a tight end and how he's going to get open. That takes time and a quarterback has got to get a feel for it.
That's just one more thing the quarterbacks have to learn. Fisher said they're making progress.
"All those guys have done a good job," he said. "They ask the right questions. They're kind of getting the concept, which I'm happy about. They're fun to work with. They're easy to coach. They've been very attentive. The ask the right questions."
Never miss the latest news from TexAgs!
Join our free email list