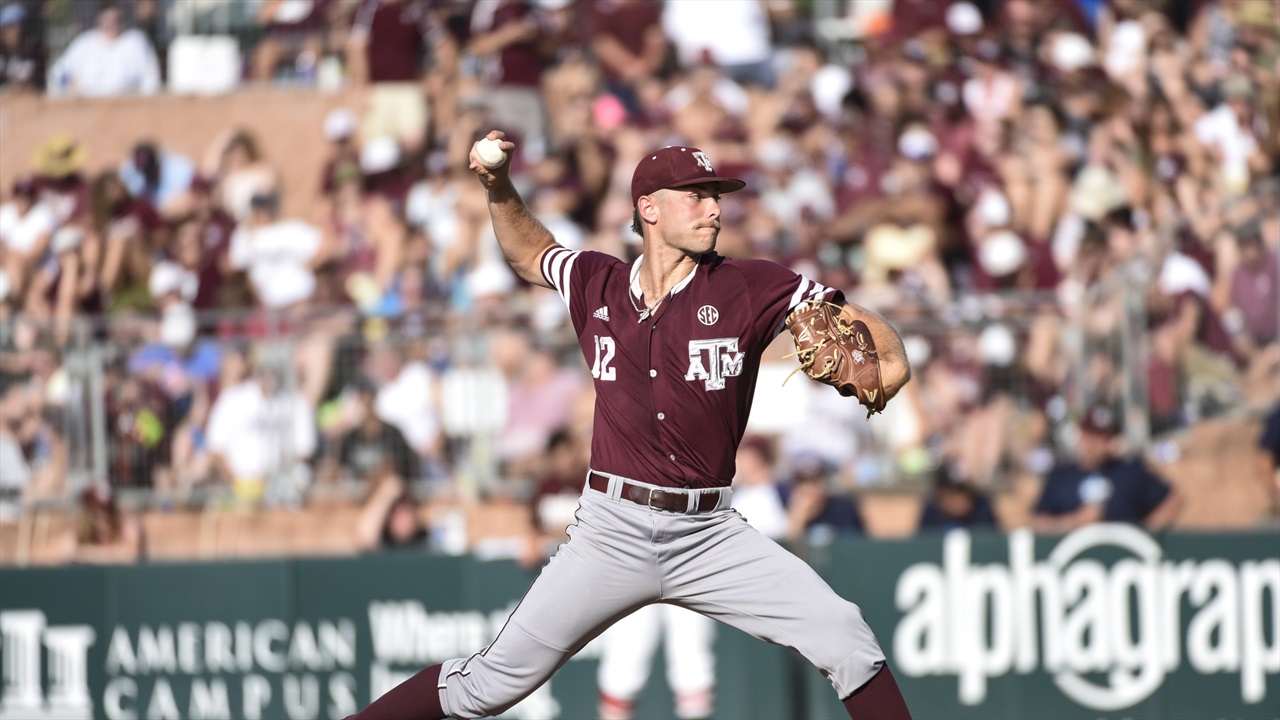 Photo by Lexie Hudson, TexAgs
Texas A&M Baseball
Dugout Chat: Corbin Martin looking to advance quickly for hometown Astros
---
Corbin Martin was sitting at home the week leading up to the Aggies' trip to Omaha last summer when he got a call on his cell phone.
When he looked down, he couldn't believe what he saw. Even though he hadn't been in touch much with the Astros prior to the MLB Draft, they were the ones who reached out to him on that propitious day in mid-June.
"We heard more from the Pirates and the Brewers leading up to it, and then all of a sudden I get a phone call from the Astros guy. I said 'No way, this can't be happening,'" Martin recalls in this week's Dugout Chat. "The coolest part was it being the Astros, my hometown team. I've been cheering for them since I was born it seems like. Growing up and watching them on TV, it was kind of surreal."
Martin's stepdad happened to walk in the room right as his name was getting announced on MLB Network as the 56th overall pick, and his mom was speechless as the family realized what had just happened.
Getting drafted in the second round — the highest Aggie drafted since Tyler Naquin and Michael Wacha went in the first round in 2012 — capped off a memorable week for Martin, who just days earlier had started the clinching victory over Davidson to send the Aggies to the College World Series.
"It was a pretty good weekend to say the least," Martin says.
Two weeks later, Martin found himself in Minute Maid Park, where he officially signed his contract with his hometown team. While there, he and his family toured the Astros' facilities and Martin got to say hello to some of the current Astros players.
Fresh off a World Series winning season and with an organization stocked with young talent, it is undoubtedly an exciting time to be an Astros fan, much less a player in the organization.
"I think I'm here at the right time," says Martin, who attended Game 5 of the World Series in Houston. "We just got Gerrit Cole and our rotation is off the charts right now. We don't lose anyone in our lineup so the time is now to win back-to-back. It's a good time and our whole organization is well-run and doing a really good job."
Martin has come a long way since his first two years at A&M, where he was never short on talent but struggled to pitch at the level he knew he could.
"When he was a freshman I thought he was going to have as good an arm as anybody," says A&M recruiting coordinator Justin Seely. "He's always been super, super talented even from a young age and not a whole lot has changed."
Even after Martin's draft stock exploded after dominating as a reliever in the Cape Cod League two summers ago, he was rocked early in his junior season. With an inflated 9.72 ERA, Martin moved into a middle relief role, where he pitched well enough to crack the starting rotation early in the Aggies' SEC schedule.
He credits head coach Rob Childress for always having confidence in him.
"I think it made me grow as a person," Martin says of his struggles. "The trust that Coach Childress had in me was big. He didn't give up on me and made me realize that baseball is a game of ups and downs. Just the fact that I could have the worst of all games and Coach Childress was still my biggest fan and he kept putting me out there nonstop, I wasn't going to give up."
Martin was sensational down the stretch for the Aggies, as he delivered big start after big start as A&M clawed its way into the NCAA Tournament, won the Houston Regional after Martin threw 116 pitches over seven stellar innings against Iowa, and then swept Davidson to advance to the CWS.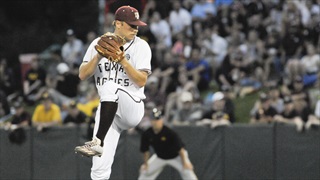 Marc Flores, TexAgs
"He had to learn how to become a starting pitcher. It's not about the day you pitch, it's about the six days in between your outings — that was the thing that Corbin had to learn how to dominate," Seely explains. "By the time he got to be a junior, he had started figuring out how to be very good at those six days in between so he could be great on the seventh day whenever it was his time to pitch."
Martin continued his fine 2017 pitching into his first taste of professional baseball, pitching to a 2.20 ERA and racking up 43 strikeouts in 32.2 innings. There have been questions surrounding whether Martin's future is as a starter or reliever, but he's on track to be a starter as of now. Due to the Astros' wealth of pitching, the minor league teams implement a system where starting pitchers start one game and then serve in long relief the next time their spot in the rotation comes around.
Because of this, Martin started four games and relieved in six, only allowing more than one run in two of those 10 outings. He is still throwing his curveball and slider and trying to make both offerings more consistent, and he is also working on a changeup to complement his explosive mid-90s fastball.
"That was one thing that the Astros wanted to do – kind of fine tune my pitches," Martin says. "I've had the capability to throw four pitches, but it's just a matter of throwing them all at the same time."
If Martin can continue developing and consistently throw strikes, he has the potential to get to The Show fairly quickly. The fact that he can start and pitch out of the bullpen only helps his chances.
"I think he's got every chance in the world to not just be a big leaguer, but stay in the big leagues for seven to ten years. He's got that type of arm talent and that kind of athleticism."
"I think he's a big leaguer as long as he stays at it, as long as his work habits stay at a good-to-great level," Seely says. "I think he's got every chance in the world to not just be a big leaguer, but stay in the big leagues for seven to ten years. He's got that type of arm talent and that kind of athleticism."
Martin is back in College Station this offseason working out at the Olsen Field facilities, trying to rejuvenate his arm after he threw a whopping 120 innings in 2017. Not surprisingly, he looks back fondly on his time as an Aggie.
"We had a lot of good times here," he says. "I know waking up at 4:00 in the morning for a workout wasn't always the best of times, but we always made the most of it and it's something I'll always be thankful for."
Moving forward, Martin will continue to work out and get ready to report to his first Spring Training on March 4 with one main goal in mind.
"Just keep advancing."
Never miss the latest news from TexAgs!
Join our free email list