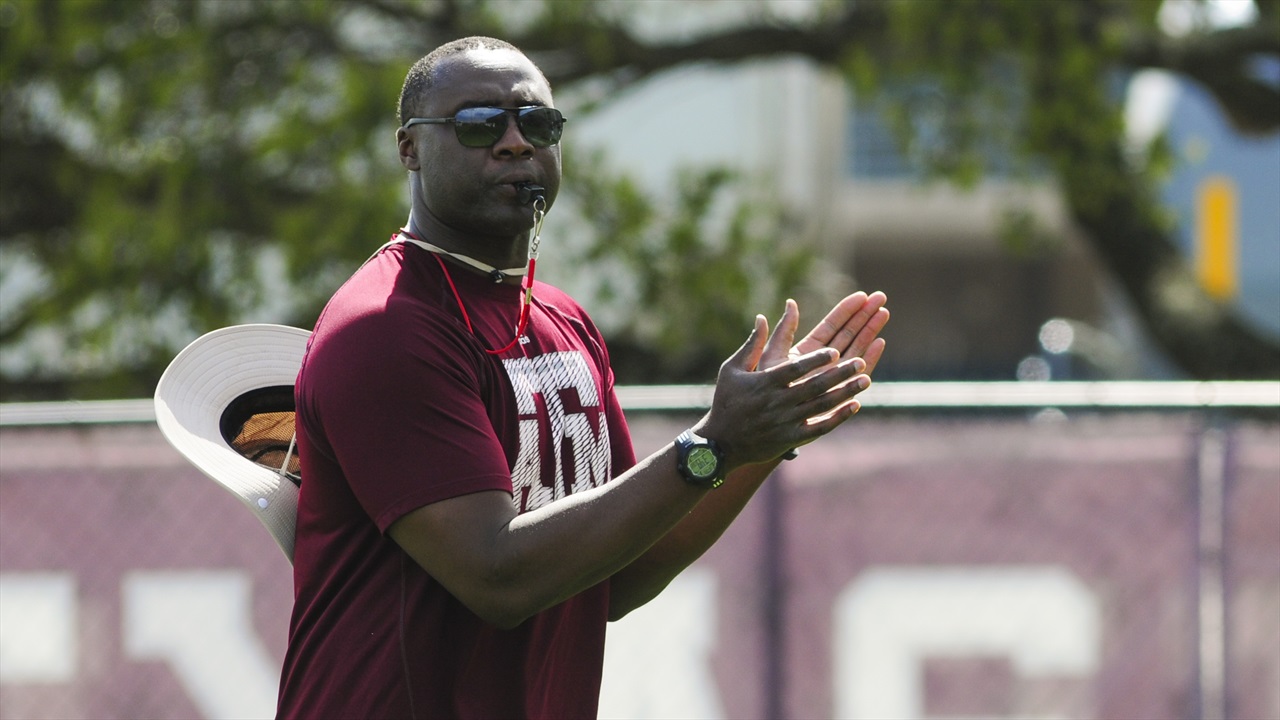 Photo by Lindsay Crouch, TexAgs
Texas A&M Football
Larry Jackson talks A&M hiring his mentor Jerry Schmidt as S&C coach
---
Key notes from Larry Jackson interview
The team is going to learn that what doesn't kill you makes you stronger real quick with Jerry Schmidt. I'm pretty charged up with what is going at Texas A&M right now. I think they are assembling a great staff.

First, when I was at A&M the first time under Mike Clark, he kind of taught me about how the business worked. Then I got the offer from Oklahoma and I didn't even know how much money I was going to make it. Mike told me that it doesn't matter how much money I was making, I just needed to go learn from Jerry, who was one of the best in the business. I left sight unseen and didn't look back.

What I learned from Jerry was that it's all about getting guys stronger and faster. Jerry is a guy who knows how to put everything together under the direction of the head coach. In the SEC, you want to be as big and strong as you can be without slowing guys down. Jerry knows how to get his coach exactly what he needs. This guy is the epitome of Ol' Sarge. He was a drill sergeant from day one when I arrived at Oklahoma.

This is a guy who has been one of my mentors, he and Mike Clark, in this business and I still to this day bounce information and ideas off of him. He is my think tank. This guy has championships and multiple Heisman Trophy winners on his resume. I think this staff that Jimbo is putting together is elite and I can see exactly why he wanted to bring in Jerry Schmidt.

I'm an Aggie through and through, no matter the coaching situation. Coaching is a business and at the end of the day I just want Texas A&M to win and compete in the SEC. Jimbo has kept Jim Turner, he's kept Terry Price and I think he rounded out the staff in a perfect way with Schmidt. It won't take long for people to see these changes on the field. Don't worry about the recruiting right now, this team is going to win.

With training, you have to push the guys to a point that practice and training is always harder than the game, that way playing the game is easy compared to the work that they've done. Look at the championship pedigree that Schmidt brings, it speaks for itself. And that's not even looking at the near-misses at championships he has had. His training is very football and position specific. He has trained some of the best in the game, guys like Adrian Peterson.
Never miss the latest news from TexAgs!
Join our free email list