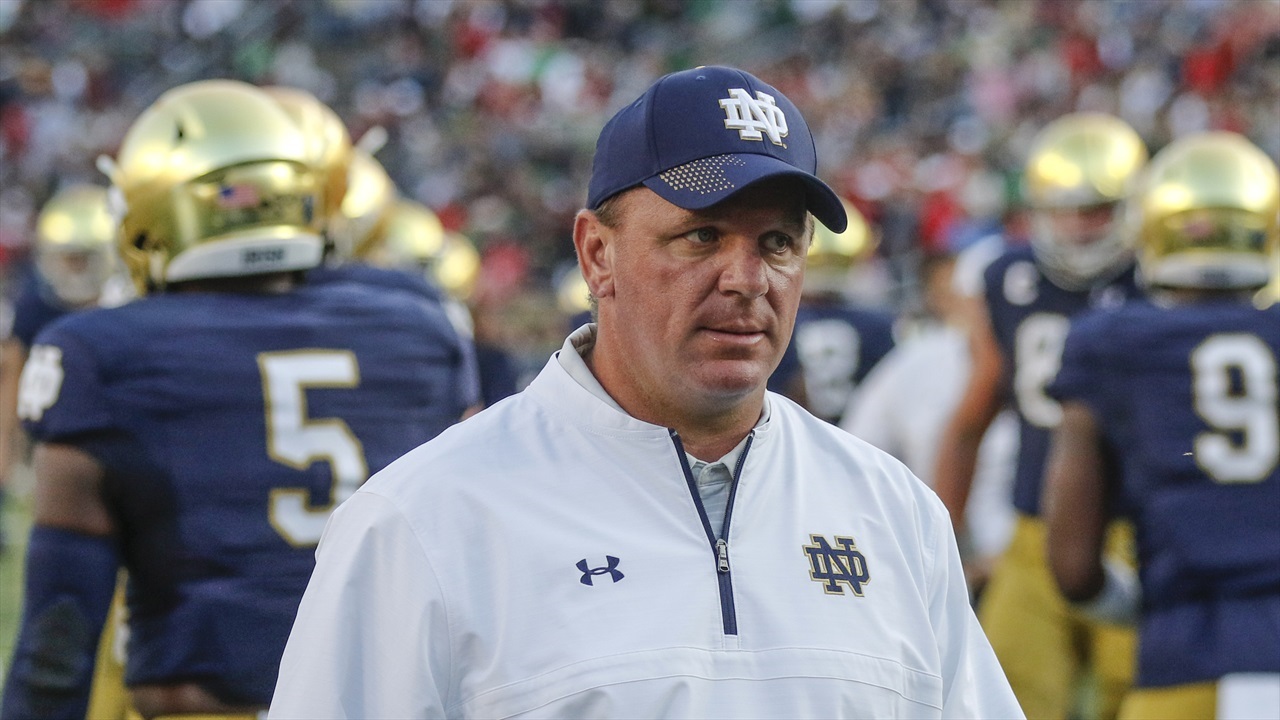 Photo by Rick Kimball/Irish Sports Daily
Texas A&M Football
Texas A&M hires Notre Dame's Mike Elko as defensive coordinator
---
Notre Dame defensive coordinator Mike Elko will take the reins of Texas A&M's defense under new head coach Jimbo Fisher after signing a contract on Thursday. TexAgs Executive Editor Billy Liucci first reported the news.
Elko is widely credited with helping revitalize a Fighting Irish team that spent much of the year in the top ten and closed the season with a win over LSU in the Citrus Bowl. Playing one of the toughest schedules in the country, Notre Dame's defense gave up more than 20 points only three times.
Before joining Brian Kelly's staff in South Bend, the 40 year-old Elko was the defensive coordinator at Wake Forest for three seasons and Bowling Green for five. Neither program is a football power, yet Elko joined Notre Dame as one of only two active defensive coordinators with five consecutive top 40 defenses.
As rumors circulated in December that A&M and other programs could be targeting Elko, Notre Dame Head Coach Brian Kelly said his defensive boss was staying put.
"At first glance, yeah, I think you're always on guard [about losing a coach], especially the defensive coordinator position," Kelly told Irish Illustrated on December 26. "Mike came in, did a really good job. His name was out there, but he's gonna be here at Notre Dame."
On Thursday, Elko decided otherwise and signed on to run the Aggie defense for Jimbo Fisher.
After Notre Dame defeated USC 49-14 in October, Kelly credited Elko's coaching as the primary reason for the 2017 defense's improvement.
"For those that watched us last year compared to this year, we didn't trade for anybody. There was nobody on the waiver wire," Kelly said, implying the difference was coaching, not personnel.
Prior to Elko's arrival, Notre Dame stumbled through a messy 2016 season during which defensive coordinator Brian Van Gorder was fired after the team started 1-3. Following a 4-8 finish, Kelly turned to Elko to straighten out the Irish defense.
Halfway through the 2017 campaign, the Irish were 6-1 and ranked 9th, the sole loss a 20-19 nail-biter to playoff-bound Georgia. They climbed as high as 3rd in the college football playoff rankings before stumbling in Miami and ultimately finished the year 10-3. Elko's unit showed dramatic improvement in key areas, besting the 2016 squad by at least 30 spots in the national rankings in scoring defense, rushing defense and third down percentage.
In his final season at Wake Forest, Elko's defense was ranked 23rd nationally in scoring defense, 18th in third down defense, 22nd in red zone defense and 10th in forced turnovers. Elko's Demon Deacons were one of four defenses in the country to finish among the top-20 in scoring defense, sacks, and forced turnovers. The other three teams on that list were playoff qualifiers Alabama and Washington and the national champion Clemson Tigers.
"They're [Notre Dame] one of the top teams in the country in limiting the run, creating turnovers. Does that sound familiar? That's been Mike's M.O. — try to make teams one-dimensional — and he's doing it."
Fisher is familiar with Elko from his time with the Demon Deacons, one of Florida State's annual ACC foes. The Seminoles won all three meetings during Elko's tenure, but Wake Forest held Fisher's 2016 offense, which averaged 35 points a game, to just 17.
In a 2014 interview with Sirius XM's College Sports Nation, Fisher praised Elko's work at Wake Forest.
"Wake is the best defense we've played," Fisher said. "I'm serious. Wake is a very good defensive team. I've said that and people didn't believe me, and in the secondary especially as talented as anybody we've played."
Asked by ESPN.com earlier this season about Elko's work at Notre Dame, Wake Forest head coach Dave Clawson, who has worked with Elko at four schools, mused, "They're one of the top teams in the country in limiting the run, creating turnovers. Does that sound familiar? That's been Mike's M.O. — try to make teams one-dimensional — and he's doing it."
"Mike's greatest strength is his ability to adjust," Clawson added. "He always understood how players dictate the scheme; the scheme doesn't dictate the players."
Elko joined the Wake Forest staff as defensive coordinator and safeties coach alongside Clawson in 2014. Before arriving in Winston-Salem, Elko was Clawson's defensive coordinator at Bowling Green from 2009-2013, where he also coached linebackers and then safeties. His last two Falcon defenses were both ranked in the top 10 nationally in scoring and total defense, and those squads dominated the Mid-American Conference, ranking first in scoring defense, total defense, rush defense, and pass defense.
Elko was the defensive coordinator at Hofstra from 2006-2008 and also was assistant head coach for the 2008 season. He also worked at Richmond, Fordham, the US Merchant Marine Academy, Penn and Stony Brook.
A graduate of the University of Pennsylvania, Elko was a star high school quarterback before enrolling at Penn, and he played safety for the Quakers team that won the 1998 Ivy League Championship.
Never miss the latest news from TexAgs!
Join our free email list