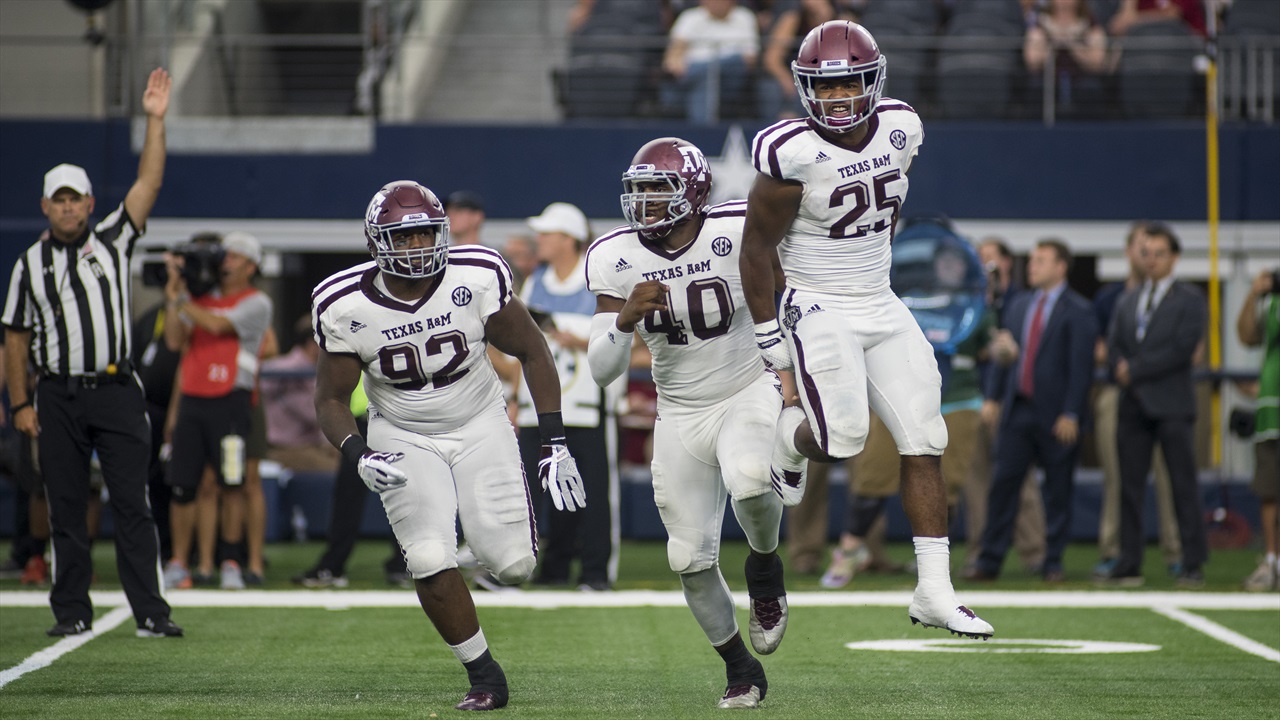 Photo by Alex Parker, TexAgs
Texas A&M Football
Sack Squad: Group effort has Aggies taking down QBs at surprising clip
---
As unlikely as it seems, Texas A&M's pass rush is better than its past rush.
Entering this season the ability to pressure the quarterback was a point of concern for the Aggies, who had to replace to production current NFL players Myles Garrett and Daeshon Hall.
Yet, five games into this season the Aggies have posted 20 sacks, which is the nation's second-highest total. A&M had 16 sacks at this point last season.
That increased production would seem a pleasant surprise. Except that some insist they are not surprised at all.
"I'm not shocked. Not once," senior defensive end Jarrett Johnson said on Tuesday. "I'm confident in my ability. Maybe other people who were watching me play a couple of snaps here and there, they weren't too sure about it. Talking about me, Landis Durham, Otaro Alaka and Tyrel Dodson … I've seen those guys play. I'm not shocked at all."
Neither is coach Kevin Sumlin, who pointed out last year Johnson was tied for second on the team with 4.5 sacks despite backing up Garrett.
"Jarrett Johnson's performance doesn't surprise me," Sumlin said. "He had the same amount of sacks as Daeshon Hall last season.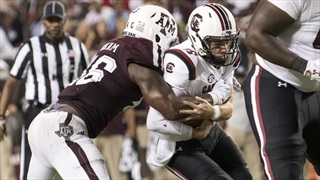 Jerome Miron/USA Today Sports
"Landis Durham is the most improved player on this team. Along with push inside, we've corrected some mistakes where we lost contain in the past."
Now, it appears the only mistake was underestimating Johnson, Durham and A&M's blitzing linebackers.
Durham, a senior end who had not recorded a sack in his career before this season, is now second in the SEC with 5.5.
"I didn't expect that. It shocked me, too," junior defensive tackle Kingsley Keke admitted. "He's been working hard. So seeing as though he worked hard in the spring it doesn't shock me now."
Four other Aggies rank among the SEC's Top 20. Johnson and linebackers Alaka and Dodson all have three. Defensive tackle Zaycoven Henderson has two.
"I think we just have a lot of guys that are eager to get to the quarterback," Johnson said. "When we're in practice we're always competing with each other saying things like, 'I'm going to the quarterback first. Who's going to be the first? Who's going to meet me there at the quarterback?'
"You kind of build this excitement just to get back there. You don't even necessarily have to make a sack as long as we cause pressure, get in his face, cause disruption. We enjoy that."
However, the Aggies' pass rushers know their task will get much more difficult beginning on Saturday against Alabama. Not only has Alabama's offensive line allowed just four sacks thus far, but Crimson Tide sophomore Jalen Hurts may be the most elusive quarterback A&M will face.
You kind of build this excitement just to get back there. You don't even necessarily have to make a sack as long as we cause pressure, get in his face, cause disruption. We enjoy that.
So far, A&M has faced primarily pocket passers in UCLA's Josh Rosen, Arkansas' Austin Allen and South Carolina's Jake Bentley.
"Jalen Hurts is dangerous as a quarterback, but when he runs, good things happen for them," Sumlin said. "(A&M rushers) need to continue to be athletic and disruptive, but we have to be aware of Hurts."
Durham acknowledges the Aggies may have to take a different approach to their pass rush this week.
"That changes week by week depending on their offensive line and the type of quarterback we're going against," he said. "(Hurts) is a real athletic guy, so we're looking to condense the pocket and make sure we close off some run lanes for him."
Hurts leads Alabama with 461 rushing yards, and much of that came on scrambles, so keeping him contained won't be easy to do.
But then, posting more sacks without Garrett and Hall wouldn't have seemed to be easy, either.
Never miss the latest news from TexAgs!
Join our free email list
PRESENTED BY