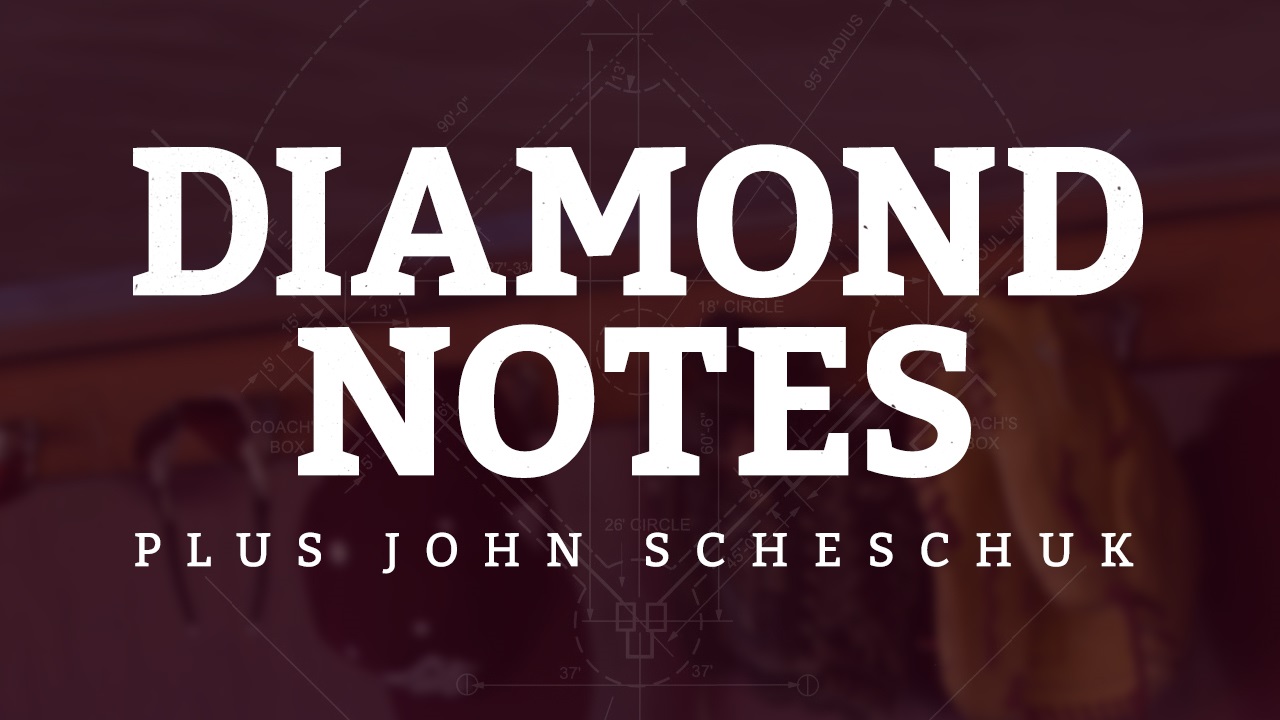 John Scheschuk
Diamond Talk
Texas A&M Baseball
Diamond Notes: Tilt with Horned Frogs looms large for Texas A&M
---
A little Monday afternoon scatter-shooting on Aggie baseball from my office this week at TD Ameritrade Park. I mostly zeroed in on the upcoming matchup with TCU in an elimination game Tuesday at 1:00 in Omaha (since we have written and talked enough about Louisville by now)…
• For the third straight year, A&M will face in-state rival TCU in an elimination game. What are the odds that it would come to this once again? But here we are with an opportunity to send those Frogs back to Cowtown and give them the type of "Gig 'Em" that would make notorious Frog Killer Don Watson (see mid-50s football) proud.
There are two ways to look at this. On one hand, the thought of being eliminated by Schloss' squad for a third consecutive year – this time on the grand stage in the CWS – and for TCU to continue keep its thumb on the Aggies is unsettling. But on the other hand, what better vindication would there be for the A&M program than to vanquish the purple demon in Omaha, and in doing so, pick up its first College World Series win in 24 years?
That's right... 24 years. We have quite a few interns at TexAgs who weren't born the last time the Aggies won a game in Omaha.
• That's right… 24 years. We have quite a few interns at TexAgs who weren't born the last time the Aggies won a game in Omaha. That needs to end, and there's no better way to do it than to send TCU packing. This 2017 A&M team is not overly talented but has shown the ability to find a little spark and use it to get on extended hot streaks.
That happened in late May when the Aggies saw their name pop onto the screen as a participant in the Field of 64 as a bubble team. They rode that positive momentum to a 5-0 record in the postseason and advanced to the CWS for the second time under Rob Childress.
Now, after an opening-game loss to Louisville, I don't know where that spark will come from or if it will come at all. But if A&M can grind out a win over the Horned Frogs on Tuesday afternoon, getting that purple monkey off their maroon and white backs could be the exact recipe the Aggies need to get rolling again and make it interesting coming out of the loser's bracket.
• Someone sent a text into the radio show today suggesting that winning against TCU in Omaha would essentially erase the back-to-back Super Regional losses the last two years. It's a very interesting topic, and one with which I don't necessarily agree. Sure, it would be a huge win for this team and would put to rest a lot of pain to extend this season while ending the Horned Frogs' run. The biggest storyline stemming from a win is that it keeps A&M's season alive, first and foremost. The TCU payback would just be "gravy" in this situation.
A really difficult question is this: Would a win tomorrow be the biggest win in this matchup over the last three years? The easy answer is yes, considering this win is in Omaha and the previous two years have come in the Super Regional round and in the regular season earlier in 2017. But when you dig deeper and take into account just how loaded the previous two A&M teams were and those teams' chances to make a run in Omaha in 2015 and '16, not getting to the CWS with those teams still haunts a lot of A&M baseball fans. It's not quite a '1989 LSU' level of haunt, but haunting nonetheless. We'll settle the topic by saying that a win on Tuesday would not erase the previous two years, but it would most certainly ease the pain a little bit.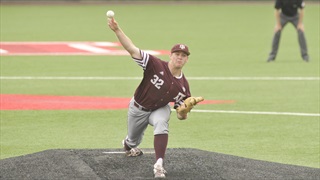 Marc Flores, TexAgs
• Stephen Kolek gets the ball for the Aggies on Tuesday. He was absolutely brilliant in his last outing, a regional title-clinching win over Houston two weeks ago. It was the start of the year for Texas A&M. But by the time Kolek takes the ball against the Horned Frogs, it'll be 15 days between starts. His outing against the Cougars came on 16 days of rest. That's one start in a 31-day time period. It certainly worked for him once, but you wouldn't call it ideal to get that much rest.
• With that said, I anticipate that Kolek will come out and throw very well with the season on the line. He's got some big-game ability about him and should be quite confident coming off of that special outing against UH. That day, his father was able to attend the game in-person while going through a full day of treatment for cancer at M.D. Anderson. He actually paused his appointment in the middle of treatment so that he could be at the ball park to watch the game. Then he went back to finish up.
I have also confirmed that Mr. Kolek has made the trip to Omaha and will be in attendance on Tuesday afternoon. What a story it will be if Stephen can rekindle the magic with the season on the line against this particular opponent.
• The pitching matchup will feature two arms that are far from unfamiliar to the opposition. Kolek got the start against the top-ranked Frogs in Houston on March 4 and worked four innings, allowing one run on five hits with six strikeouts and two walks.
TCU's projected starter, 6-foot-9 senior right-hander Brian Howard, started game three of the College Station Super Regional last season and tossed an absolute gem. Howard allowed just one run (unearned) on two hits over seven frames. He walked just two and fanned eight Aggie hitters to lead the Horned Frogs to the CWS, and in the process, left the A&M team and its entire fan base completely heartbroken. In looking ahead to Tuesday, payback against TCU would also mean payback for Howard.
Howard's numbers this season are not great by any means, especially when looking at his home/away splits, but he is red-hot in the postseason.
• Howard's numbers this season are not great by any means, especially when looking at his home/away splits, but he is red-hot in the postseason entering Tuesday's start against the Aggies. On the season, Howard is 11-3 with a 3.95 ERA, but he is 2-0 with a 1.93 ERA in the postseason. His strikeout rate has held steady in the postseason at about one per inning, similar to what he produced throughout the season. But what really jumps off the page is what he has accomplished at pitcher-friendly Lupton Stadium compared to road or neutral site contests. Here are the numbers…
Home: 7-1, 1.87 ERA
Road: 4-2, 6.92 ERA
Now, if you remember, I posted a note similar to this last year about Howard, and he went out and shoved it down the Aggies' throats. When you get into pressure-packed situations, you throw out the stats, and it's about heart and rising up when it matters most. Howard and Kolek each have shown the ability to do just that, so it figures to be a great battle on the mound.
• Lots of chatter about what the Aggies should do with Austin Homan. It's a very difficult decision at hand, but it's a move that you have to believe will be addressed, studied and considered by the A&M coaching triumvirate. Do you continue to roll with your senior shortstop in a win-or-go-home situation despite him going 3-for-his-last-50 and 1-for-his-last-29? Do you just blindly plug Homan back in at shortstop even though it has become a circus nearly every time the ball is hit his way?
This program has always lived by the idea that "the players write their own name in the lineup." If that is truly the case, then it's time to try something new at shortstop. Yes, even this late in the season. Especially this late in the season. Why roll with an automatic out at the bottom of the lineup when you can insert a bat like Jorge Gutierrez or a solid glove like Tommy Gillman? Each of those guys can play second base, and A&M can either slide Braden Shewmake to short or move Shewmake to third and play George Janca at short.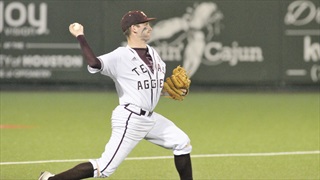 Marc Flores, TexAgs
It's time. It's beyond time. Homan needs to sit. I hate it for him, as a senior, but this team needs life, and getting Gutierrez's bat in the lineup from the left side against a tall right-hander that wants to throw fastballs downhill might be just what what the Aggies need against TCU.
• You've got to love what the senior outfielders continue to do for A&M.
The trio of Nick Choruby, Blake Kopetsky and Walker Pennington delivered six of the eight hits the Aggies managed as a team against Louisville on Sunday. We know how badly these guys want to extend their college careers as long as possible.
It's no secret how much beating TCU along the way would mean to this veteran group. Heck, Pennington began his career with the Horned Frogs. And all three of these guys have been a part of the recent heartbreak in this rivalry. These seniors are leading from the front, and I fully expect their torrid pace to continue on Tuesday.
• If the Aggies are going to get by TCU and keep the season rolling, they'll need the right side of the infield and middle-of-the-lineup freshmen Braden Shewmake and Hunter Coleman to get hot and carry this team once again. The Shewmake-Coleman combo in the three-hole and four-hole combined to go 0-for-8 vs. Louisville on Sunday. These are the two most talented hitters on the A&M roster, and you can't have a gaping hole in production in the middle of your lineup in the College World Series if you hope to survive and advance.
This is by far the most baseball either of these guys have played in one season in their playing careers, but they must find a way to fight through the mental and physical wall for their team in the biggest game of their lives.
• What would your lineup look like against Howard on Tuesday? I'd go with this…
1. Choruby - CF
2. Kopetsky - RF
3. Shewmake - SS
4. Coleman - 1B
5. Bedford - C
6. Davis - DH
7. Pennington - LF
8. Gutierrez - 2B
9. Janca - 3B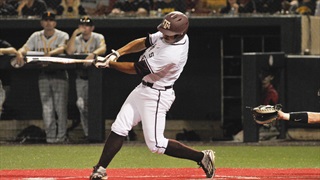 Marc Flores, TexAgs
It's time to change it up and give yourself a little more length in that lineup. I like pounding them with lefties at the top of the order, knowing that even if TCU throws a lefty out there in the late innings – such as Nick Lodolo or Haylen Green – you have three left-handed bats that are adept at hitting left-handed pitching.
• The good news that came out of the loss to Louisville on Sunday is that Rob Childress used pretty much every available arm in the game. In doing that, he was able to get six pitchers into a College World Series game to work out any nerves that might be associated with performing on the grand stage.
He was also able to keep all six arms relatively fresh. Every pitcher on the A&M postseason roster is available for action on Tuesday, and the hope is that Kolek gets off to a great start and goes as long as he is consistently getting outs. I figure A&M will chase him with lefty Kaylor Chafin to completely change up the look and eye angle on the TCU hitters. After Chafin, he could go in a variety of directions based on feel. Childress also has the ability to play matchups and use an pitcher for one or two hitters to get a certain batter out with a specific arm out of the pen.
It's rare that a team comes out of the loser's bracket and wins a national title in baseball. and A&M, who was not expected to get close to this point in 2017, is a long-shot to make such a run. But this group of men has consistently overcome so many obstacles that have stood in its way throughout the course of the '17 campaign. This is just the latest. The opportunity is there, and once again it's TCU that stands in the way. It doesn't get much better than this, does it?
---
Notes from John Scheschuk interview
• I think the event of the College World Series is bigger today than it was when I was coming through. It definitely has a different feel; this one feels a little more corporate, but they still have the old-school feel of the College World Series. It has almost kind of a football bowl game environment with the stadium downtown.
• The Aggies came out. I was pretty impressed yesterday at how many A&M fans where here. If the Aggies are in a championship environment, you can be playing in Fiji, and the Aggies will show up. It's just a good event, and the locals also come out and support it.
• Obviously the Corbin Martin decision didn't work out the way the Aggies wanted it to. I still think the decision is fine. You either dance with what brought you, or you go with the guy who has the electric stuff. Corbin just didn't have it. Brendan McKay didn't necessarily have it either. Brigham came in and did a wonderful job.
• I keep coming back to the bottom of the sixth. After scoring two runs to cut the deficit to one, they aren't able to put a zero up. I think the first batter of that inning was retired, but then it snowballed on them. Once that happened, you kind of saw the steam come out.
• I don't really second-guess the decision. It just didn't work out the way you wanted it to. I think Corbin was going to be that guy who could give them seven-plus with one run and four hits. That's what Childress was going for. Unfortunately it didn't happen, but again, you can't regret the decision at this point. It's time to move on; the staff is in great shape.
• You could see everybody out of the bullpen on Tuesday, but you hope Kolek goes out there and has the performance of his life. One thing I also wanted to look at was Choruby's first at-bat. He's been solid his whole career, but to see what he did yesterday out of the gate was impressive. He got down 0-2 and battled back to get a base hit. I was hoping that was a catalyst for the team, and unfortunately it wasn't.
• I've really enjoyed watching the seniors over the last month. It took a long time for that to formulate throughout the year. You think back to all the lineup combinations, and really, the four seniors have galvanized this group. I feel pretty good. I think TCU is a good matchup for them, and it's time to beat TCU. I think they're going to come out ready to play, and it would not shock me at all to see the Aggies win.
• I don't think Austin Homan has done anything different than he has the last two months. Yesterday he played good defense early, and who knows what it's like in the clubhouse? Maybe he is the glue. He is really struggling at the plate though. These are still amateur athletes, and 90 percent of these guys won't play professional baseball. This isn't Braden Shewmake. If you pull Homan out of the lineup, it will not affect the rest of the team. They will just pick up and play.
• If you're asking me, I would not start Homan. Here is the problem: with the season on the line, you're going to put someone in at shortstop who hasn't played there at all. You don't have someone who's familiar with it and has experience at short. If they did then this would be an easier decision. Like I said, I don't know the room, but I wouldn't be surprised to see him not in the lineup tomorrow and the guys get a jump.
• If you're a competitor, you want to play on the biggest stage against your rival, TCU. It can erase some of the pain of the last few years. I think these guys will be fired up and ready to play. I don't know what Rob will say publicly, but I guarantee he is fired up to play TCU.
• They know them. They know what is on the line, and I think that helps them. I just keep coming back to that. It is a familiar opponent with a lot of motivation. People don't think much of them right now, and I'm excited to see what Stephen Kolek comes out and does.
• When you get here – I will say it again and again – it's really just about how much do you want the baseball and what are you going to do with the opportunity. That's really what it is about. I don't like coming off of that much rest. There's going to be a little bit of rust there, so it is going to be critical in that opening frame for him to get going. Once you settle into that rhythm, then I'm excited.
Never miss the latest news from TexAgs!
Join our free email list