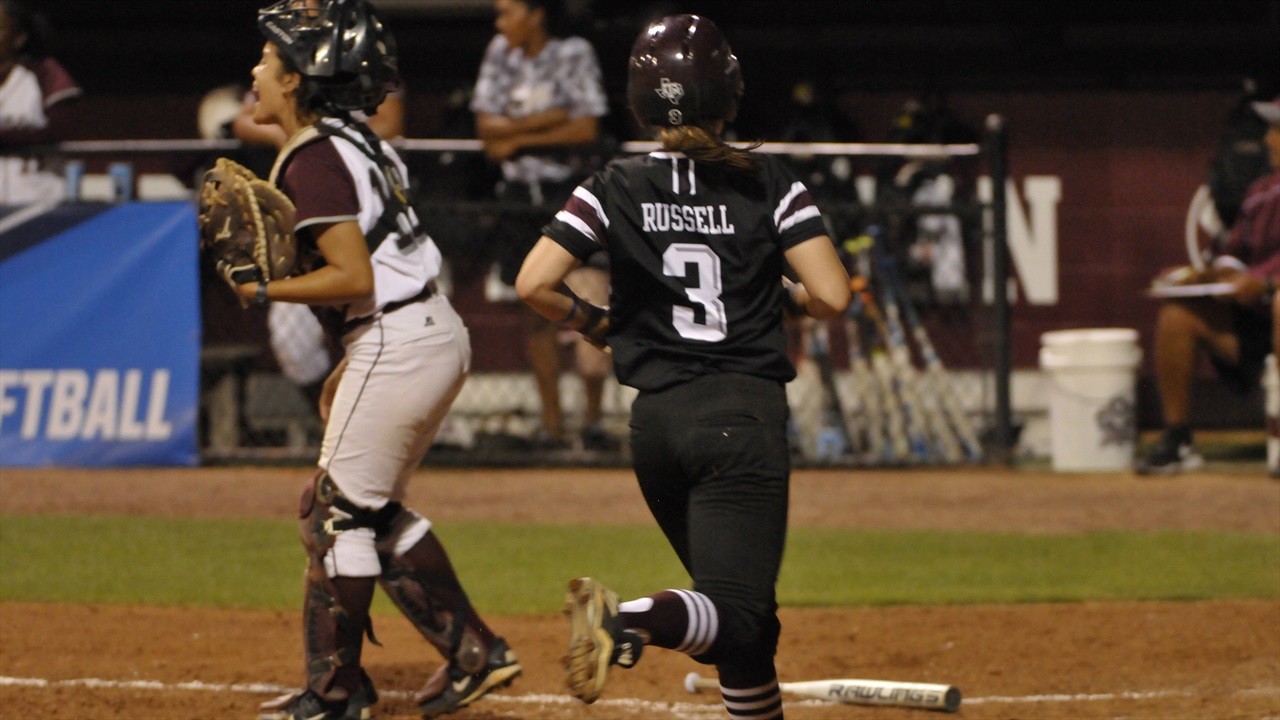 Photo by Marc Flores, TexAgs
Texas A&M Softball
A&M Softball trounces Texas Southern to open NCAA tournament, 14-0
---
Coming off of losses in each of their last three games, the Texas A&M softball team looked to get off to a hot start in their first game of the College Station Regional.
Even though the first pitch was delayed by almost two hours, the Aggies came out swinging and scored early and often en route to a 14-0, five inning run-rule victory over Texas Southern.
The Aggies got things going at the plate in the bottom of the first inning. A&M loaded the bases for Riley Sartain, thanks to two walks and an error by the Texas Southern third baseman. Sartain came through, lacing a double off the top of the wall in right-center field. The hit cleared the bases and gave A&M a 3-0 lead.
"I feel really good about our ball club tonight," said head coach Jo Evans. "I wanted us to be aggressive and get up there and attack. We drew walks, but we were looking to hit."
Things weren't just going right for the Aggies at the plate; junior right-hander Lexi Smith had things locked down in the circle. Smith tossed a five-inning complete game, allowing only two hits, while walking two and striking out nine of the 19 batters she faced on the night.
When asked about her plan of attack, Smith said, "I just focused on getting ahead, throwing my game and throwing my pitches. I just stuck with that the whole game. It worked out pretty well."
The game got out of hand in the bottom of the third inning. The Aggies sent 15 batters to the plate in the frame while scoring eight runs on seven hits and three errors committed by Texas Southern.
Four of the eight runs came on back-to-back at-bats by Samantha Show and Erica Russell.
Four of the eight runs came on back-to-back at-bats by Samantha Show and Erica Russell.
After Show doubled home two runs, Russell did one better, hitting a two-RBI triple to make it 7-0 A&M. The Aggies never looked back.
The scoring was capped off by Aggie shortstop Kristen Cuyos, who added a three-run bomb off of the protective netting beyond the wall in left field to make it 14-0 Aggies in the bottom of the fourth inning.
"Our thought is to dominate. That's what we're thinking about right now. If we're going to make a run in this postseason, we're going to have to do that," added Jo Evans on her team's performance.
Texas A&M will look to continue their early dominance at the College Station Regional tomorrow afternoon at 1:30 p.m. against another in-state foe, Texas State.
Never miss the latest news from TexAgs!
Join our free email list