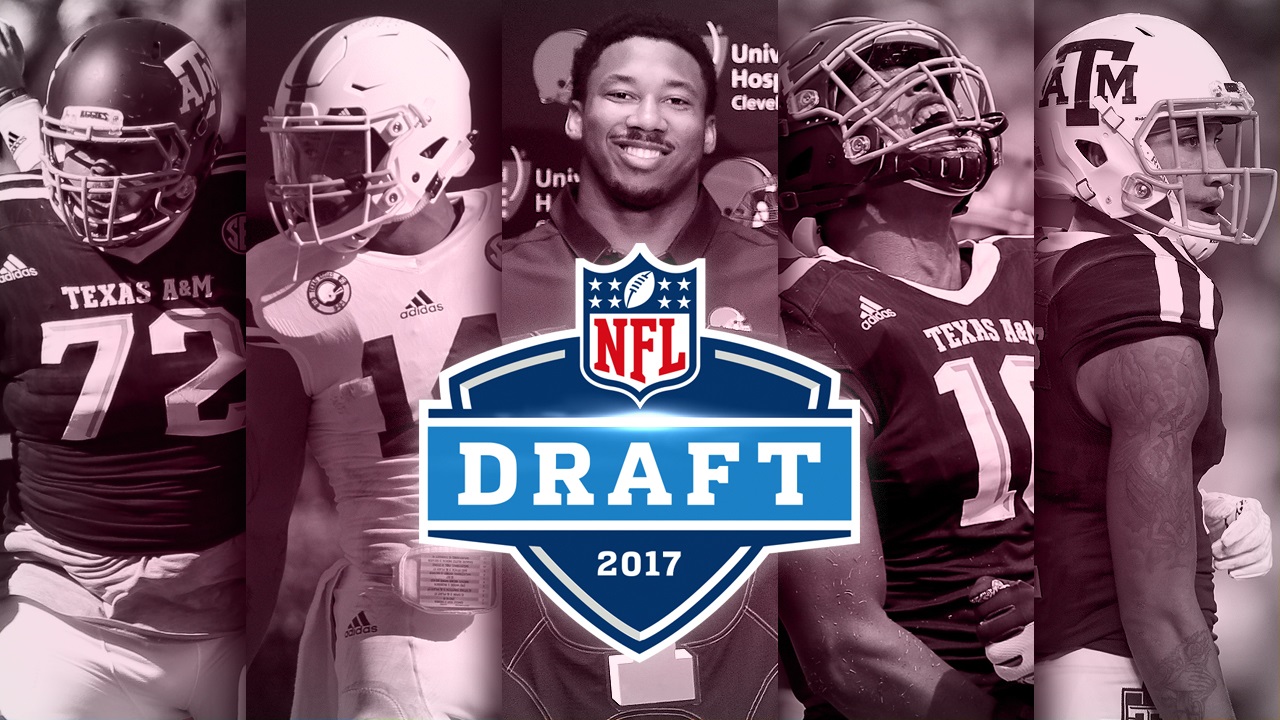 Photo by USA TODAY Sports/TexAgs
Texas A&M Football
NFL Draft Rewind: Aggie stars find professional landing spots
---
Over the last three days, Texas A&M's NFL-hopefuls have listened with bated breath, hoping to hear their names called and to join the League. While some had longer to wait than others, quite a few Aggies fulfilled their lifelong dream. Here's how it all shook out:
Myles Garrett selected No. 1 overall by Browns

On Thursday night, defensive end Myles Garrett became the first Texas A&M player taken first in the National Football League draft as the Cleveland Browns resisted the temptation to pick a quarterback and made him the first overall selection.
Rumors were circulating early
Thursday
morning that the Browns, who had the first and 12th picks in the draft, would select North Carolina quarterback Mitch Trubisky with the first selection and choose a defensive end with their second choice. However, the organization could not pass on Garrett, a phenomenal athlete and powerful pass-rusher on the field and a model citizen off it.
Garrett's selection marked the seventh consecutive draft in which A&M had a player taken in the first round.
Thirty-four Aggies had been first round selections over the 81 previous NFL drafts. Of those, five – John Kimbrough in 1941, John David Crow in 1958, Quinten Coryatt in 1992, Von Miller in 2011 and Luke Joeckel in 2013 – were selected second overall.
A two-time All-American, Garrett posted 141 tackles (47 for losses) and 31 sacks during his three-year Texas A&M career. He further wowed scouts with measurables that included a 41-inch vertical jump, a 10-8 standing broad jump, a 4.64-second 40-yard dash and 33 reps in the 225-pound bench press.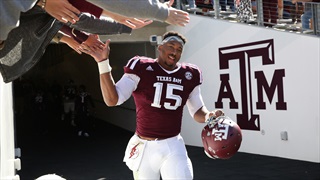 Matt Sachs, TexAgs
Still, he had critics – most notably SEC Network analyst Booger McFarland and former NFL star Warren Sapp – who opined that Garrett should not be taken No. 1.
"I don't see it from his kid," Sapp told ESPN reporter Adam Schefter last week. "I see the splash plays; everybody gets those. Where's the game he took over? Where?
"Any defensive lineman who's the number one pick, you turn up and you say, 'There it is.' This kid, no, I don't. I'm a pretty plain and frank guy, and I watch the tape, and he disappears. I watch the tape, and he absolutely disappears."
However, NFL Network analyst Mike Mayock vehemently disagreed.
"I think his upside is he should be a Pro Bowl defensive end," Mayock said. "He should be a huge difference-maker in the NFL in the pass game. The only way that doesn't happen is one of two reasons: one, he gets hurt, or two, he doesn't want it bad enough. But his physical talent is awesome."
For a while, the Browns, who have history of making questionable draft day decisions, appeared to agree with Sapp. Several reports indicated the Browns were actually planning to pick Trubisky, who passed for 3,748 yards and 30 touchdowns with six interceptions for the 8-5 Tar Heels last season.
Trubisky seemed attractive to Cleveland because the Browns were 28th in the NFL in passing offense last season behind quarterbacks Cody Kessler and Josh McCown, who combined to throw 12 touchdown passes and eight interceptions.
However, the Browns were equally inept on defense, particularly in the pass rush. Cleveland was 30th in the NFL in sacks with 26 and was 31st in total defense.
---
Bucs take Justin Evans in round two

Justin Evans didn't take long to make an impact at Texas A&M. And he didn't wait long to be taken in the National Football League draft on Friday night.
A heavy-hitting safety with excellent coverage range, Evans was selected in the second round by the Tampa Bay Bucaneers, becoming the 50th overall pick in the draft. The Bucs last season ranked 22nd in passing defense and 23rd in total defense.
Evans was the second Aggie chosen. Defensive end Myles Garrett was the first overall selection on Thursday night. Without question, Evans was the second-best player on the A&M defense last season.
He'd arrived in College Station two years ago from Mississippi Gulf Coast Community College and immediately upgraded the Aggies secondary.
Evans started the 2015 season-opening 38-17 victory over Arizona State and posted seven tackles. He finished third on the team that season with 78 tackles, had an interception and was credited with four passes broken up.
Evans was significantly better as a senior in 2016. He was second in tackles with 87, had four interceptions, broke up eight passes and even blocked a kick. He also averaged 28.5 yards on 15 kickoff returns.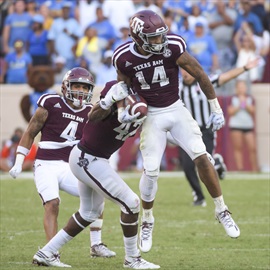 Lindsay Caudle, TexAgs
Additionally, Evans impressed scouts at A&M's Pro Day when he ran a 4.53 40-yard dash, had a 41.5-inch vertical leap and a 10-foot-9 standing broad jump.
That vertical leap was apparent on a spectacular leaping interception off UCLA's John Rosen in 2016, which was one of two signature plays for Evans' career at A&M.
The other was a decleating tackle of Alabama Heisman Trophy-winning running back Derrick Henry in 2015. Evans made such an impression on Henry, now with the Tennessee Titans, he asked A&M coach Kevin Sumlin about No. 14 after that game.
"The Heisman Trophy guy comes over and said, 'Coach where's 14? That dude is a player,'" Sumlin said last month. "He had had hit (Henry) in the face two or three times that day like he's never been hit."
The Bucs are hoping Evans will be a big hit in the NFL, too.
---
Daeshon Hall taken by Carolina in third round

Four years ago, Daeshon Hall arrived at Texas A&M as a skinny defensive end prospect. He leaves as a third-round draft choice of the Carolina Panthers, who picked him 77th overall on Friday night in the National Football League draft.
Hall formed one of the nation's top sets of defensive ends with Myles Garrett, who was selected No. 1 overall by the Cleveland Browns on Thursday night. He wasn't as explosive or productive as Garrett, but Hall made impressive progress to develop into a second-day draft pick.
Hall was just a 6-foot-6, 220-pound project when he signed with A&M as part of the 2013 recruiting class. He was athletic, but not strong enough to make a major impact. The Aggies probably would have preferred to redshirt him, but a dearth of depth rendered that impossible.
Later, shoulder injuries slowed him from gaining the strength and size needed to be an effective defensive end in the Southeastern Conference in his first couple of seasons.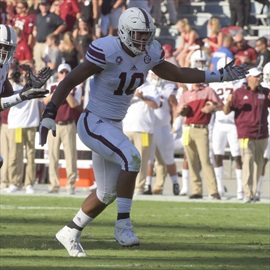 Lindsay Caudle, TexAgs
He was finally healthy before his junior season and was able to bulk up to a muscular 270 pounds. He progressed enough that when Defensive Coordinator John Chavis came to A&M in 2015, he said he felt he had the nation's best set of defensive ends.
Hall showed flashes of tremendous ability and potential, but he never quite became a dominant force opposite Garrett.
Although he posted four sacks in the 2015 season-opening victory over Arizona State, he added just three more sacks the rest of the season.
In 2016, he posted 4.5 sacks and 50 tackles. He was also credited with 12 quarterback "hurries."
He finished his career with 16 sacks and 162 tackles.
---
Rams steal Josh Reynolds in fourth round

Josh Reynolds just needed a chance.
Given that chance, he proved be belongs among the most productive receivers in Texas A&M history.
Now he'll enter the NFL with a familiar perspective, determined to prove himself again after being overlooked on the first two evenings of the 2017 draft. Though he waited longer than many expected, Reynolds was selected Saturday by the Los Angeles Rams with the 10th pick in the 4th round of the NFL draft (117th overall).
The 6-foot-3, 200-pound Reynolds caught 164 passes for 2,788 yards and 30 touchdowns in his three-year A&M career. He left College Station with the third-highest career receiving total, fourth-highest total in career receiving yards and second-highest total in receiving touchdowns.
Last season, Reynolds had 61 receptions for 1,039 yards and 12 touchdowns. He had a touchdown catch in every game but two (vs. Prairie View and South Carolina).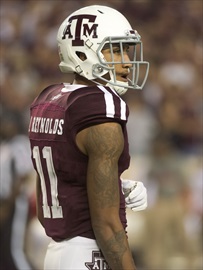 Lindsay Caudle, TexAgs
But Reynolds almost didn't get a chance to play major college football. He was lightly recruited out of San Antonio Jay High School and ended up at Tyler Junior College.
Texas A&M track coach Pat Henry had scouted Reynolds as a triple jumper and recommended that A&M football coach Kevin Sumlin take a look at Reynolds. He did and quickly offered Reynolds a scholarship.
That decision quickly paid dividends. Reynolds caught 52 passes for 842 yards and set a single-season school record with 13 touchdown catches.
The Rams obviously hope his pro career will mirror his time as an Aggie, proving Reynolds is better than scouts (again) realize.
---
Jermaine Eluemunor picked by Ravens in fifth round

The Baltimore Ravens selected Texas A&M offensive lineman Jermaine Eleumunor with the 15th pick in the fifth round. Eleumunor, who arrived at Texas A&M as a junior college transfer, was generally acknowledged as perhaps the strongest player on the A&M roster in 2016.
That appeared to be reinforced when he registered 34 reps in the 225-pound bench press at the NFL combine. He also ran a respectable 5.22 40-yard dash.
Last season Eleumunor shifted from guard to right tackle where he made the majority of the starts. In his only season as a starter, Eleumunor struggled some in pass protection, but he is a solid run blocker. That hints he may be a better fit at guard in the NFL.
He's tough and intelligent and has nice upside potential.
---
Trevor Knight signs with Arizona Cardinals
The Arizona Cardinals signed undrafted free agent and Texas A&M quarterback Trevor Knight shortly after the draft ended. Knight is a tremendous runner, has a strong arm, excellent leadership skills and impeccable character.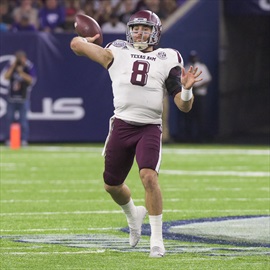 Lindsay Caudle, TexAgs
Unfortunately, he also struggled with passing accuracy, especially on short and medium range throws.
Knight, who transferred to A&M last season after losing the starting position to Baker Mayfield at Oklahoma, passed for 2,432 yards and 19 touchdowns while completing 53.3 percent of his attempts last season.
He also ran for 614 yards and 10 touchdowns.
Knight posted impressive numbers at the NFL Combine, which included a 4.54 40-yard dash.
Knight has insisted he intends to play quarterback at the next level, but his combine performance raised the possibility that he could shift to safety, running back, receiver or tight end if he can't make a team at quarterback.
---
Ricky Seals-Jones lands in Arizona
The Arizona Cardinals signed undrafted free agent Texas A&M receiver Ricky Seals-Jones minutes after the end of the draft. Seals-Jones, who projects as a tight end in the NFL, had a solid though unspectacular career as a slot receiver at A&M.
Twice he posted seasons with at least 45 receptions for more than 450 yards. However, he never had a breakout season or quite met the expectations that preceded him when he was a heralded recruit in 2013.
Seals-Jones completed his career with 123 catches for 1,442 yards and 10 touchdowns. At 6-foot-5, 246-pounds, he's also a physical receiver and good downfield blocker.
Like his career, he was good but not overwhelming at the NFL Combine. He ran a 4.69 40-yard dash, posted 20 reps in the 225-pound bench press and had a 28-inch vertical jump.
---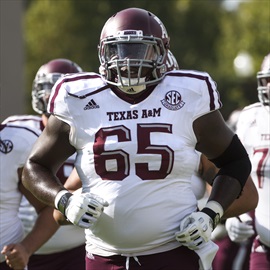 Lindsay Caudle, TexAgs
Avery Gennesy headed to Jacksonville
The Jacksonville Jaguars signed undrafted free agent and Texas A&M tackle Avery Gennesy after the draft ended. Gennesy came to Texas A&M after a stint at East Mississippi Community College, where he won a JUCO national title.
Filling the shoes of a string of elite Aggie linemen, Gennesy was a two-year starter at left tackle who earned All-SEC recognition in 2016. As a senior, he allowed three sacks despite facing several defensive ends who were drafted in the first round Thursday night, including Tennessee's Derek Barnett, Alabama's Jonathan Allen, and UCLA's Takkarist McKinley.
Gennesy has been praised as an athletic lineman with good footwork. However, he managed just 24 reps on the 225-pound bench press and ran a 5.33 40-yard dash at the NFL Combine, which may have contributed to his slide to the lower rounds of the draft.
---
Aggie UFA signee breakdown:
Trevor Knight: Signed with Arizona Cardinals
Ricky Seals-Jones: Signed with Arizona Cardinals
Avery Gennesy: Signed with Jacksonville Jaguars
Claude George: Signed with Seattle Seahawks
Speedy Noil: Invited to Green Bay Packers rookie minicamp
Jeremy Tabuyo: Invited to Los Angeles Rams rookie minicamp
Never miss the latest news from TexAgs!
Join our free email list