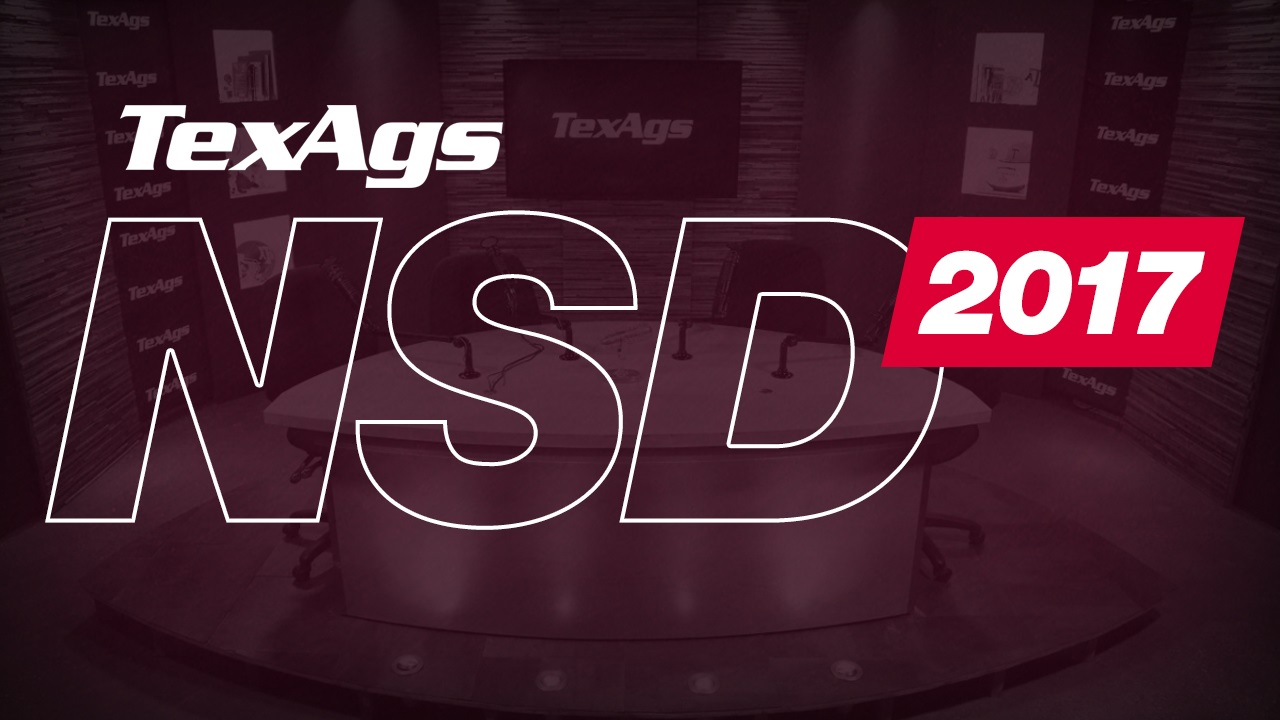 NSD Show: Hour 1
NSD Show: Hour 2
NSD Show: Hour 3
NSD Show: Hour 4
Jeff Banks
Camron Horry
Grayson Reed
Kirk Martin
Noel Mazzone
Brandon Faircloth
Aaron Moorehead
Camron Buckley
Ondario Robinson
Texas A&M Football Recruiting
WATCH HERE: 2017 National Signing Day Show
---
National Signing Day guest interview notes:
Texas A&M ST/TE coach Jeff Banks:
• We are fired up. This is the day you wait for when you start 12 months ago. We have a lot of great players that are also great character kids in this class. They all came together, and we are proud that we could hold on to everyone in this class.
• We looked at the tight end position and wanted two types of guys. We wanted a flex guy that can play receiver and block safeties, but we also wanted a guy that stays on the line and can block linebackers. We rated a bunch of guys, and the two guys that we liked the most were Keynel McZeal and Camron Horry. Camron has a bunch of room to grow, but we may need him to play early. With Keynel, he is a really good athlete and was good at our camp. A lot of people came back in on them, but both guys stayed in with us. We have four tight ends on the roster now, which is something we haven't had in a while.
• The thing about Grayson Reed is that his sophomore year he was probably a better athlete than he was an offensive lineman. In a span of about 24 months he added some really good weight, and it was pivotal for us to get him. He got hurt, but still had a bunch of people recruiting him trying to get him to visit, but he stayed committed to us. Whenever you have a guy like that, it becomes a huge recruiting win.
• You can't enough length in coverage. With the defensive back and linebacker class we have, all of those guys are going to be plug-and-play guys on special teams. When you start adding 8-12 guys in that group, you become excited. You can add a lot of talented offensive guys in the return game, as well, which is exciting. We knew the numbers at defensive back and linebacker were going to be up, so we are excited for all those guys.
Aggie TE signee Camron Horry:
• Biggest factor in me choosing A&M – that's a very easy but hard question. A&M, first off, is such a fantastic school. The football program is great and getting better. What was a big factor was me wanting to major in Business, and the Business school being fantastic, and thinking about a career after football. Say if I didn't make it to the league, they have this thing called the Aggie Network, which will help me find a job real quick. That really intrigued me.
• Today's been a mix of emotions. Having a bunch of friends and family come up to support me and seeing how many people actually truly care about you is great. Signing your life away to your future school for four to five years is emotional, but at the same time a very happy moment.
• I definitely felt like I was a priority. They said, "We need you. There's no one else we need more in this recruiting class than you. At the end of the day, we wish you the best, but we need you."
• The SEC is where big dogs come to play. I'm a big dude, but I need to get a lot stronger and work on everything. The SEC has the top players in the country, so in order to compete with the top, you need to be one of the top players. I've just been hitting the gym working on my strength, speed, hands and everything.
• Max Wright – there is no one sentence I can give about Max. He is an indescribable athlete and person. You just have to meet him and watch him play.
Aggie OL signee Grayson Reed:
• I am really excited. Jim Turner was one of the reasons I committed to A&M, and I think he can take my game to the next level.
• Sitting out this year wasn't my first time to sit out, but it really made me appreciate the game even more. It also made me work a lot harder in rehab. I'm 100% cleared right now and train every day, sometimes three times a day. I am just trying to get better every day.
• A lot of coaches would tell me how versatile I am with my ability to play multiple positions on the line. I am excited to play with the other offensive line signees. Except for Jared Hocker, we all took our official visits together, and I can't wait to play with those guys. I am rooming with Adrian Wolford, and we are excited to get out there and dominate.
Manvel HC Kirk Martin:
• It's a huge day for Derrick Tucker. He's an awesome kid and one heck of a football player. I think he had 7 interceptions for us this year, and he's just a bone-crushing tackler. He's everything you want on that back end of the defense. What I appreciate about Derrick is his workman-like attitude. He's not a talker. He's not a guy you're going to get 4 words out of over the course of the day. He's a "show me" kind of guy.
Texas A&M OC Noel Mazzone:
• It was awesome getting both Kellen Mond and Connor Blumrick. They both bring the ability to stay in and out of the pocket to make plays. It's great to have them here in January instead of June to be here for spring practice, be around their teammates and get acclimated. It's such an advantage for these guys. Until Trevor this past year, my last two quarterbacks at UCLA came early and it really helped them.
• Having Trevor in the quarterback room was unbelievable. He was exactly what the program needed as a player and a leader. The quarterback position is not only about who can run the fastest or throw the hardest. There are a lot of intangible qualities that go into it. Trevor may be as good as I've ever had and had so many of those qualities. The guys on the team would look to him and have confidence and accountability in him.
• I like the group I have now. I'm excited about them. They're young, except for old man Jake Hubenak. I have Kellen, Connor and Nick Starkel. You're looking at some talented young men. It's so important to look at all attributes when recruiting these quarterbacks instead of just their film. There's other things that a quarterback has to have to be successful.
• I think they're all 6-3 or better. They all have the ability to create plays with their arm and feet and if I can do a good enough job coaching them, hopefully create plays with their mind too.
• I'm a little old-school with recruiting. I really don't think you get a true feel for a quarterback until you see him in person. When I went to IMG, Kellen Mond was even more dynamic than I thought from watching him on film. His maturity, the way he interacts with his teammates and how he handled different situations are things you can't see on film. Same thing when I went to see Connor. I saw he has tremendous upside.
• First of all, Connor Blumrick is about 6-5, 6-6. I like his demeanor. I like how he is around other players. He's just starting to scratch the surface of where his ability can take him.
• You're not going to talk about the big five offensive lineman we got? Those guys are huge! You watch them on film, and they're not just big guys, they're athletic kids. They're all in the 310-330 range. As the season wears on players, you get towards those games in November. Have you heard, 'Speed get tired, but big stays big?' The ability in the late games for us to line up and run the football is vital. We didn't do a great job last year, but we need to improve on it. Jim Turner and Sumlin did a great job recruiting them. Everyone talks about the flashy positions, but the group I'm most excited for is the group we are developing at offensive line.
Port Neches-Groves HC Brandon Faircloth:
• It's a very exciting day for Keynel McZeal. A&M's getting a great player. He's been a three-year starter for us at PN-G. He's a hard worker and has been a great leader for our football team over the last 3 years. He's a down-the-field threat, and the catches he's made down the field set him apart from other athletes. His sophomore year he made two one-handed catches in the end zone in one game in double-coverage. This year he had the one-handed catch against Livingston right at the end of the half. He tracks the ball really well. He's a down-the-field threat. He's very athletic; he's been making those plays here for three years and has been fun to watch.
• Roschon Johnson accounted for almost 60 touchdowns and 4,000 yards of offense. Roschon's a great kid. Very smart, hard worker. He's always trying to get better.
Texas A&M WR coach Aaron Moorehead:
• Jhamon Ausbon is a guy who we had in camp a couple years ago and identified him early in the process. We've had a chance to recruit him since the beginning, and he's done a great job throughout his high school career staying in constant communication. He's gotten better every year, and he's gotten himself ready physically to be able to sustain through an SEC schedule.
• He's an aggressive player that likes contact. He brings size, speed and physicality. He should be a guy this spring who is competing for a starting job.
• Hezekiah Jones I think is the first wide-out we offered this class. He was also at camp with us that year. Hez can absolutely fly. He was running track. He was a national 200 meter guy, that caught our eye. You watch him play on the football field, he was a little banged up as a junior, but came back his senior year to have a really solid year. He's got a lot of people around here super excited. We're excited about Hez and Jhamon for sure.
• Whenever you can keep a guy that's close here and you know that you he is going to have that enthusiasm and passion for the school – Roshauud Paul and Devin Morris are so close. We put those guys early on as targets.Those players close to Bryan/College Station we want to keep here.
• We like Roshauud a lot, what he can do as an athlete. When he gets the ball in space, he's as quick as a cat. He's a big time player. You talk about a guy that's never lost a game as a high school starter. You can't emphasize enough how important that is from a mentality standpoint. Guys that are going to come in here expecting to win, and accept nothing else. You need guys who aren't going to accept losing and guys who want to come in here and from day one make sure they aren't only fitting into our culture, but building it as well.
• Camron Buckley is a great player, really excited about him. He's jealous he's not on campus already; he wishes he would have graduated early. He's a really hard-working kid. He's going to do everything he can to be the best receiver he can possibly be. Big physical guy, played in the Under Armor game. He was in the slot there, probably gonna start outside for us when he gets here. We're really excited about him. He's a guy from Dallas, which we love to have. We need to keep our footprint up there, between him and Anthony, Carson, and Buddy. He's a guy that might not wow you here and there, but he puts up stats. He's a guy you look up and four years later, and he will have been a big time player for us.
• We're really excited for spring ball which starts March 1. We're excited get these young guys at wide receiver and quarterback out there and see what we got.
Aggie WR signee Camron Buckley:
• It feels good to sign! Having a chip on my shoulder at the Under Armour Game made me play better.
• Texas A&M stood out because of the family environment. There's a brotherhood even with the commits. I've connected with them.
• Before I get here in June, I think I need to work on speed. You can never be too fast. Strength and route-running are important too, just to get better with everything.
• I've known Devodrick Johnson for a long time. I'm glad he stayed with A&M.
Aggie DE signee Ondario Robinson:
• It feels great, and it is a great relief to be done with the recruiting process. I am ready to get down to College Station and get to work.
• My role in this class was to try to get other players to commit and work on the 2018 class, which is the same as everyone else. As far as some of the older commits in the class, I was one of the last ones, so it was really about keeping everyone together in this class and bringing the new guys in.
• I need to get stronger as I feel like I am mentally ready to step in and play the game. Coach Price has told me that they need me to be ready to play, so I am getting on my workout plan.
• I really don't pay attention to recruiting rankings because as you saw, Clemson had a walk-on receiver that played well in the national championship game. I want to prove everyone wrong and be the best player on the field at all times, and I want people to know that I am the best player. Telling me I am not the best player is only going to motivate me to work harder at everything.
Never miss the latest news from TexAgs!
Join our free email list