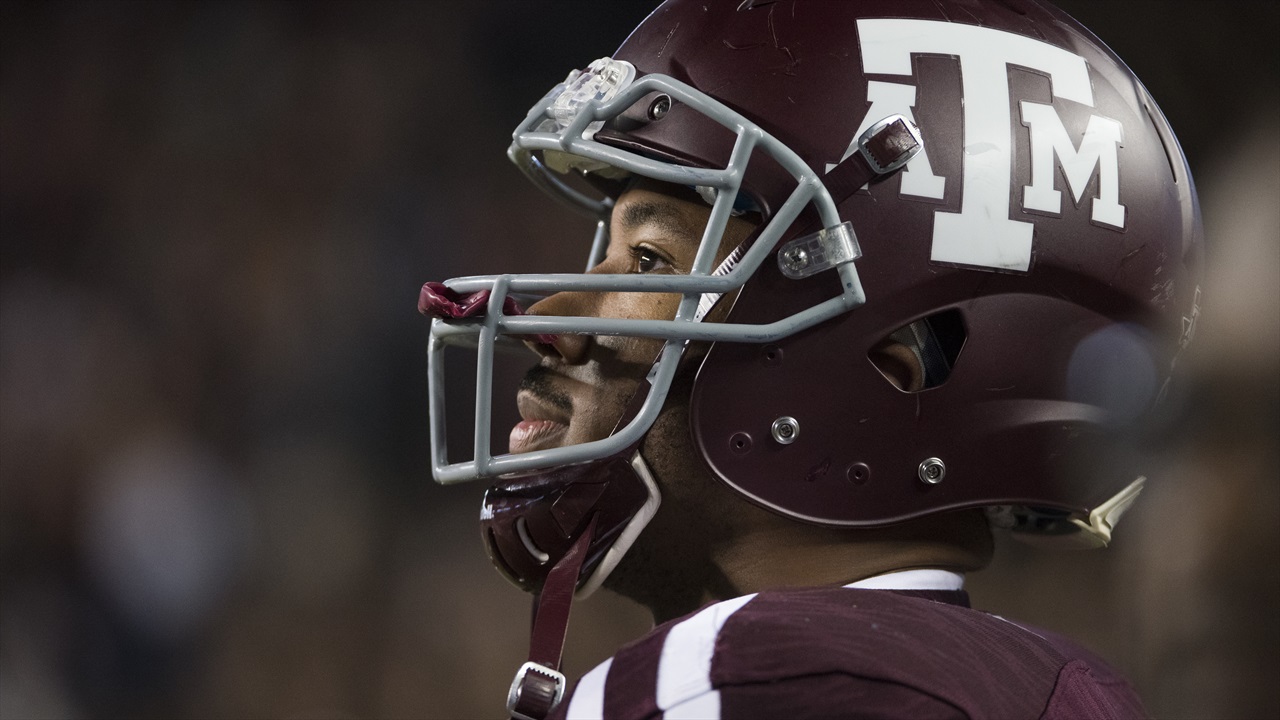 Photo by Lindsay Caudle, TexAgs
Texas A&M Football
Texas A&M DE Myles Garrett officially declares for 2017 NFL Draft
---
Two-time All-American defensive end Myles Garrett, who marvelously represented Texas A&M on and off the football field for three seasons, today announced his decision to enter the NFL draft. The news was first reported by Brent Zwerneman.
Players are eligible for early entry into the NFL draft three years after graduating high school.
Although Garrett had previously suggested he was considering a return to A&M for his senior season, his decision was very much expected. Garrett is projected as a guaranteed first round draft choice and many draft analysts think he could be the first overall selection. He would be the first Texas A&M player ever selected first in an NFL draft.
Garrett certainly has earned that status during his three seasons in College Station. A five-star prospect rated the No. 1 recruit in the nation out of Arlington Martin High School, the 6-foot-5, 270-pound Garrett chose A&M over Alabama and made an immediate impact. He set a Southeastern Conference freshman record with 11.5 sacks.
Despite facing double-team blocks, triple-team blocks, slowed by a broken thumb as a freshman and a high ankle sprain as a junior and with SEC officials frequently ignoring even the most egregious holding infractions, Garrett went on to post 32 sacks and was stronger in run defense than he was sometimes given credit.
Just as impressive, Garrett was a wonderful ambassador for Texas A&M at a time when many associated the Aggies with the misgivings of former A&M quarterback Johnny Manziel.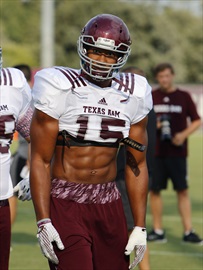 Kirby Clarke, TexAgs
With an interest in dinosaurs, classic music and poetry, Garrett was a student athlete in every sense. He shunned social media, which he felt was a waste of time, and proved to be a perfect teammate.
While several highly-regarded college football players like LSU running back Leonard Fournette and Stanford's Christian McCaffrey opted not to play in their team's bowl game for fear of compromising their worth in the NFL draft, Garrett chose to play in the Aggies' Texas Bowl 33-28 loss to Kansas State despite having been slowed by injuries for more than half the season.
In fact, the week before the game Garrett released a statement that he would play in the Aggies' Texas Bowl game against Kansas State. He explained that he wanted his team to be focused solely on the game. That approach and attitude figures to make him even more valuable to NFL General Managers.
Garrett previously suggested he could return for his senior season because he was not motivated by money and paced more value on relationships.
But the timing could not have been better for his decision to enter the draft. Another year would not raise his draft value. Also, there are no quarterbacks that are considered worth the first selection in the 2017 draft. More quarterbacks are taken first overall in the draft than any other position.
Statement from Myles Garrett:
After talking with my family and my coaches, I feel it is in my best interest to declare for the 2017 NFL draft.

I would like to thank my teammates for always supporting me, encouraging me and holding me accountable. We are a family, and I will be close with these guys forever.

To Coach Sumlin, Coach Chavis, Coach Price and all of the coaches, thank you for believing in me, teaching me and helping me grow, not only as a football player but as a man.

To everyone with Aggie football, from the equipment guys, trainers, doctors, academic support and administration, thank you so much. A young man who attends Texas A&M has all of the resources needed to grow and succeed.
To the professors and faculty, thank you for challenging me in the classroom and helping me grow in areas outside of football.

To the 12th Man, thank you for always standing beside me and supporting me in my journey. I will always be an Aggie and I hope to make you proud.

Finally, to my family. The unconditional love and support I have had my entire life is unbelievable. Your guidance and encouragement is second to none and I deeply appreciate it. I am truly blessed.

I look forward to the challenges that are ahead and I am excited about the opportunity to play at the next level. I will play for any NFL team that gives me a chance and they will get my very best effort.

God Bless and Gig 'Em!
Myles Garrett


Statement from Texas A&M Head Football Coach Kevin Sumlin:
We wish Myles all the best in the upcoming NFL draft and with his professional football career. Not only is he an exceptional talent, but he is an even better person and teammate. He has the desire, heart and character to achieve greatness on and off of the football field. Thank you to Myles and his family for all they have done for Texas A&M University.

Never miss the latest news from TexAgs!
Join our free email list