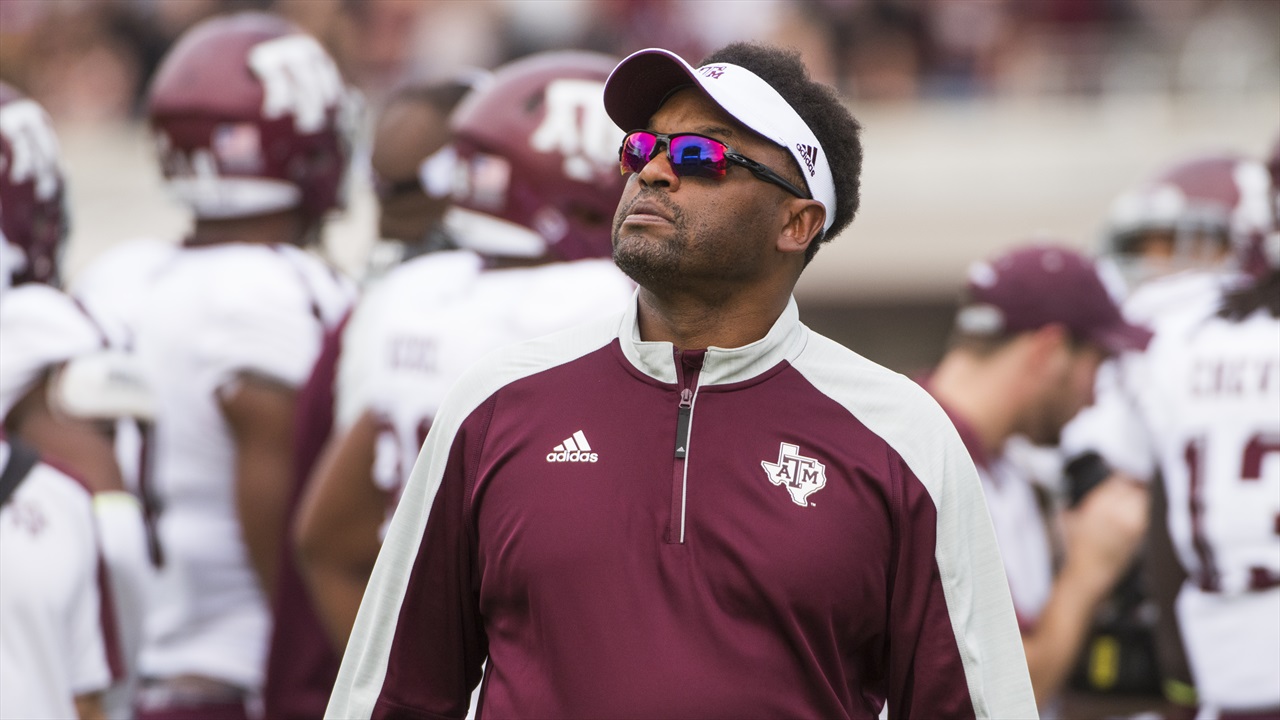 Photo by Lindsay Caudle, TexAgs
Texas A&M Football Recruiting
Recruiting Snapshot: What's left for Texas A&M's 2017 class?
---
Forget 'Who's Next?' for a moment, and let's talk about 'What's left?'

With precious few spots remaining in the 2017 class, Kevin Sumlin and the Aggies entered the Dead Period with momentum on their side, following commitments from five-star linebacker Anthony Hines, JUCO standout Micheal Clemons and former Oklahoma State pledge Dan Moore.

After the flurry of commits, it's time for the A&M staff to gather, regroup and finalize their January plan of attack as they attempt to close out a much-needed, top-10 haul. Let's take a position-by-position look at where things stand.

...and if you really want to know who's next, I'll go with Blinn cornerback Kendall Sheffield. More on that in a moment.


Please note: An asterisk (*) denotes mid-term enrollees.

Quarterback (Done)
Committed:
Connor Blumrick
(Pearland), *
Kellen Mond
(IMG Academy, Fla.)
Tight end (Done)
Committed:
Camron Horry
(Katy Taylor),
Keynel McZeal
(Port Neches-Groves)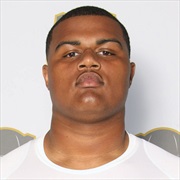 TexAgs
Offensive line (Done)
Wide Receiver (Done)
Tailback (0 or 1)

Holiday break notes: The latest on J.K. Dobbins? I'm about ready to remove him from the list of remaining targets after hearing that the local star went silent on the Ags just before the Dead Period began. After getting J.K. on campus for a November home game, A&M pulling off a late flip and prying him away from Ohio State looked at least somewhat realistic, but it's safe to say that all changed when the mid-term grad didn't host the Ags in-house on the final night that coaches could be on the road a couple of days ago.

As for Travis Etienne, the Louisiana standout and former A&M commit still lists his final three as TAMU, Tennessee and Oregon. With Etienne and the Ags, it's all about timing. While Clarence McKinney and the Ags could certainly use one more tailback in this class, it's not as big a necessity as addressing needs on the defensive line, and it won't come at the expense of someone like Marvin Wilson or Levi Jones late.

If Travis holds out into mid-January or later, then the A&M staff will have a better idea when it comes to available scholarships. If he pulls the trigger prior to that, the scholarship-strapped Ags may not have room at the inn. Personally, I expect Etienne to end up at Oregon if he ends it sooner than expected and think he'll expand or alter his options if he holds out, with the Aggies remaining in the mix for as long as they want to or can.


With longtime priority target Addison Gumbs off the board and enrolling at the mid-term at Oklahoma, things have cleared up considerably at the position.
Defensive end (1)
Holiday break notes:
With longtime priority target
Addison Gumbs
off the board and enrolling at the mid-term at Oklahoma, things have cleared up considerably at the position. If you're asking me today, I'd lean towards Jones – a former Ole Miss commit – being the most likely to end up in Aggieland, but both he and Isibor are showing legitimate interest and will visit College Station officially in January.
Arizona State is still the presumed leader for Isibor, but his unique recruitment also has Harvard and Yale as legitimate contenders for his services. Jones will be in town for the Ags' big
January 20th
visit weekend and most close to his recruitment believe A&M could lock up his commitment then with a hard push up to that point.
Finally, the Aggie staff has worked very hard and has managed to get its foot in the door with North Shore edge-rusher K'Lavon Chaisson. Nothing to report yet in the way of a January official, but there is real optimism on the A&M side when it comes to the possibility of finally getting the four-star edge-rusher back on campus.
The Ags suddenly have his ear, and if (it's still an if, mind you) they can get him on campus in January, anything can happen. Texas is the team to beat here, however. Chaisson is staying close to home, so it's up to Chief, Terry Price and Sumlin to sell him on playing in the SEC versus the Big 12. Still a pretty big longshot for the Aggies, but we were the first to report the fact that the A&M staff had re-engaged with Chaisson for a reason.
Defensive tackle (1 or 2 if Marvin Wilson)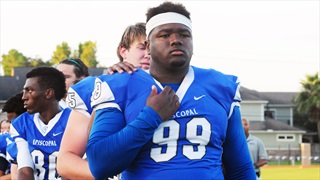 TexAgs
Holiday break notes:
Let's start with big Marvin Wilson. The Episcopal standout and state's No. 1 prospect has visited and still appears likely to set his final two officials to LSU and A&M, though nothing is guaranteed with USC still pushing hard.
As I've been saying with Marv from the outset, the Ags are putting up one hell of a fight but are still very much fighting uphill. Ohio State and Florida State have gotten official visits, and the Buckeyes and LSU would still have to be considered the teams to beat, IMO. Getting the 320-pound interior defender to Aggieland for an official is a must or Kevin Sumlin and Co. would be wise to use that precious scholarship elsewhere.
Speaking of, Corey Bethley and Josh Rogers both like A&M and like the Aggies a lot. Oklahoma will be a serious player for both, and I wouldn't be surprised to see Texas make a January push in this direction also, though it's not necessarily the Horns' greatest position of need. Bethley has long been a priority for the Aggie staff, and A&M clearly leads. He's considering making a holiday decision that would bode very well for the Maroon & White, but his plan all along has been to wait until January to decide. He and Rogers will both be on campus on
January 20th
, which is when I think we'll start to see things clear up at the position.
Javon Kinlaw plans to officially visit Aggieland and Deiontae Watts has already done so, but I'd be pretty surprised to see either end up in Maroon & White. I just don't and have never gotten the feeling that they're being pushed hard or prioritized to that level.
Finally, while I don't expect it, the possibility does indeed exist that the Ags would take a 'Marvin or bust' approach to the position if we get around to mid-January and A&M has already landed Kendall Sheffield and feels good about guys like K'Lavon Chaisson and Levi Jones. Spots are indeed getting that tight in the Ags' Class of 2017, and T.D. Moton and swing guys like Justin Madubuike and DE/DT Jayden Peevy give A&M some quality youth at the position.
That said, my prediction is the Ags end up with either Bethley or Rogers and see if they can pull off the Signing Day coup to ink Wilson.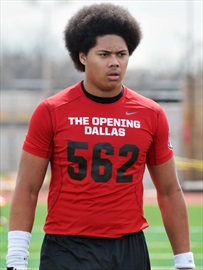 Brice Jones
Linebacker (0 or 1 if Levi Jones)

Holiday break notes: Really only one target left here, as John Chavis, area recruiter Terry Price and the Ags continue to chip away at Levi Jones in hopes of putting the finishing touches on what would be a terrific haul at the position. Levi's father – former NFL linebacker Robert Jones – plays a big role in his recruitment and has a good relationship with Coach Sumlin, which will undoubtedly play in A&M's favor.

Until this week, LSU was thought to be Jones' leader, but most believe that changed when the Tigers added four-star LB Monty Rice (a mid-term grad) to their 2017 commitment list. While many close to Bayou Bengal recruiting think Ed Orgeron will back off in his pursuit of the Austin Westlake standout, I am not so sure about that and believe we'll see at least one more big-name program pique Levi's interest between now and his decision date. In other words, the Aggies may lead but this one isn't over.

If I were to predict where the state's No. 3-ranked prospect at the position would end up today, however, it would be Texas A&M. Sumlin, Chavis and the Ags are in a pretty good spot here.


Cornerback (0-1 if Kendall Sheffield)
Holiday break notes:
I'm going to keep this one as short and to the point as possible. Ohio State has loaded up at corner, Sheffield's preference has always been to play closer to home and his TCU visit fell far short of hitting the mark. Kendall and his father (who is very involved in his son's recruitment) also saw first-hand what can happen at a five-star football factory like Ohio State during Sheffield's one-plus year stint at Alabama.
The Aggies are in tremendous shape, and Sheffield is very close (perhaps mere days) from making a decision that will have him joining the team next month.
The Aggies are in tremendous shape, and Sheffield is very close (perhaps mere days) from making a decision that will have him joining the team next month. Tom Herman and Texas are trying to push their way into the mix, but because Kendall is a mid-termer, this is likely a case of bad timing for the Horns. It's at least worth keeping an eye on, however, as the Sheffields have been to A&M countless times during two recruitments and – for whatever reason – have yet to make a public commitment.
Safety (Done)
Committed:
Keldrick Carper
(Plain Dealing, La.),
Derrick Tucker
(Manvel)
Never miss the latest news from TexAgs!
Join our free email list