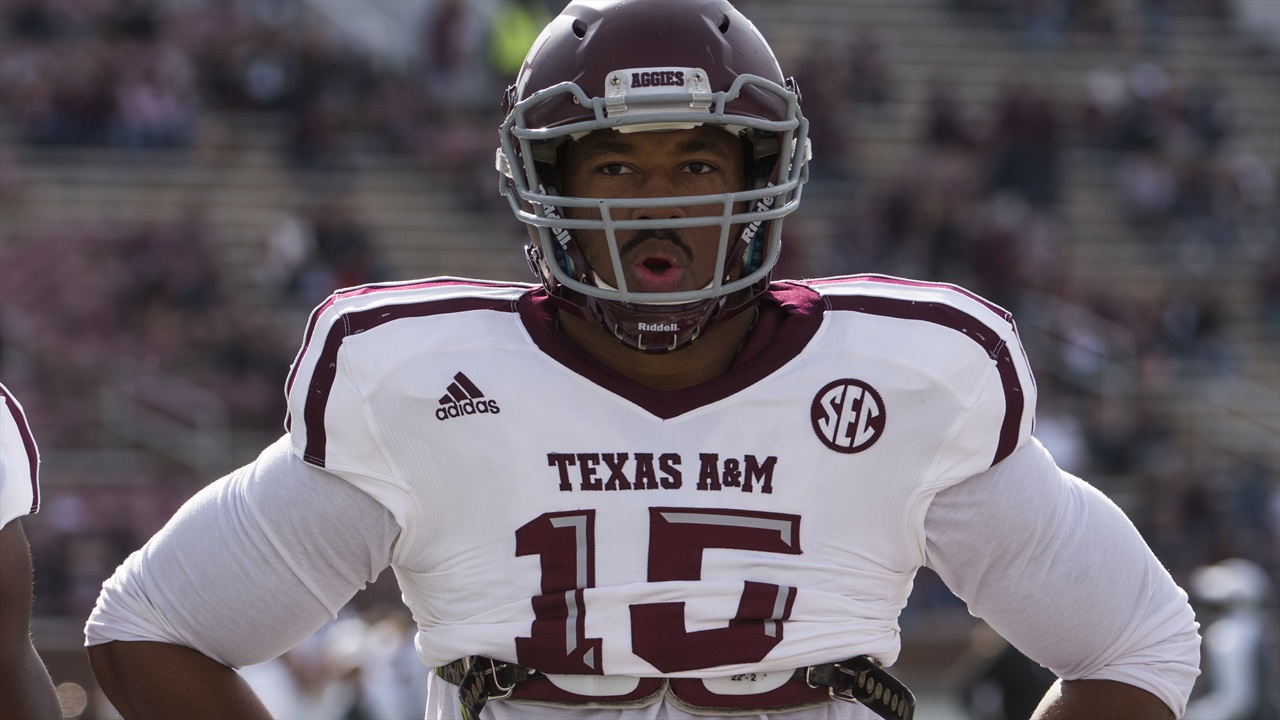 Photo by Lindsay Caudle, TexAgs
Texas A&M Football
Aggies DE Myles Garrett again named a Walter Camp All American
---
For the second consecutive year, Texas A&M defensive end Myles Garrett is a member of the Walter Camp All America first team. Despite a significant leg injury in 2016, Garrett remained a game-changer for the Aggies.
---
From Texas A&M's official release:
ATLANTA — Texas A&M junior defensive end Myles Garrett was named to the Walter Camp All-America team for a second straight season on Thursday after a strong campaign for the Aggies.
Garrett, from Arlington, Texas, received the honor in conjunction with the 2016 Home Depot College Football Awards Show, which was broadcast via ESPN from the College Football Hall of Fame in Atlanta, Ga. Garrett was at the Award Show as a finalist for the Bednarik Award, which is given annually to the college defensive player of the year. Also named to the All-SEC first team by the league head coaches this week, Garrett finished the regular season with a team-best 8.5 sacks, 15.0 tackles for loss and two forced fumbles.
2016 WALTER CAMP ALL-AMERICA TEAM
First Team Offense
Pos. Name, School Hgt Wgt Class Hometown
WR Dede Westbook, Oklahoma 6-0 175 Senior Cameron, TX
WR Zay Jones, East Carolina 6-1 197 Senior Austin, TX
TE Jake Butt, Michigan 6-6 250 Senior Pickerington, OH
OL Cam Robinson, Alabama 6-6 310 Junior Monroe, LA
OL Cody O'Connell, Washington State 6-8 354 Junior Wenatchee, WA
OL Roderick Johnson, Florida State 6-7 311 Junior Florissant, MO
OL Connor Williams, Texas 6-6 288 Soph. Coppell, TX
C Pat Elfein, Ohio State 6-3 300 Senior Pickerington, OH
QB Lamar Jackson, Louisville 6-3 205 Soph. Pompano Beach, FL
RB Donnel Pumphrey, San Diego State 5-9 180 Senior Las Vegas, NV
RB Dalvin Cook, Florida State # 5-11 213 Junior Miami, FL
PK Zane Gonzalez, Arizona State 6-1 190 Senior Deer Park, TX
First Team Defense
Pos. Name, School Hgt Wgt Class Hometown
DL Myles Garrett, Texas A&M * 6-5 270 Junior Arlington, TX
DL Jonathan Allen, Alabama 6-3 291 Senior Leesburg, VA
DL DeMarcus Walker, Florida State 6-4 280 Senior Jacksonville, FL
DL Derek Barnett, Tennessee 6-3 265 Junior Nashville, TN
LB Reuben Foster, Alabama 6-1 228 Senior Auburn, AL
LB Jabrill Peppers, Michigan 6-1 205 Junior East Orange, NJ
LB Zach Cunningham, Vanderbilt 6-4 230 Junior Pinson, AL
DB Jourdan Lewis, Michigan # 5-11 186 Senior Detroit, MI
DB Malik Hooker, Ohio State 6-2 205 Soph. New Castle, PA
DB Adoree' Jackson, USC 5-11 185 Junior Belleville, IL
DB Tre'Davious White, LSU 6-0 197 Senior Shreveport, LA
P Mitch Wishnowsky, Utah 6-2 220 Soph. Gosnells, Australia
KR Quadree Henderson, Pittsburgh 5-8 190 Soph. Wilmington, DE
Second Team Offense
Pos. Name, School Hgt Wgt Class Hometown
WR Corey Davis, Western Michigan 6-3 213 Senior Wheaton, IL
WR Mike Williams, Clemson 6-3 225 Junior Vance, SC
TE Evan Engram, Ole Miss 6-3 235 Senior Powder Springs, GA
OL Dorian Johnson, Pittsburgh 6-5 315 Senior Belle Vernon, PA
OL Ryan Ramczyk, Washington 6-6 314 Junior Stevens Point, WI
OL Billy Price, Ohio State 6-4 315 Junior Austintown, OH
OL Dan Feeney, Indiana 6-4 305 Senior Orland Park, IL
C Ethan Pocic, LSU 6-7 302 Senior Lemont, IL
QB Deshaun Watson, Clemson # 6-3 215 Junior Gainesville, GA
RB D'Onta Foreman, Texas 6-1 249 Junior Texas City, TX
RB Christian McCaffrey, Stanford # 6-0 200 Junior Castle Rock, CO
PK Daniel Carlson, Auburn # 6-4 218 Junior Colorado Springs, CO
Second Team Defense
Pos. Name, School Hgt Wgt Class Hometown
DL Christian Wilkins, Clemson 6-4 310 Soph. Springfield, MA
DL Harold Landry, Boston College 6-3 250 Junior Spring Lake, NC
DL Hunter Dimick, Utah 6-3 272 Senior Syracuse, UT
DL Ejuan Price, Pittsburgh 6-1 255 Senior Rankin, PA
LB Raekwon McMillan, Ohio State # 6-2 243 Junior Hinesville, GA
LB Kendall Beckwith, LSU 6-3 247 Senior Clinton, LA
LB Ben Boulware, Clemson 6-0 235 Senior Anderson, SC
DB Rasul Douglas, West Virginia 6-2 203 Senior East Orange, NJ
DB Minkah Fitzpatrick, Alabama 6-1 203 Soph. Old Bridge, NJ
DB Tarvarus McFadden, Florida State 6-2 198 Soph. Fort Lauderdale, FL
DB Desmond King, Iowa * 5-11 203 Senior Detroit, MI
P Cameron Johnston, Ohio State 5-11 198 Senior Geelong, Australia
P JK Scott, Alabama 6-6 202 Junior Denver, Colorado
KR Adoree' Jackson, USC 5-11 1185 Junior Belleville, IL
Never miss the latest news from TexAgs!
Join our free email list