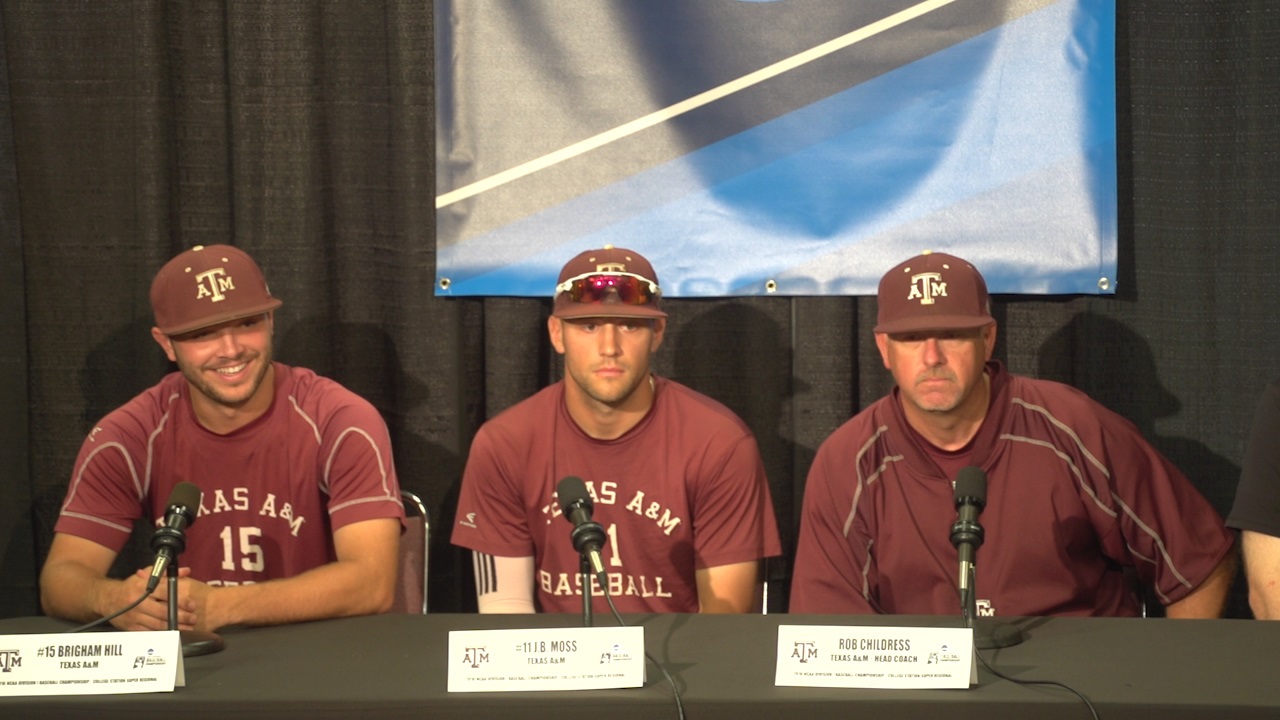 Texas A&M Baseball
Texas A&M, TCU preview series, explain weekend strategy
---
Above: Watch Texas A&M and TCU participate in the pre-College Station Super Regional press conference. Below you'll find key points in brief note form.


---
Texas A&M
HC Rob Childress
• Looking forward to the weekend. Very good week of practice and prep for TCU. TCU playing as well as they've played.
• Conference tournament and this past weekend, you're starting to see all three phases put together and at a very high level.
• A lot more [confidence in Hendrix]. To see him go out and throw strikes with mid-to-upper 90s and [great] breaking ball.
• [Regionality] is good for the fans. But this is 2 different teams ... last year to this year. About playing good baseball.
• Our team is built for a three-game series. We've played well in them and we've only lost one.

RHP Brigham Hill:
• Excited to get the team off to a great start and go as long as I can and give them my best shot ... hopefully a win.
OF J.B. Moss:
• Ready for the first pitch tomorrow at 8:05 and to get all of the noise out of the way and play good baseball.
• Whoever wins this series will be whoever manages their emotions. Anxious to get out there and play baseball and competing together.
---
TCU
HC Jim Schlossnagle:
• Excited to be here. Been a long week and we were anxious to get down. Excited to get down here.
• How everyone has been pitching, felt like Jared [Janczak] has been the most consistent strike thrower.
• [The Boomer factor] has not come up at all. The majority of this team has zero relationship with Boomer because we're young.
• Boomer is a great guy. Comes from a great family. No ill will on either side. He had something in his heart to do. That's okay.
• Last year, I thought A&M was deserving of a national seed, and so were we. I know there was a lot of talk about that down here.
• We've been in 6 [super regionals] in last 8 years. Want to make sure the guys understand this will be a lot of fun. [Can't be] uptight.
• You have to execute pitches [vs. A&M]. You have to throw strikes. Can't set the table. Have to make a play and get off field.
• [Baker] is a great presence. He's a better hitter than a power hitter. He's as good a hitter as there is in college baseball.
• [Childress] was my first call to be on my staff to be on Team USA in 2013. Didn't work out at that time. I love his honesty.
• Doesn't have anything to do with bubbles or whatever. I know there's a lot of swaying. A great experience [playing at A&M].
RHP Jared Janczak:
• This time last year, I was watching [this series] on TV. Really excited to get out there and perform.
C Evan Skoug:
• [Janczak] goes out there and commands the zone with three pitches. He wants to win, and we have a great chance to win with him.
Never miss the latest news from TexAgs!
Join our free email list