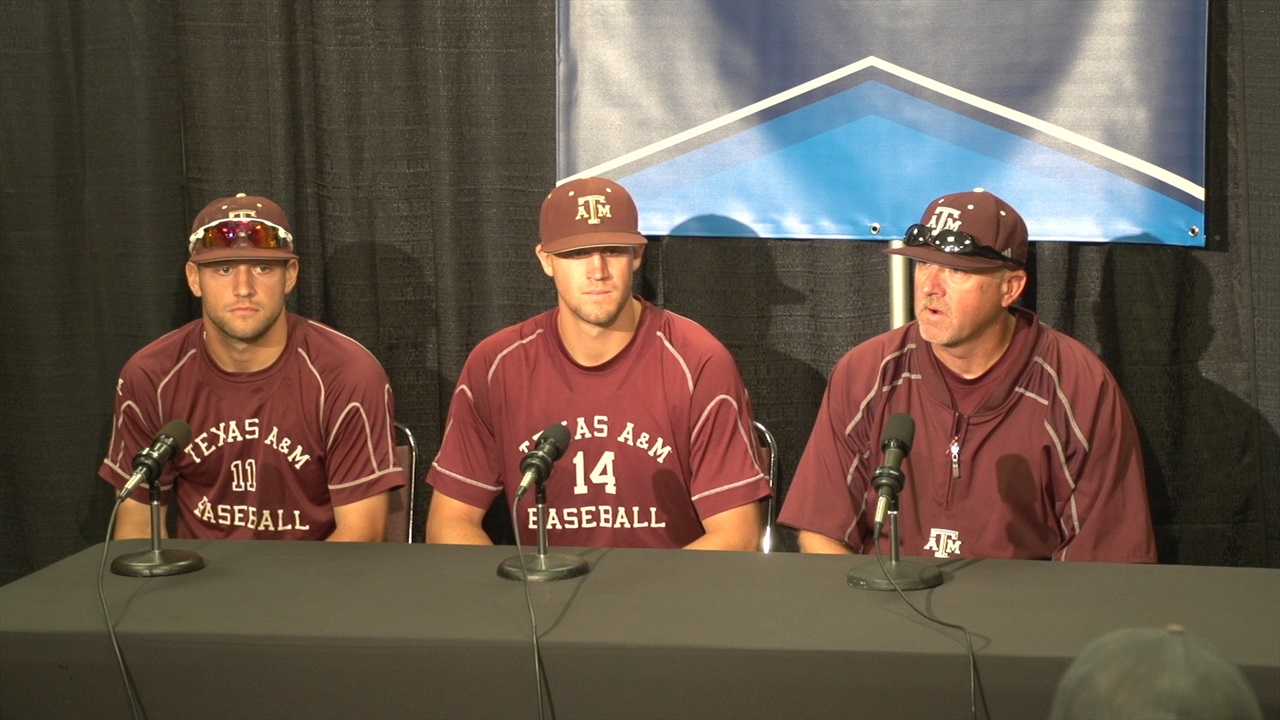 Texas A&M
Minnesota
Wake Forest
Binghamton
Texas A&M Baseball
College Station Regional participants size up the field, task ahead
---
Above: Watch Texas A&M, Minnesota, Wake Forest and Binghamton participate in the pre-College Station Regional press conference. Below you'll find key points in brief note form.
---
Texas A&M
HC Rob Childress
• Really good week of practice. Good to be home on our field to prep for Regional. Focus is on Binghamton...very good.
• [Weather] could [impact rotation]. Hopefully there will be windows [of good weather]. Great grounds crew.
• I would expect Kyle to give us as many [innings] as he can give us. Would be nice to go deep, like he has the last month.
• Really [dangerous at the top]. JB and Nick had a great week [in Hoover]. A lot of collegiate at bats between those two.
• Our guys understand what Binghamton is all about. Scored 9 runs in 9th inning in conference tournament to beat Hartford.
• If [Vinson] is needed tomorrow, we'll use him. If we need him on Saturday, we'll use him. He's my "blankey" ... I keep him close.
• Jonathan [Moroney] has stayed connected to team and very prepared and then heard his name called and made the most of it.
• You'll see the same lineup that we used the last three days of the conference tournament.
P Kyle Simonds
• Gonna be a big game for us. Hopefully I can get us started off on the right foot.
• All of us like pitching at home. Great having the 12th Man behind us. They'll be loud and on their feet.
OF J.B. Moss
• Really special [to earn top 8 seed]. We're all happy and now we have to go make the most of it.
• Keeping my nose down and staying in daily [focus]. Trying to do whatever I can to get to first base and lead into guys behind me.
---
Minnesota
HC John Anderson
• Excited to be here. Been an emotional season for us with our pitching coach recently passed. Proud of our kids.
• Trying to focus on getting our team back and in a good place [after Oakes' death]. Ball game with Wake will be great 1.
• [A&M] is strong in all 3 phases of the game. Great hitting team, power arms and play great defense. Very well-coached.
• [Childress] is very passionate about the game. Strong teacher. Very driven. Did a great job at NU ... talented coach.
P Dalton Sawyer
• We're not just happy to be here. We're here to win.
P/OF Matt Fiedler
• It's been a long time at Minn. We have a strong tradition and we're proud to add to that. This is awesome. A&M is really cool.
• Big honor to be a two-way player. A big tradition of great two-way players here. Credit to staff for being flexible to it.
• Everything is bigger in Texas, I guess. [The facility] is really cool. The SEC is second to none in facilities.
---
Wake Forest
HC Tom Walter
• Thrilled to be here. Amazing venue and awesome tradition at A&M. Equally proud of our ball club. Great season.
• Middle of the order 2-5 ... not sure if there is a better 2-5 stretch in the country. All pros playing at a high level.
• Looking forward to [the nation] to see how good Will is. The best player in the country and the best player we've ever had.
• [A&M is] really dynamic offensively. To get through Hoover is no small task. Playing great baseball. Have to make pitches.
P/3B Will Craig
• ACC is very strong 1-14 with a lot of pitching and great lineup. ACC has really prepared us to face top [teams] like A&M.
RHP Parker Dunshee
• We just took BP and ball flies out to right. We're expecting high-scoring games but hopefully not, when I'm on mound.
---
Binghamton
HC Tim Sinicki
• Very thrilled to be in this tournament in CS. Haven't been here before. Great tradition here.
• This group has been to 3 Regionals in 4 years. We have some experience. Happy for this group to turn around down 2015 year.
• A&M lineup is tremendous top to bottom. We need to do what we do best, no matter the opponent. Play to our strengths.
P Mike Bunal
• A&M is a very powerful program. Have to take one game and you can turn a Regional on its head. You never know.
Never miss the latest news from TexAgs!
Join our free email list