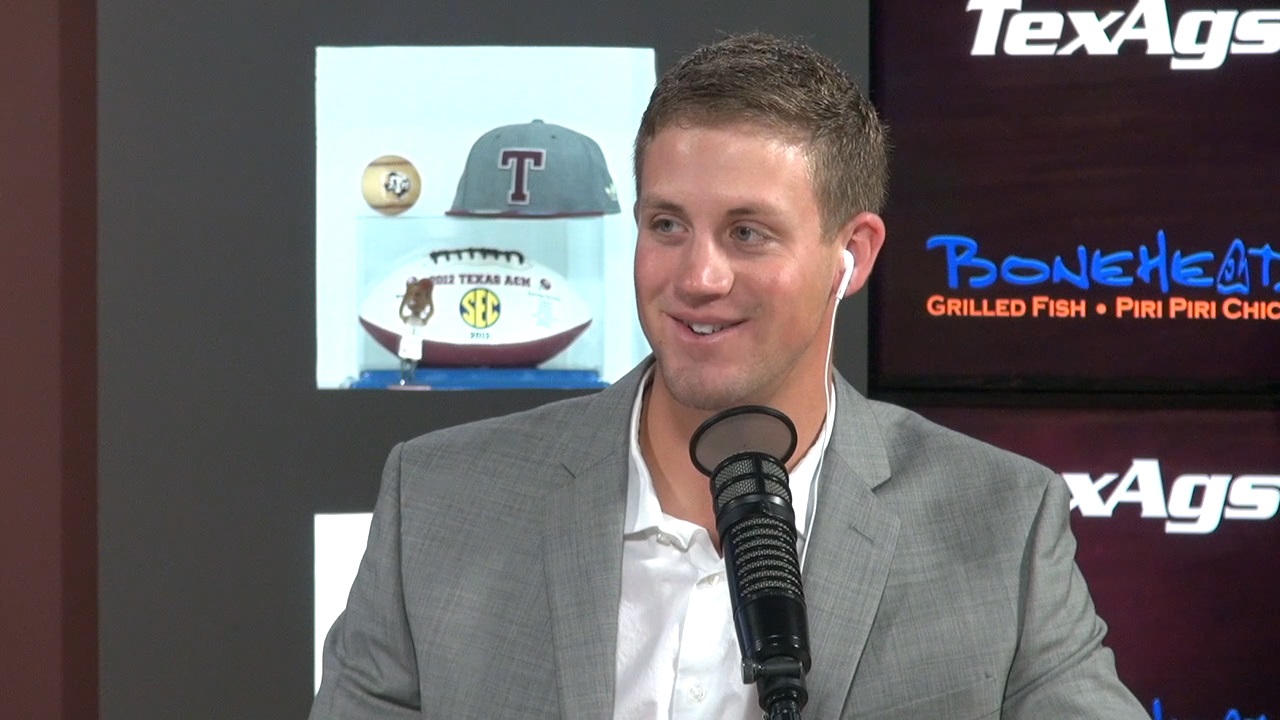 Kyle Simonds
Justin Seely
Texas A&M Baseball
Kyle Simonds relives no-hitter, discusses his road to Texas A&M
---
Above: Listen to Kyle Simonds and Texas A&M assistant Justin Seely discuss Saturday's no-hitter on TexAgs Radio.



Key quotes from Kyle Simonds' interview
"I'm doing pretty good, I can't complain. I haven't really slept much. My phone has been going off quit a bit, it has been great. It really hasn't set in much. You replay the whole game in the back of your mind and you keep hearing about it from friends and family but it's just another week for us and we have to get back at it. I worked out this morning and we have practice tomorrow. South Carolina is coming up quick so you have to get ready for that. You enjoy it for a few days but it's time to move on."
"There weren't a lot of strike outs and they were swinging at the first pitch. I really wasn't keeping track of my pitch count too much, I didn't know where I was at. I really lost track of the innings because it was going by pretty quick. The error by Austin Homan in the first could have easily been a hit if the throw is on the mark. In the sixth, seventh, and eighth inning it starts to hit you a little bit. The whole routine in the dugout is the same, all the guys in the dugout kept doing the same thing. Coach Childress didn't even say anything to me, he didn't say anything to me after the first inning. He just kept quiet. During God Bless America, they had a camera on me and all the guys were still ragging on me a little bit. I had to smile a little bit, I was loose. At the same time, it was like, 'This is your shot to do this thing. You don't get many of these.'
The ninth inning comes around and the first play, the ball gets hit up the middle and I was able to get a glove on it. It could've been a hit, not sure if (Ryne) Birk could've got there. Next up they were swinging early again and off the bat to Choruby I thought it was going to drop, I really did. It just looked like it was dying too much. I knew he had a beat on it though and he was going to lay out. It's just one of those plays that only Choruby can make. He gave everything he had, willing to go all out for me. The last out, they just swung first pitch and put a pretty good swing on it. I just happened to put my glove in the right spot. I caught it and was like, 'That was it, that was the one.'"
"I think I went down to a knee to get the final out. I was like, 'Yeah, you just caught that.' Even in the complete game at Arkansas, the second guy of the inning hits a home run, just like that. During the seventh and eighth inning I was thinking about that. I didn't want to think about it too much, but I was like, 'There needs to be a big play. Every time, there is a big play in a perfect game or no-hitter.' Sure enough Choruby made that big play."
"I tried to keep everything the same, go out there with a purpose and throw strikes. I came in the dugout high fiving the same guys and sitting in the same spot. It was funny, in the eighth they were showing me on the bench and the camera guy in the well wanted me to scoot down. He couldn't quite get me on there. He asked if I could scoot down. I kind of thought about it for a second, I scooted down a little bit and he wanted me to keep going. I looked at Boomer at he gave me one of those, 'No don't mess anything up, stay where you are.' I had my guard up right there. I've been sitting here for nine innings, I'm not going anywhere."
"(Barash) and I talking about (our road to get to this point) quite a bit. It's everything we both worked for, everything we wanted. To get to Omaha, he's been there but it will mean different to be with us. Our relationship is one of the best combos, you can't hardly beat it, roommates and pitcher-catcher. For him to be there and catch that game for me, I can't tell you how much he does behind the plate and how hard he works to be great at it. He wants it just as bad as I do. It was an unbelievable feeling to give him a big hug afterwards. I'm sure he's nervous but he makes it look easy. He kept getting strikes for me on the bottom of the zone and the corners. He gives me so many pitches that are on the edge. Blocking balls in the dirt for strike three and throwing them out at first, those things don't go unnoticed. It just shows how hard he works for us. The amount of games he catches and the amount of throws he has to make in a three game series is unreal. I don't know how his arm isn't falling off yet. Great kid, great personality and just and awesome moment to have with him."
"I thought I threw pretty well at Georgia. Obviously, I went 8 and 2/3 innings. I was just pretty efficient. I was throwing strikes and getting ground ball outs. Really, I made a switch and changed a few things up with my breaking ball against Arkansas. They stacked their line-up with right-handers to really eliminate my change-up. So I really got back on top of my breaking ball like it was in the fall. That's really been the biggest switch for me – throwing it for a strike and as an out-pitch. To have that in combination with the sinker and the change-up has been big for me. (It's) pretty much (a three-pitch) mix. I can throw them any time, which has been the biggest part."
"They had a few more lefties in the line-up this week. Really good lefties. I threw it every now and then, but I choose to go change-up more. Coach Childress calls all the pitches, by the way. He did a great job of calling all the pitches on Saturday. I threw the (breaking ball) quite a bit more against Arkansas on those right-handed hitters than I did on Saturday."
"(Michael Barash) kept it light the whole game. Every time we'd come off the field after a quick (inning). He'd be grinning ear-to-ear like I said. He just gave me a high-five and said, 'Keep it going. Keep this thing rolling.'"
"I am (superstitious). There are things where – even if I glanced at the hits or the scoreboard, I knocked on wood just to make sure. I have a stretching ritual. We have the time set up to where it's the same. Every time, I exit the dugout the same way and come back in the same way. I untuck my jersey and tuck it back in. I just get the same glass of water and some Gatorade. I just keep it the same and don't move on the bench."
"I've been getting a bunch of texts from (home, Grand Island, Nebraska,) just saying 'congrats!' It's a bunch of family and friends telling me to keep working hard. (The population) is 50,000. It's the third-largest city (in Nebraska), but on Husker gameday, the stadium is bigger than my hometown. It's about an hour from Lincoln and two hours from Omaha. It's down the road. I get pictures and texts from family that lives in Omaha all the time. They're by T.D. Ameritrade. They just say, 'Can't wait for the Aggies to be here. It's waiting for you.'"
"I really don't know how Grand Island got it's name. There are a few little lakes, but as far as an island, I don't know how they got that."
"It started in junior college. My first year was just an average year. I was kind of getting my feet wet with playing in college. Then I really developed and just wanted it more than you know. Playing at this level is what I really wanted. I wanted to get to Omaha. I just kind of flipped a switch and got after it. I had a great team behind me that second year, and I was fortunate enough to get a call from Coach Childress and Andy Sawyers. I loved it down here. Once I came down for a visit, I knew before I left that this is where I wanted to be. It felt like home. I just wanted to continue my baseball career here at Texas A&M. There's no better place to play in the SEC."
"I was fortunate enough to be named (National JUCO Pitcher of the Year). It was hard to believe. There was a lot of hard work put into it, a lot of time that people don't see. It's more than a game."
"I could golf. I didn't know if I wanted to play golf in college or baseball. I think it was my junior year was when I decided. I was like, 'I have got to go play ball somewhere.' I still play golf though. I still love it. I had four years of free golf lessons with a great coach. That's hard to beat. I know there are a lot of guys on the team right now that say, 'You lived the life in high school getting to do both.' Baseball is where my passion was, where my heart was."
"I think that's what great about us. If the pitchers are struggling during a weekend, the hitters are going to pick us up and put some runs on the board. Coach Childress always preaches that hitting is going to come and go. He tells his pitchers all the time that if we're going to go where we want to go, it's going to be the pitching staff that takes us there. It's true. We just have to keep doing what we're doing and eliminate some runs. Teams in the SEC can hit, so it's been a battle."
"Boomer is full of knowledge. Obviously, he's good at what he does. If he needs to say something to somebody or help them out, he's more than willing to do that. Then Michael is a leader by his words and his actions. He's always spirited. Boomer's more of a leader by example. They both just bring so much to the team, being older guys and helping the young ones out. Boomer's willing to do anything it takes to help this team get to Omaha."
"Growing up, I went to the Husker baseball camps, and Coach Childress was there. He taught me how to throw and do all these different drills. I followed him when I was young and going to Husker games. I knew he went down to A&M. To get a call from him was a dream come true. I knew he was the best pitching coach and head coach combo that there is. I want to buy into what he's got to say. His history of coaching and building guys up – it's been a huge factor for me to come out here, and it's been nothing but great. He's a father figure to me. He helps me out, and he's willing to talk about anything. I can't thank him enough for all he does."
"It's a little bit of an advantage just to see the line-up (as the Sunday starter). You get to do the charts for the first two games, and you get to see the guys roll through there, but it could be a big game. If it's tied 1-1, it's a big game to win a series. I like the role, and whatever they put me in is where I'm comfortable. We'll see what they do this weekend. I haven't talked to them, but we just have to keep doing what we're doing."
Never miss the latest news from TexAgs!
Join our free email list