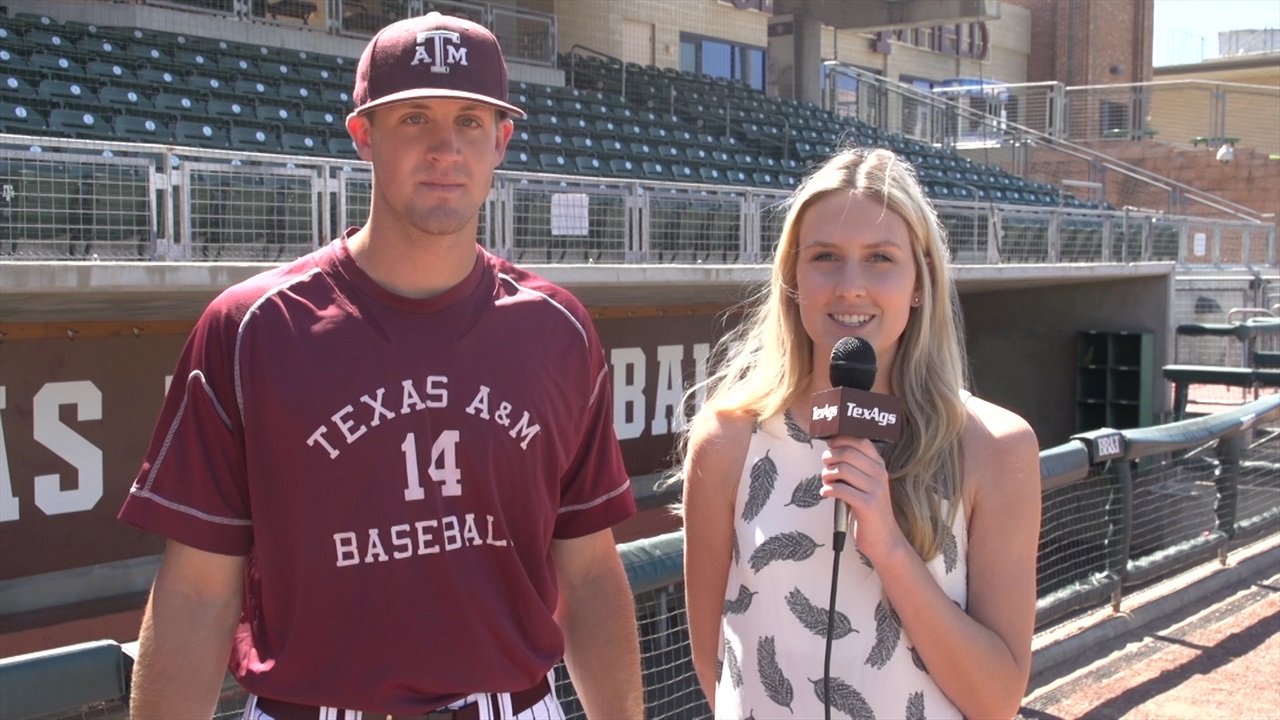 Texas A&M Baseball
Kyle Simonds reflects on complete game, anticipates Vandy's challenge
---
When Texas A&M needed a stalwart pitching most, Kyle Simonds gave it.
Now, with the No. 2 Aggies facing Vanderbilt to begin a 10-game, season-defining, season-ending run, the senior has his focused trained on what got he and his team this far.
On what brought him to Texas A&M...
"It was really just the campus lifestyle. It really felt like home when I was here, and the whole coaching staff made me feel — you know, I bought into what they were saying. You can't beat the SEC and this was really the only (SEC) school that recruited me."
On growing up going to the College World Series...
"I did. I went once when I was like eight and I went every year since. It was a dream to hopefully get to play there, and now getting the chance to do it is hard to believe."
On what was working for him during his complete game win against Arkansas...
"I really had a breaking ball. It was really the sharpest it has been all year and I got ahead of hitters, which was probably the biggest thing that helped me over the weekend. I got ahead of hitters with a fastball on both sides of the plate and put them away with a breaking ball when I needed to.
"I also eliminated a lot of mistakes at keeping the ball low. They didn't take advantage of missed pitches."
On what was going through his mind in the ninth inning...
"It's the hardest inning to get through when you are trying to get a complete game. I just tried to fill up the zone and get outs. Unfortunately the guy put one over the wall after the first out, but the guys were behind me in the dugout and on the field and they made plays for me."
On the Aggies being relentless...
"There were a lot of guys on last year's team that bought into the word 'relentless,' and I think we carried it over for our leadership this year. After that first game on Saturday it didn't taste good to get beat like that against Arkansas. It didn't start good in game two, so we needed to come together as a team and find out who we really are. The bullets started to fly and fortunately we got some clutch at bats late in the innings and Mark Ecker did a great job of shutting them down.
"We really came together as a team on Saturday night."
On trusting the pitching staff...
"There are a lot of guys that can throw and they have talented stuff and are willing to compete on that mound. You would like to go for as long as you can, but when the bullpen is called upon they have done a great job.
"Mark Ecker and Andrew Vinson and even Mitchell Kilkenny, the freshman, has came in and thrown strikes when we needed him. There are a lot of roles that are going to be needed to be filled out of the bullpen and so far we have done a good job at doing that."
On the team's mentality going into the big series against Vanderbilt...
"We just have to keep taking it like it's any other game in the SEC. They are going to come out ready to play from the get-go and they are really talented on the mound. We just need to play Aggie Baseball and get after them like we have every other weekend. Mississippi State is a good one to compare it to.
"It's going to help playing at home, and hopefully we have a big crowd here cheering us on."
Never miss the latest news from TexAgs!
Join our free email list
PRESENTED BY