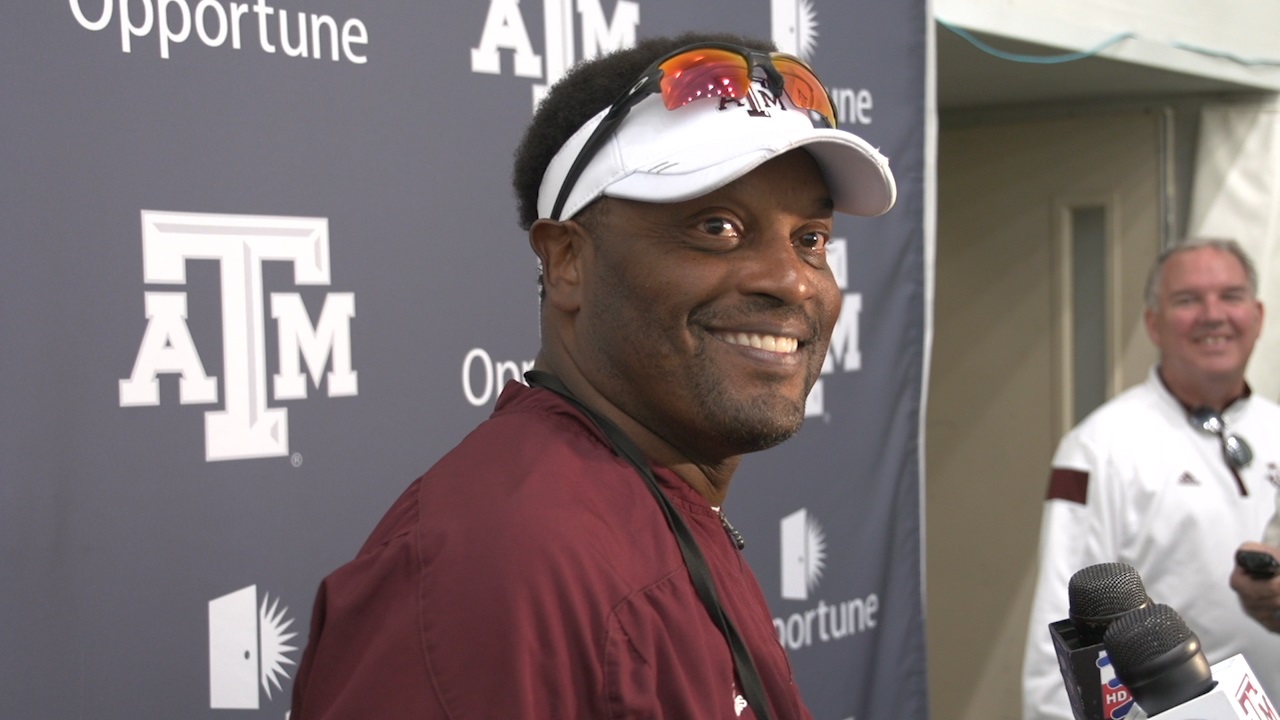 Texas A&M Football
Kevin Sumlin recaps Texas A&M's return to spring practice
---
Following Texas A&M's Tuesday practice, the first since returning from spring break, head coach Kevin Sumlin was asked more about the new coaching faces roaming the sidelines.
While there's plenty of men fitting that description on his own staff, Sumlin wasn't discussing Noel Mazzone, Jim Turner or David Turner. Instead, the latter part of Tuesday's conversation revolved around the staff of the SMU Mustangs.
More specifically, its head coach Chad Morris.
"We talk more than people probably know," Sumlin said on his relationship with the visiting Morris. "His daughter goes to school here. We've got all kinds of people in our office. Tim DeRuyter's daughter works in our office. Coaches take care of coaches kids, too."
For Sumlin and Morris, like a lot of coaches across the country, observing another team's practice is a common, and often beneficial activity.
Morris and his offensive staff walked around A&M's practice field on Tuesday and observed the different drills the Aggies ran and talked philosophy, amongst other things, with A&M's head man.
"There's a lot of guys on that staff that we know and it's good to talk football with those guys," Said Sumlin. "(What you get) out of those visits just depends. Noel Mazzone and I have done that for years with other staffs. You get to know other coaches and guys talk about the positives and negatives of what's happened, what they're doing to help their offense and defense, and then obviously, the things they have seen that have been problems."
"You can either reaffirm some things we're doing and say, 'hey, there's something that can help us' or just sit around and talk about technique and things like that."
As for his team, the Aggies are still working on reaffirming some of their own work up to this point.
With Jim Turner now calling the shots on the offensive line, players are still getting used to new verbiage and technique. While there's certainly a learning curve that comes along with coaching changes, Sumlin likes the guys he has upfront offensively, young as they may be.
"We don't have as much experience as maybe we've had in the past, but we've got some talented guys that have played. Jermaine Eluemunor started the last game of the year, Avery Gennesy has started every game at left tackle, Koda Martin has played for us. We've been able to develop some guys and I think the one who is really making strides is Erik McCoy at center."
According to Sumlin, McCoy has done a great job with Mazzone's tempo and getting people targeted. As a center in this offense, those two things are beyond critical and should be music to A&M fan's ears.
Making the situation even better for the redshirt freshman is the fact that although he didn't play last year, he traveled to every game and was ready to play if needed.
A new system has given some A&M offensive linemen a fresh slate, but that extends into the quarterback room as well. Trevor Knight is learning the nuances of this offense alongside Jake Hubenak, which has given the transfer more of a chance to catch up than he may have gotten otherwise.
Now, when it came to the matter of whether a starter will be named at the quarterback position following the spring, instead of the fall like years past, Sumlin feels like that's one thing that won't change.
"We'll see (about naming a starter), but what we've done in the past is pretty indicative of what we've done for years. Not just here, but at Houston and a couple of other places. So, we'll see."
As for the rest of the offensive backfield, that's a situation Sumlin was more than happy to talk about. When you look at what the running back position looked like at times last season, that shouldn't come as a surprise. In 2015, A&M often had just one proven back to work with, and was forced to play guys without much experience.
This year, it's a whole different look.
"Keith Ford and Trayveon Williams are good players. We've got five guys back there at running back in spring football, which we haven't had (in years past)" Sumlin said. "I don't know that we've had that anywhere I've ever been in the spring. James White is a guy that has played and Kendall Bussey is showing what a difference a year can make."
"I like our running back situation right now."
Safe to say, I think every coach at A&M's practice feels the same way.
Never miss the latest news from TexAgs!
Join our free email list