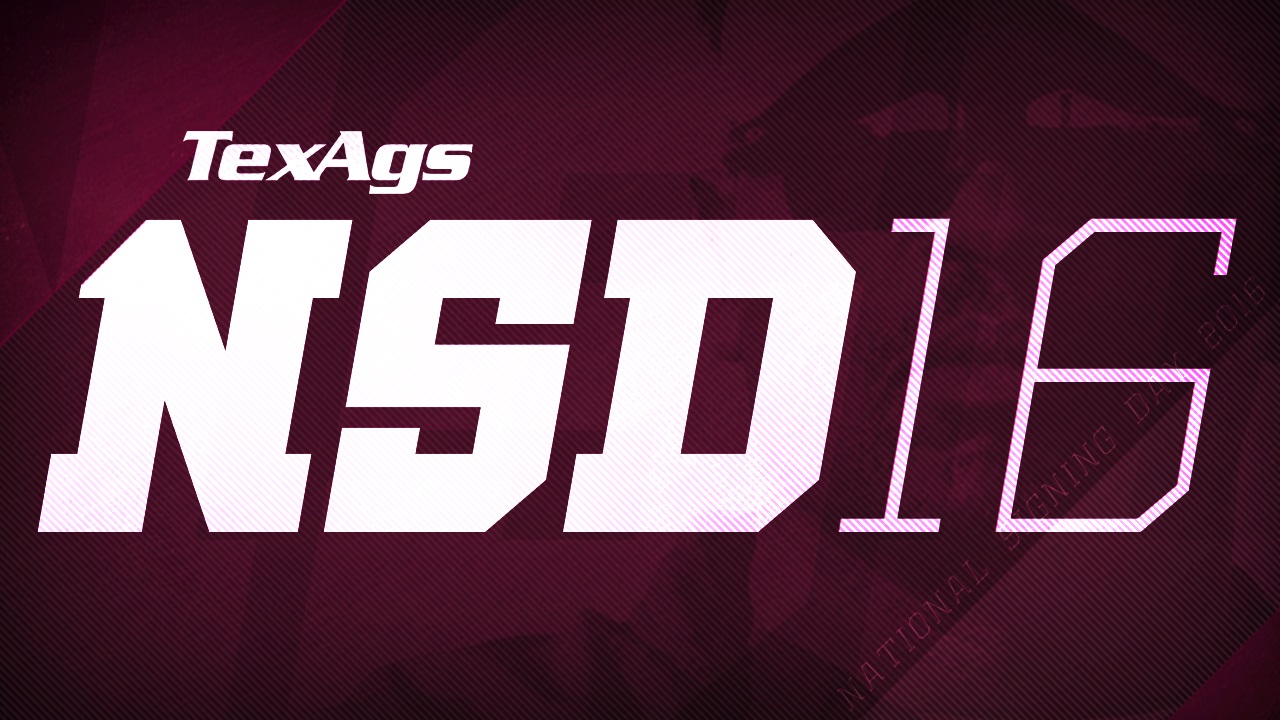 Hour One
Hour Two
Hour Three
Hour Four
Nick Starkel
Tyrel Dodson
Jay HC G. Gutierrez
Texas A&M Football Recruiting
WATCH HERE: 2016 National Signing Day Show
---
Quotes from Signing Day guest interviews:
John Jay head coach Gary Gutierrez (Hour 3)
"I think Texas A&M got one of the most diverse players in the country in Moses Reynolds. On the offensive side of the ball, he can throw the ball, he can catch and run with it. He's very explosive and powerful. On the defensive side of the ball you've got a guy who can play in the secondary with a linebacker mentality and also has the speed to play sideline to sideline. I think A&M got one heck of a player."
"I think Moses has enough talent to play on either side of the ball. I think he has the ability and the football savvy to play quarterback at A&M. I also think in the secondary level, he has the ability to play corner and safety and is a physical player with a lot of tools. I think the A&M staff will have a tough decision on which side of the ball to play him, but he will flourish wherever they put him."
"Moses is a kid that is not an attention seeker. He won't beat his chest when he scores or makes a big tackle. He's a kid that is humble and one that realizes he can use his athletic ability to lead people in the right way. I think he is more of a leader by action, rather than words. We put him all over the field because of his leadership ability. We played him on both sides of the ball because we felt like we needed him on the field. His presence dictated a lot of things. He's a great kid and I think he will be a great addition to the Aggie family."
"There is no doubt that he is as strong as he looks on the field. He squats 500 pounds, hang cleans 315 pounds. So those two things will tell you everything about how powerful he is. He hasn't filled out his frame completely. He has a wide back and shoulders, so once he gets to College Station and has the meal and weight plan, he'll get bigger and faster. I think he'll dominate and I cannot wait to see what he does in the future."
"I think Moses at quarterback could be a best case scenario for A&M. I've got daddy eyes because I've been coaching him, but I think, given the opportunity, I think they can see what a dual-threat quarterback he can be. He can fire the ball as good as anyone in the country and the way he can get away from people while scrambling and making plays is an added threat. I think they should give him a shot and see what he does. I think they'll be impressed with his overall ability in terms of being the captain on that side of the ball."
Nick Starkel (Hour 3)
"It feels amazing to be an Aggie, it is a dream come true honestly. I decommitted from Oklahoma State because I felt like that wasn't really the place for me. Getting back into the recruiting process, UCLA had offered me and I really liked Coach Mazzone and his staff there. Then I wanted to stay closer to home and started looking at A&M. Then things switched up and Mazzone ended up going to A&M, so I was sold."
"Playing in the USA/International game last Friday was a huge honor and blessing for me to represent my country. To go out there and beat Canada 33-0 with some great kids and athletes was a huge honor."
"Coach Mazzone knows a lot about the game and I think they broke something like 50 records with QBs at UCLA and they're going to bring that offense to A&M. I think that suits me well, so I'm excited."
"When A&M had offered me, I considered it but then I looked at the roster and saw Kyle Allen and Kyler Murray. I wasn't really sure about decommitting for that, but when they left and there was an opening for early playing time, that seemed like the place."
"Honestly, I think I need to go down to A&M and mature both physically and mentally. I need to get to work and learn from Knight, Hubenak and guys that have been in the game for a long time and have a lot of knowledge. I think learning from them and competing with them every day is going to make me better and get me ready to play."
"The star rating don't make me too mad, honestly. It gives me a little chip on my shoulder and I play to prove people wrong. I've been doing it since middle school and I'm not going to stop. You have to prove people wrong one day at a time."
"Hearing stories about guys like Ryan Tannehill is definitely huge for me. There has been a great path set before me and to continue on that road that guys like Tannehill have set is huge for me."
Tyrel Dodson (Hour 4)
"This is crazy for me. I've known this day was coming for a long time and I'm still star struck by it."
"When it comes to recruiting other guys, Chief was always telling me, 'We need to get this guy and this guy.' So with me trying to be a good teammate, I was always going to do whatever I could to make my team better. When they offered Okeke, he was already one of my closest friends. I worked on him a bit, but I also didn't pressure him at all. It was a bit tough to talk to guys about doing this or that, but it paid off."
"I definitely need the most work taking on leading blockers. At this level, the leading back is usually a bit smaller than me, so I just push them out of the way. Now I've got to work on plugging the hole and being more physical. Another thing I need to do is be more mentally tough. That's something I think that's something everyone can improve on and it is where I'm going to try my hardest to work on. Inside the classroom, outside the classroom, mental toughness is where you can excel in your game."
"I think Coach Chavis really liked that I have fun and like my leadership. My main focus every game is making the guys around me better. It isn't about me, the media or anything else, it is about my teammates."
"A&M is getting a great guy in the classroom and a great player in Ikenna Okeke, he's just a great guy overall. He can play both sides of the ball but he'll mainly play nickel or safety. He's very physical and is everything you want in an SEC DB."
"All of Coach Chavis' past defenses impressed me, but that isn't what got me here. He was there for me before anyone. He was talking to me before Alabama or any of the others. He believed in me before anyone and is just an overall great guy. He cares and sometimes coaches don't make an impact in your life, but I think Coach Chavis will make a huge impact not only as a coach but as a person. We get along really well."
Never miss the latest news from TexAgs!
Join our free email list