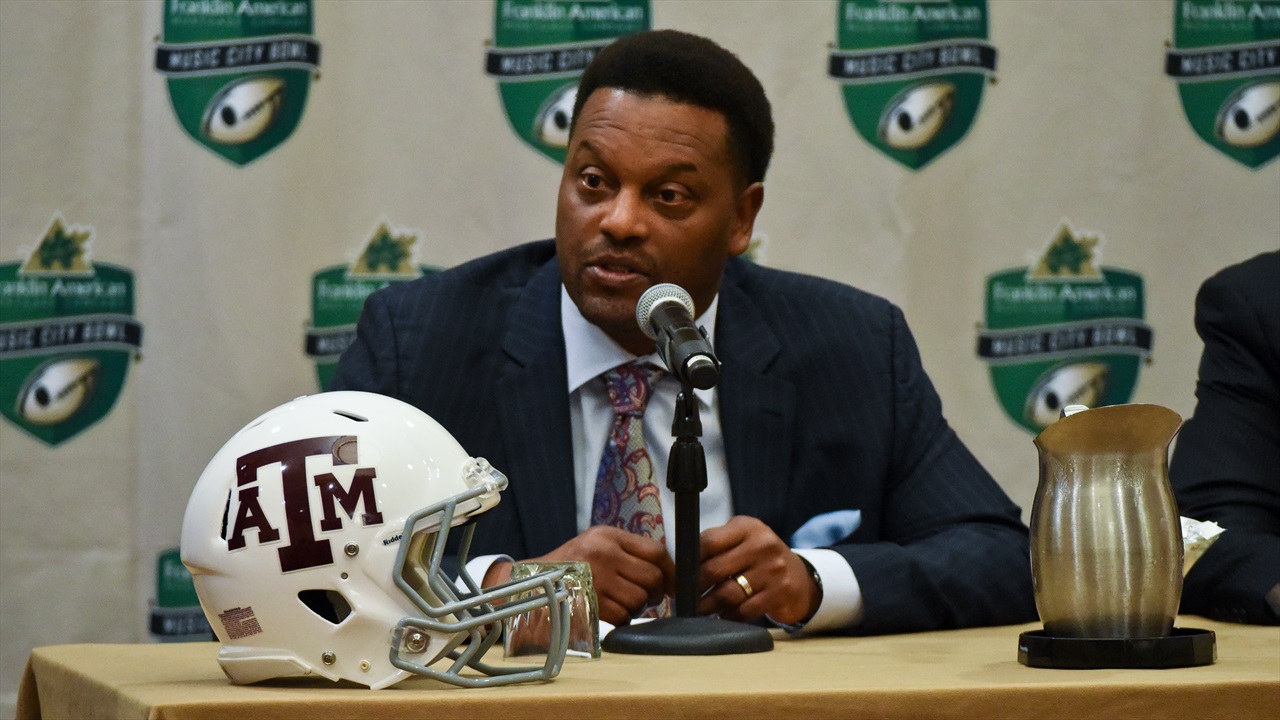 Sumlin & Petrino
A&M Coordinators
UL Coordinators
Texas A&M Football
Texas A&M, Louisville coaches break down 2015 Music City Bowl
---
On Tuesday Texas A&M coach Kevin Sumlin, Louisville coach Bobby Petrino, Aggies coordinators Jake Spavital and John Chavis and Cardinals coordinators asdf sat down with the media to discuss a 2015 Music City Bowl with a host of storylines.
Notes from the press conference...
Kevin Sumlin
• Our team has had a fabulous time in Nashville. City has been a wonderful host. Excited to be here, facing quality opponent in UL.
• UL has been red hot down the stretch and has lost a few close games to very quality opponents. They've gotten better every week.
4 retweets 1 like
• [Hubenak] came to Texas A&M late, after we had highly recruited guys. He understood where he was and the challenges ahead of him.
• He's approached the process a little differently than some other players. Because of that, he's been able to handle things better.
• Speedy Noil will not play in this game (suspension).
• First thing that jumps out to you is the guys up front are big and physical. They run well as a D and play extremely hard.
• [Lamar Jackson] can change the game [with speed]. He basically took over the [Kentucky] game and ran away from a bunch of people.
• Drew Kaser has been fabulous. To not be invited for the Ray Guy Award was a mistake. Has a chance to set NCAA punting record.
• No offense but I hope [Kaser] doesn't have to play a lot. But if he has to, we've got a good one.
• We've gotten better [on defense] as year has gone along. Familiarity over the course of the year has helped. That should continue.
• Hindsight is 20-20 [with QB situation]. You'll always reevaluate how you do things. We've already looked at that. We'll [move on].
• I don't think Jake [Hubenak] is thinking beyond tomorrow. For all of the young guys, it's a chance to start next year off right.
John Chavis
• Good preparation in College Station and here. Been able to add to what we do on D. Pleased with players and their prep.
• Have to prepare for a lot [against UL]. 3 different QBs that are all a lot different. [Jackson] is a good runner and can throw ball.
• We got a little bit better on defense this year, but I know we can win championships at Texas A&M. I know we can.
Jake Spavital
• [Hubenak] was 5A player of year [in HS]. Transferred from OSU and went to Blinn. 4,000 yards in 8 JUCO games. We fell upon him.
• [Hubenak] has prepared to be the starter since the day he got here. I'm excited to see him go out there tomorrow.
• Hubenak is one of the more experienced guys in my room. He knows how to command the offense. Now getting a lot more reps.
Never miss the latest news from TexAgs!
Join our free email list