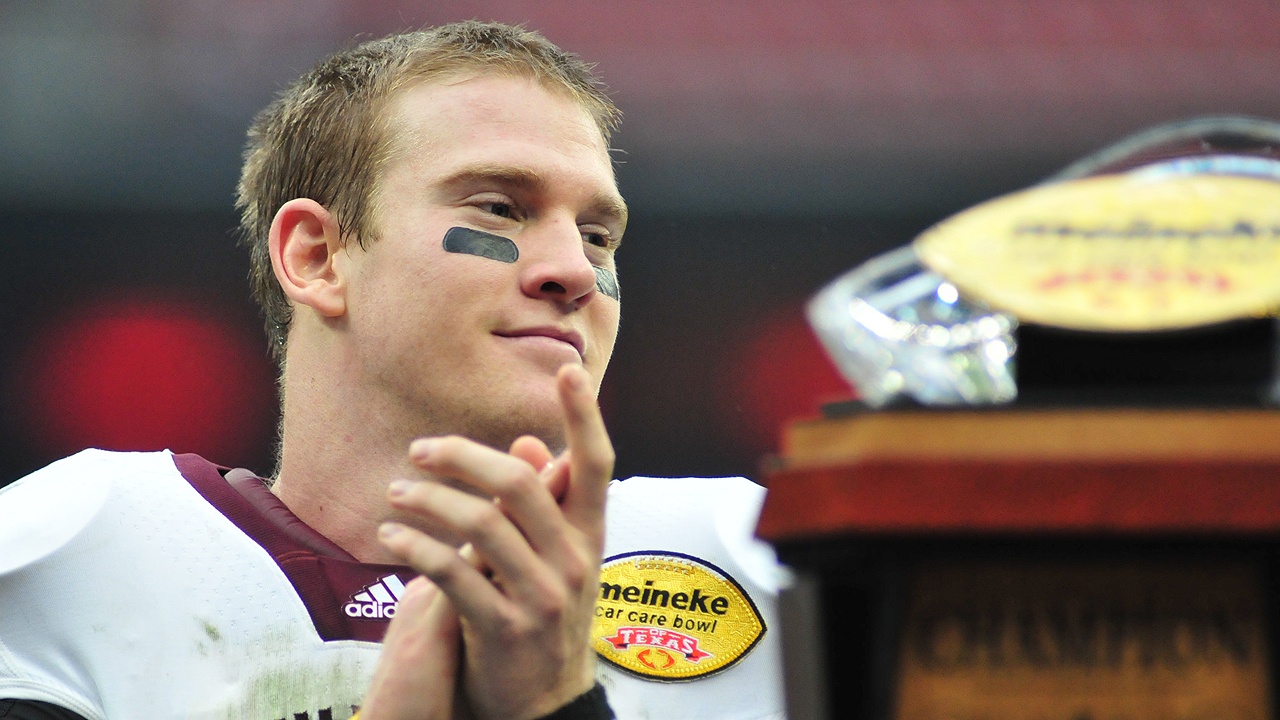 Photo by Andrew Kilzer, TexAgs
Texas A&M Football
Ryan Tannehill now $45 million richer than he was yesterday
---
Ryan Tannehill woke up a rich man, but he'll go to bed a much richer one.
On Monday ESPN's Adam Schefter broke the news that Tannehill, the Dolphins' first-round choice (eighth overall out of Texas A&M) in the 2012 NFL Draft, had received an extension worth $96 million — $45 million guaranteed. Per the ESPN and Associated Press' report, Tannehill is the first quarterback from that draft class to earn a long-term extension after his rookie contract.
Relevant because that draft class also featured, you know, some guys named Luck, Griffin and Wilson.
Last season Tannehill threw for a career-high 4,045 yards and 27 touchdowns against just 12 interceptions for the Dolphins, initially earning the team's approval on a fifth-year option in his contract before Monday's announcement.
"Signing Ryan to this deal is important to our franchise," Dolphins GM Dennis Hickey said. "He is a proven quarterback in this league that combines a talented skill set with work ethic, passion, toughness and a team-first mentality. We are committed and believe in Ryan as our quarterback for the long term and we are excited to be able to sign him to this extension."
Meanwhile, ESPN writer James Walker believes the move was smart all-around for Miami's management.
"Tannehill also showed enough good things — such as toughness, athleticism and intangibles — to leave no question that he is Miami's best starting quarterback to play multiple seasons since Hall of Famer Dan Marino retired," Walker wrote in a quick take for ESPN.com. "The $96 million is a relative bargain for the premium position if Tannehill turns out to be the franchise quarterback the Dolphins envision. If not, the contract is not overly inflated like Cutler's.
"According to ESPN Stats and Information, Tannehill's $45 million guaranteed ranks 11th among NFL starting quarterbacks. That's fair. Tannehill is not a top-10 quarterback but has the potential to be. ... Just as (Ndamukong) Suh is the face of Miami's defense for the foreseeable future, the same now can be said for Tannehill on offense."
Enjoy the rest here:
Extension for Ryan Tannehill well-timed risk for Miami Dolphins - Miami Dolphins Blog - ESPN
Never miss the latest news from TexAgs!
Join our free email list