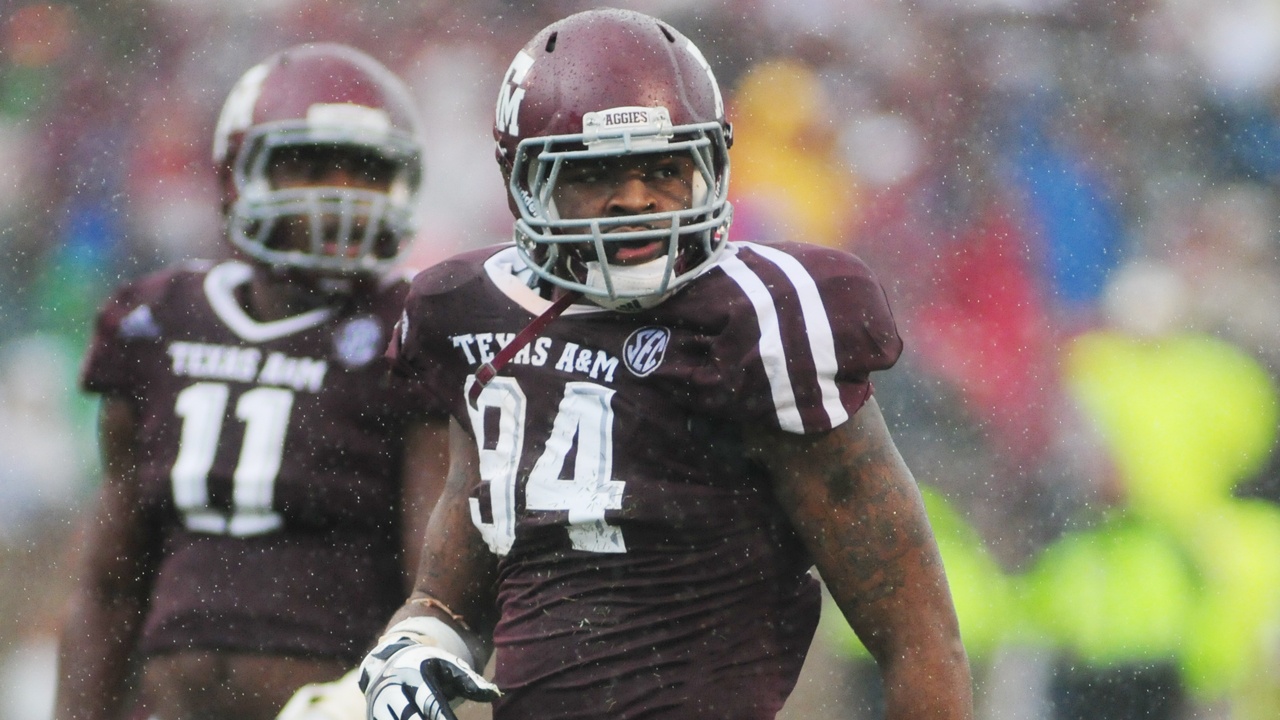 Photo by Andrew Kilzer, TexAgs
Texas A&M Football
Catching up with former A&M LB/DE Damontre Moore
---
Notes from Damontre Moore interview
Glad to have some time off so he can work on finishing his degree. School is going well. Was enrolled in seven classes this semester and has finished two so far. After two years, it has been a constant grind of studying to try and get acclimated to it again. Will have 25 hours left after this semester.
Has six brothers and five sisters and will be the first one, including his parents, to graduate. Knows he has to have a degree and people are constantly reiterating how much he needs a degree to get a job outside of football. Part of the agreement to leaving early was that he would come back to finish school.
Ms. Lee Hood works in the Bright Complex and has been a big part of his academic success. She is also a big part of his support system.
Loved playing for A&M. His fondest memory was the 2010 Nebraska game and the towel throwing afterwards. Memories like that and the tradition of the students make him sure that this is the real 12th Man.
In the 2012 season, having a three sack game against Florida stands out. To come out and play a close game, the team all thought, "We can do this." The Alabama game was big too. Everybody talked about Johnny's ability to score, but A&M was known for the Wrecking Crew. The 20-0 first quarter showed what the defense could do. They had him and Jonathan Stewart who was one of the smartest linebackers he's ever seen alongside Sean Porter and Spencer Nealy. The icing on the cake was spanking OU. It showed that we didn't leave the Big 12 because we were scared, but because we knew that to be the best we had to beat the best.
Deciding on the draft was an emotional time. Talked with Coach Sumlin before the end of the season but wanted to focus on football. Sat down with his mom and Von Miller's parents and promised that he was going to get his degree soon. He almost changed his mind after the bowl game and was down after not winning SEC awards but his teammates picked him up.
Going through the Draft and not having a successful combine showed him there are no mistakes in life. It is only a mistake if you don't learn from the experience.
Was really hurt about pulling his hamstring and not producing at the combine like he had wanted but feels that his play on the field spoke for itself.
Was embarrassed and even cried when he didn't get picked in the first round but the encouragement of his mother helped him look ahead.
Towards the end of the second round he decided to stop watching because his name still hadn't been called. When his name was called he was actually sitting alone thinking about how he was going to show all those other teams why it was a mistake that they didn't pick him.
Before the Giants made the phone call, he received a call from his agents in California but they said they had called by mistake. When he was finally drafted, he was excited because he knew New York produces a lot of talent at defensive end.
The coaches told him that he slipped for a reason but they couldn't pass on him any longer because of all the talent he has. They asked if he was ready to go all in and prove people wrong.
He felt like going with New York was the best decision and his mentors Michael Strahan and Jessie Armstead took him under their wings and that helped him progress and really get the ball rolling. He feels like year three is his year.
He has the NFL logo and the number 81 tattooed on the side of his wrist to serve as a constant reminder of how that is what the league and everyone saw him as being worth. Now it is time for him to show everyone his caliber and what he is truly worth.
Used to the southern hospitality in Texas but it is a lot different style of living up north in New York. When he got off the plane he was trying to help an old lady with her bags and she seemed startled. It is just rougher and edger up there.
The pace of living is a lot faster up north and that has been the hardest transition for him. But really enjoys the organization his is working with as far as facilities and opportunities.
There was a lot of need for him to give back to the community up there that it made him feel at home. He loves being involved with kids and helping out in the community.
Thanks to a new friend and fan he is now a New York Rangers hockey fan. His new friend also really helped him appreciate the history of the Giants and develop a deeper love for the team.
He was able to speak at a school for troubled kids and teens and really felt appreciated there. He fell in love with a 7th grade class that have a lot of potential but waste their time trying to impress their friends and get into trouble so he knew he had to come back to see them more than once.
Now he does everything from playing basketball to even helping teach and read to the kids.
He motivated the kids by having them work for shoes. He bought close to 50 pairs of shoes for the kids.
Does it because there were a bunch of people that had a hand in helping him succeed and get to where he is today so why not be the hand that helps these kids.
Bars Before Bars is a program he is starting that is still in the works that comes from being a battle rap fan. The organization is geared towards encouraging the kids to get into battle rap while also expanding their minds intellectually with a wide range of vocabulary. He hopes to eventually have sponsors behind the organization that could one day allow these kids to win scholarships for being involved and award them for staying off the streets.
After not many recruiters showed interested in him, Randy Jordan noticed him while watching film and showed Coach Mike Sherman his talents. Shocked with his ability at the linebacker position, Sherman insisted he had greater talents and insisted that he come to junior day where he would take a tour of campus and get to know all the coaches.
After missing two turns to get to College Station and missing the junior day practice, the coaches still showed passion and excitement about him playing for A&M. He was really excited about the visit, really loved the campus as a whole and really enjoyed the family atmosphere.
Was offered a scholarship that day and committed on the spot. He hasn't looked back on his decision since then.
Spent a lot of time around the football team this spring and really likes what he sees out of Coach Chavis. He feels like he brings good energy to the defense that will translate on the field during the season.
Has seen good brotherhood and connections throughout the defense this spring. With a coach like Chavis that shares such passion for coaching and for this team, he has seen a huge improvement from the beginning of spring ball to the end of spring ball.
Feels Myles Garrett has enormous potential for the future. He looks forward to mentoring him throughout his career and sharing his knowledge and passion for A&M football as well.
Never miss the latest news from TexAgs!
Join our free email list