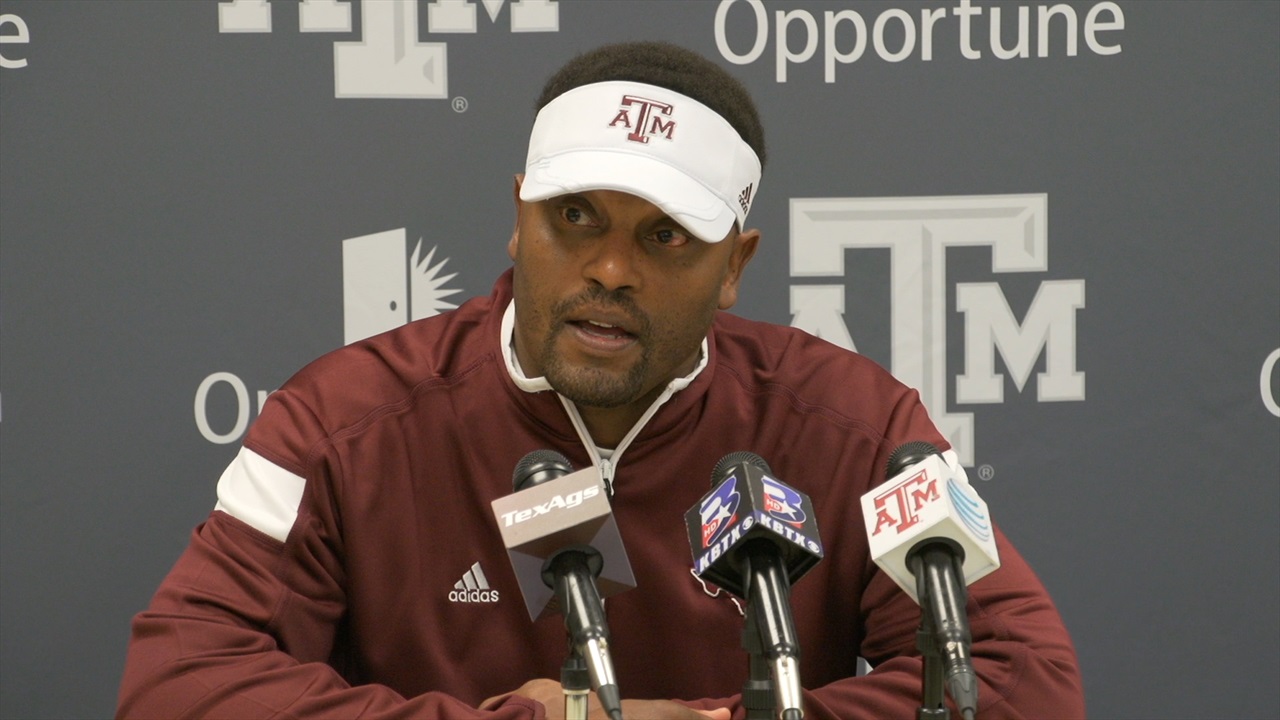 Kevin Sumlin
Malcome Kennedy
Mike Matthews
Deshazor Everett
Julien Obioha
Texas A&M Football
Sumlin, Aggies react to upset of No. 3 Auburn
---
HC Kevin Sumlin
* In [down times] we talk about creating energy and belief. Definite difference in sideline pre-game. Couldn't be prouder of team.
* We learned more about Kyle a week ago...and so did he. We got back in our offense and played several tempos. Two FGs were big.
* Running backs ran hard. O-line gave us a chance. We weren't perfect but ran well enough. Have to get better at end to close it out.
* When you have young guys, we challenge them on how to grow up. We need to handle this really good win well moving forward.
* Myles Garrett is playing hard. One of the leaders in sacks. He was fighting...got hurt on holding call. Missed 3rd quarter.
* Kennedy started speaking up again and used himself as an example to the players. We've been missing that. Hard to be that when hurt.
* Trying to [get Speedy the ball]. He was dynamic in return game. Only one football. Ricky was involved...Josh was explosive early.
WR Malcome Kennedy
* Guys played with some emotion tonight. Coach Sumlin challenged us to do it and we did. And we won the game.
* Allen was great. That's why he's here. Games like these boost you to become a better player. He stepped up tonight.
* We created energy pre-game. We came out and they played "Sandstorm" and we went crazy. That's our favorite song. It helped us.
* Tempo of the offense really sped up tonight and that really help. We ran it effectively and we fed off of that.
OC Mike Matthews
* Saw a lot of confidence in [Allen]. He looked like a four-year starter. Played a heck of a game and got the job done.
* [Defense] did a great job. On goalline stop, my jaw dropped to the ground and I was in shock. Both of those turnovers were huge.
DE Julien Obioha
* In football, you'll go through a lot of adversity. We needed stop and we knew we would get it. Created turnover, got ball back, won.
* Coach Sumlin is a great coach. We went through a lot of adversity but [this win] shows that we can come back from it and win.
CB Deshazor Everett
* [Elbow] was really sore. Went in with mentality to ignore injury and do my best.
* We got a push off the edge and the ball came my way and I just scooped and scored. We work on that every week.
---
Post-game notes
About the win
• The Aggies opened a 35-17 halftime lead and then hold on in the fourth quarter to beat No. 3 Auburn 41-38 at Jordan-Hare Stadium. The Aggies remain undefeated (2-0) on Auburn's home turf.
• The win over the No. 3-ranked Tigers marked the second-highest ranked road victory by the Aggies in program history behind only 2012's epic 29-24 win over top-ranked Alabama in Tuscaloosa.
• With the win, Aggies head coach Kevin Sumlin becomes the first A&M coach with more than two road wins over top 10 foes. He was tied with Paul "Bear" Bryant and Emory Bellard. Amazingly, Sumlin's teams have done it in less than three seasons (36 games).
• The Aggies closed out their road schedule with a 4-2 record in games away from Kyle Field (3-2 in true road games and 1-0 in neutral site contests). For his career at Texas A&M, Sumlin improved to 14-4 in games away from Kyle Field (11-4 on road, 3-0 in neutral site games).
• Already bowl-eligible, Texas A&M moves to 7-3 overall and 3-3 in the Southeastern Conference and moves up the bowl ladder.
Allen matches passing TD record
• True freshman QB Kyle Allen matched Texas A&M's freshman record for passing touchdowns in a game with four TD tosses (all in the first half) against Auburn. The record was originally set by Kevin Murray vs. Arkansas in 1983 and matched by Jeff Granger vs. Tulsa in 1991, Reggie McNeal vs. Oklahoama in 2002 and Johnny Manziel vs. SMU in 2012.
•Allen threw for 277 yards on 19-of-29 passing. His 277 yards rank No. 8 on A&M's freshman passing list behind six games by Johnny Manziel and one by Kevin Murray.
Trends and notables
• The Aggies recovered a trio of fumbles, including two in the fourth quarter. The three takeaways were a season high for the Aggies. It was the most takeaways by A&M since last year's UTEP game (4). It was the most fumble recoveries in a game by the Aggies since forcing and recovering three against Texas Tech in 2009.
• The Aggies' initial offensive series yielded a quick strike 60-yard TD catch and run by senior WR Malcome Kennedy from freshman QB Kyle Allen. It was the seventh time in 10 games that the Aggies have scored on their opening series, with six TDs.
• Kennedy's 60-yard catch was a career long, eclipsing a 39-yarder vs. Rice earlier this year. It was Kennedy's first TD catch since returning from an injury that kept him out of the Mississippi State and Ole Miss games.
• Sophomore transfer WR Josh Reynolds reeled in his ninth and 10th TD catches of the season, which leads the SEC (pending Armani Cooper of Alabama's game later tonight). Reynolds was already Texas A&M's top receiving TD producer among first-year Aggies in school history.
• Redshirt freshman WR Ricky Seals-Jones grabbed his first TD catch in six games on a 23-yard grab in the second quarter. It was his first TD since game 3 vs. Rice. Seals-Jones had TD catches in each of the first three games but had a six-game dry spell until today. Seals-Jones also halted a two-game streak without any catches with his six catches for 46 yards against Auburn.
• Senior DB Deshazor Everett's 65-yard return of a blocked FG at the end of the first half was the 4th TD of his career - 2 by INT return, one by fumble return and today's touchdown.
• The FG block was by freshman DE Myles Garrett, the first of his career and the second by the Aggies in 2014. Ricky Seals-Jones had a FG block in game 3 vs. Rice.
• Junior DB Devonta Burns led the team in tackles for the first time in his career with nine stops.
Freshman QB Starters since 1972
Texas A&M has had 13 quarterbacks start games as freshmen since freshmen became eligible in 1972.
Freshman QB Year First Start Result
David Walker 1973 6th W, 35-16 at TCU
Mike Mosley 1977 9th W, 52-23 at TCU
Gary Kubiak 1979 3rd W, 27-14 at Penn State
Kevin Murray 1983 5th W, 30-7 vs. Houston
Craig Stump 1984 4th L, 30-12 vs. Texas Tech
Lance Pavlas 1987 3rd W, 27-14 at Southern Miss
Bucky Richardson 1987 6th W, 34-10 at Baylor
Jeff Granger 1991 2nd L, 35-34 at Tulsa
Corey Pullig 1992 9th W, 40-18 vs. Louisville
Reggie McNeal 2002 11th L, 33-27 (2 OT) vs. Missouri
Stephen McGee 2005 11th L, 40-29 vs. Texas
Johnny Manziel 2012 1st L, 20-17 vs. Florida
Kyle Allen 2014 9th W, 21-16 vs. ULM
12th Man, game captains
• The Aggies' 12th Man against the Tigers was Sam Moeller, a junior from San Antonio, Texas. He has served as the Aggies' 12th Man in every game in 2013 and 2014 (23 straight starts).
• Game captains were seniors Deshazor Everett and Malcome Kennedy and juniors Julien Obioha and Drew Kaser. Auburn won the toss and deferred their choice to the second half. Texas A&M received the opening kickoff.
Never miss the latest news from TexAgs!
Join our free email list