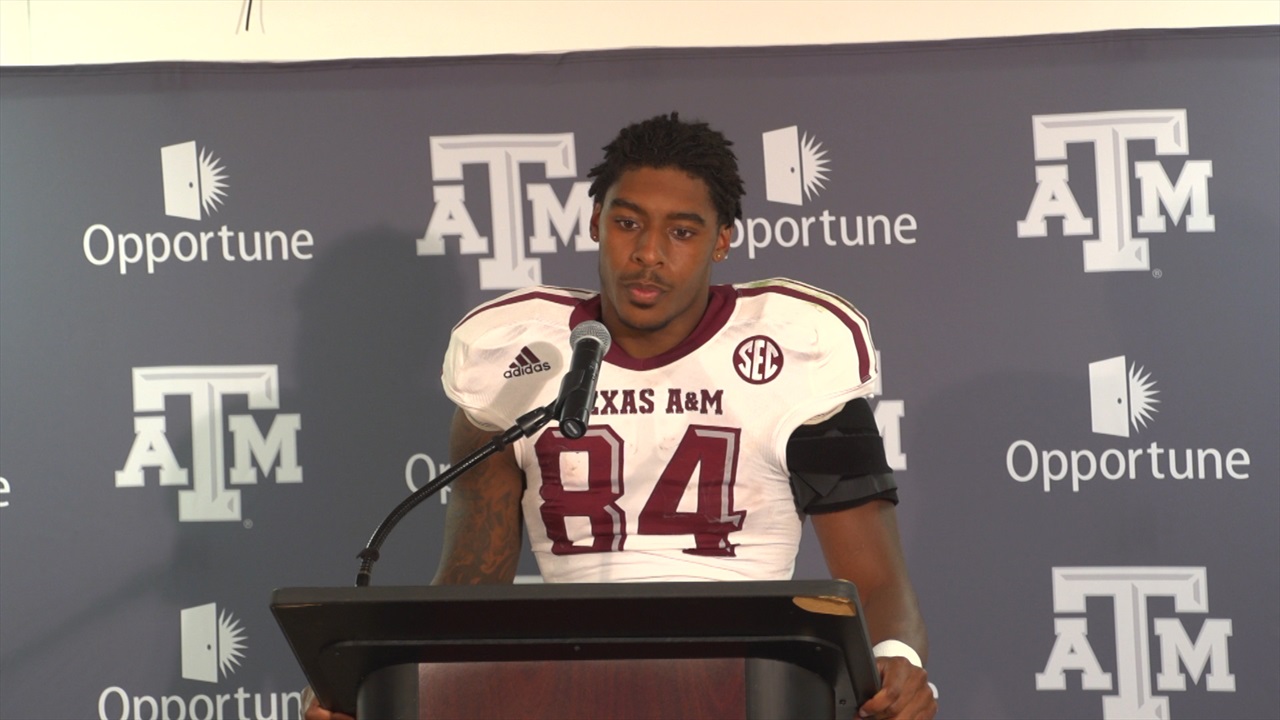 Kevin Sumlin
Kenny Hill
Malcome Kennedy
Ivan Robinson
Justin Bass
Texas A&M Football
Quotes, Notes & Video: Alabama 59, Texas A&M 0
---
Kevin Sumlin
• Hard to say where we are right now. The message was that we need to look within and examine what we're doing in scheme and personnel.
• No (haven't lost the players). But when you look at the performance, that was embarrassing. We have to get back to work and examine us.
• Alabama played very, very well today. Played like Alabama plays. Physical ... particularly in first half. Couldn't get anything done.
* We put Kyle (Allen) in there to try to get a spark. Having problems getting first downs ... searching to try to get things going.
* I don't know about (whether we open up QB battle). QB spot is one thing but it's also about the other 10 guys on the field.
* Whenever you have a (loss) like this, you can't stick your head in the sand. You've got to make some changes.
* Frustrating right now (on offensive line). We have to look at what we're doing. Have to take look at where we are. Unacceptable.
* Things get magnified when you lose. Situations like this — when nothing went right — are when true character comes to forefront.
* Thought we were prepared and did a lot of things during the week to create energy level. Liked week of practice. Poor performance.
Kenny Hill
• They're a great team with a really tough defense. They came out and played harder than we did.
• (On the team's lack of effort) ...something I wish I could tell you.
• Confidence (is a concern). We don't have the same confidence. We have to get that confidence back and start rolling.
Malcome Kennedy
• We had a few bumps out there tonight. Don't think it's confidence ... things went wrong and we have things to work on.
• Things happen (in football). We're going through adversity right now and it will bring us closer together as a team.
• You go into every game expecting to win. Sometimes embarrassment is what you need to flip the switch. We hate it but must learn.
Ivan Robinson
• Bama came out and did what they wanted to do. They came out and did just what we saw on film.
---
Post-game notes
Notables
• Senior WR Malcome Kennedy returned to the lineup after missing the past two games due to injury. He had four catches for four yards.
• Sophomore LB Shaan Washington posted a game-high 10 tackles. It was the first time he's ever led the team in tackles in a game and it was the first double-digit tackle game of his career.
• Junior punter Drew Kaser had a career-high nine boots against the Crimson Tide (previous game high punts was eight vs. Missouri in 2013). He averaged 45.0 yards, put one punt inside the 20 and three 50-yard-plus boots.
• True freshman WR Speedy Noil surpassed the century mark in all-purpose yardage for the third straight game and for the fourth time in seven career games. Against the Crimson Tide, Noil gained 138 yards — 32 receiving and 106 on kickoff returns.
• Junior RB/KOR Trey Williams' 75-yard kickoff return in the fourth quarter was the Aggies' longest kickoff return of the season and the longest by an Aggie since Williams had a 95-yarder against Mississippi State in 2013.
For the record
• Game captains were senior Malcome Kennedy and juniors Julien Obioha and Drew Kaser. The Crimson Tide won the toss and chose to receive the opening kickoff.
• Junior Sam Moeller, a junior from San Antonio, Texas, was the Aggies' 12th Man for the 21st straight game.
• With the loss, the Aggies fell to 5-3 overall and 2-3 vs. the Southeastern Conference.
•The Aggies have lost three straight games for the first time since the 2011 season.
•The 59-0 shutout marked the first time the Aggies have been shutout since 2003 (77-0 at Oklahoma).
•The 59-point margin of defeat was the most since the 77-0 game in 2003 and the second-most in school history.
Never miss the latest news from TexAgs!
Join our free email list