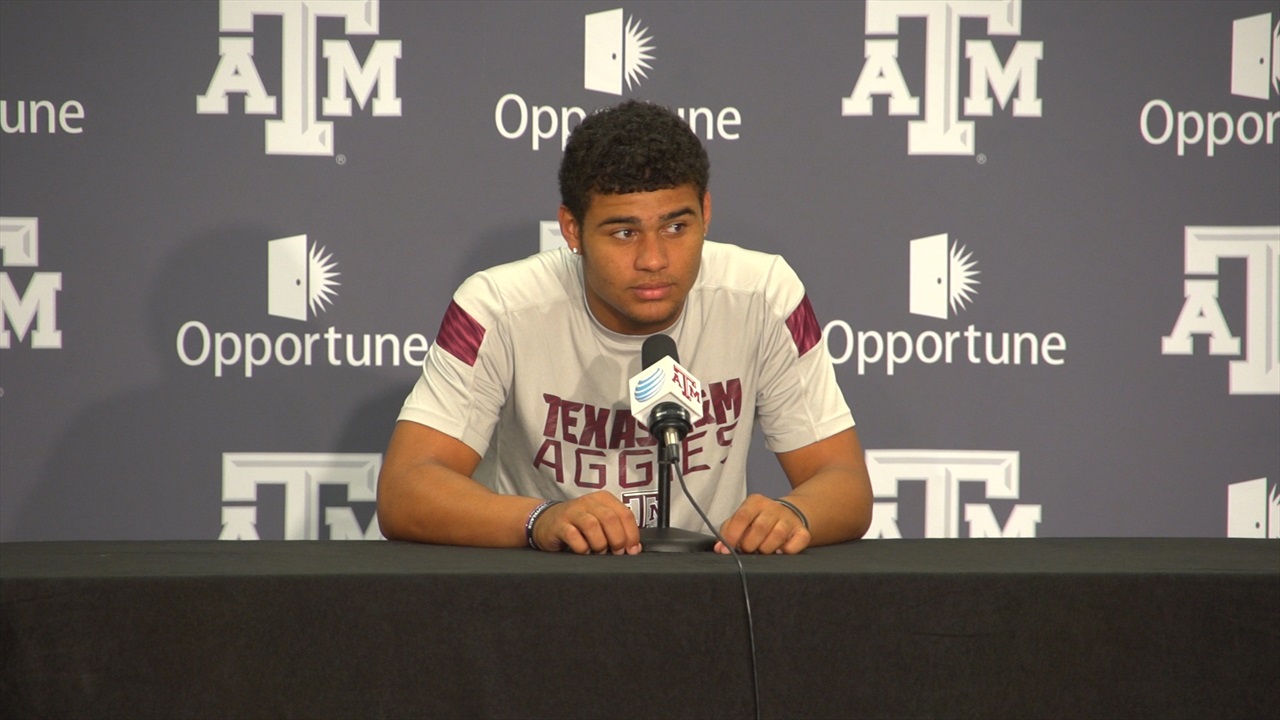 Kevin Sumlin
Kenny Hill
Mike Matthews
Ivan Robinson
Jordan Mastrogiovanni
Texas A&M Football
Quotes, Notes & Video: Ole Miss 35, Texas A&M 20
---
Head Coach Kevin Sumlin
On the atmosphere at Kyle Field...
"I'm really appreciative of the fans. 110,000 people: we set a couple of records tonight and had a great atmosphere. It was disappointing and Ole Miss had a lot to do with that too. We tried to run it and couldn't get that done. Then got behind and had two turnovers for 14 points. It's hard to win when that happens, particularly against a team Ole Miss' caliber."
On what to do moving forward...
"You are always analyzing where you are. When things are going good you're analyzing and when things are going bad. As a team you're always looking to get better and fix problems. As a coach you have to be honest with your schemes and with yourself and really that was a message to players and coaches. You have to be able to look yourself in the mirror and be honest with deficiencies that have been presented and then either be able to fix those during the week or adjust during the week. There were a number of times during the day when we just got whipped and it's hard to fix that."
On freshman Speedy Noil...
"There is a lot going on with him and I think he is coming along as good as anyone we have. He is a tough guy and he loves to play and loves to compete and is only getting better every week."
QB Kenny Hill
On why things weren't clicking tonight...
"Just a penalty here or there. We're getting stopped on a first down and it would be second and long and it would be a long drive after that. There were opportunities where we were moving the ball and we would have a turnover, just tough."
On penalties...
"I just need to protect the ball better and make smarter throws. I run the ball like that all the time and I just dropped it. That's something that just shouldn't happen and that's on me."
On why the offense sputtered two weeks in a row...
"Turnovers, and that's my fault. I had three turnovers and two of them were for touchdowns. We can't win like that and that's on me"
On whether it was the Ole Miss defense's disruption or the A&M offense not clicking...
"They did play great. They're the top defense in the country for a reason, but I think we had our opportunities and missed them. I turned it over twice and they turned them into touchdowns. They scored 35 points and it could've ended up being 21-21 there at the end. I think we just stopped ourselves a little bit but they are a great defense and they played very well tonight."
OL Mike Matthews
On the offensive line's performance...
"We didn't do a good enough job protecting Kenny Hill in the pocket. It's frustrating, but you have to bounce back from it."
DT Ivan Robinson
On adjustments after the half...
"We really didn't change anything. We knew that after those first three scores we had to take people to the ball as much as possible, so that's what we tried to do."
On preparing for next week...
"We have to tackle. As we face more and more of these running quarterbacks, we have to get better at tackling."
LB Jordan Mastrogiovanni
On the defense's lack of turnovers...
"I think it all stems back to tackling. We've struggled in that aspect for the last couple of weeks. I think that's something we need to work on; tackling, doing some turnover circuits in practice. I think if we focus on that, we'll get better at causing some turnovers."
On losing with 110k supporters behind them...
"It's very disappointing. We hate to let our fans down, especially when there's 110,000 of them behind us. The fans don't deserve that. I think we need to refocus and re-gather."
---
Post-game notes
About the game
• The Aggies fell to 5-2 overall and 2-2 against the Southeastern Conference.
• It was the Aggies' second straight loss (both against AP Top 25 opponents), marking just the second two-game losing streak since head coach Kevin Sumlin's arrival in 2012. • A&M fell to 4-23 all-time against teams ranked No.3 or higher in the AP Top 25.
About the crowd
• The above-capacity crowd for tonight's Ole Miss vs. Texas A&M game was 110,633, which was a stadium record, a SEC record and a state of Texas record (college or pro).
#Kaser4Heisman
• Junior punter Drew Kaser enhanced his faux campaign for the Heisman Trophy with a huge punting night against Ole Miss. Kaser averaged 50.7 yards on six boots and deposited three punts inside the opponent 20, including one at the 5-yard line and one at the 1-yard line. None of Kaser's punts were returned, so his net average was an impressive 50.7 yards.
Notables
• Sophomore QB Kenny Hill completed 42-of-53 aerials for 401 yards. It was a season-high 79.2 completion percentage for Hill, and was his third 70 percent-plus effort of the season.
• Hill completed his first nine passes of the games. Combined with last week's Mississippi State game, Hill had completed 13 consecutive passes before the streak ended with an interception.
• Hill registered his second-career 400-yard passing game and the fifth game of 300 or more passing yards for his career.
• Freshman WR Speedy Noil recorded his first career 100-yard receiving game, grabbing 11 passes for 105 yards. The 105 yards was tied for the 12th highest tally for an Aggie freshman.
• WR Speedy Noil's 11 receptions was one catch shy of Ryan Tannehill's A&M freshman record of 12 set against Kansas State on Oct. 11, 2008. He recorded his first career 100-yard receiving game, with the 105 yards tied for the 12th highest tally for an Aggie freshman.
• Sophomore WR Josh Reynolds, a transfer from Tyler Junior College, reeled in his eighth receiving TD of his first season with the Aggies. No other first-year player has ever had more than seven receiving TDs in their first season in the maroon and white (Albert Connell had seven TD catches in 1995).
• True freshman DE Myles Garrett posted a QB sack to snuff Ole Miss' first offensive series. It raised his already-A&M freshman record to 7.5, which is just a half-sack behind the SEC freshman record of eight by South Carolina's Jadeveon Clowney in 2011.
• Starting his first game of 2014 at free safety was 2013 starter Floyd Raven, a senior from Kenner, La.
• Also returning to the starting lineup was cornerback Victor Davis, who had started the first three games of 2014.
For the record
• Game captains were senior Malcome Kennedy and juniors Julien Obioha and Drew Kaser. The Rebels won the toss and chose to receive the opening kickoff.
• Junior Sam Moeller, a junior from San Antonio, Texas, was the Aggies' 12th Man for the 20th straight game.
Never miss the latest news from TexAgs!
Join our free email list