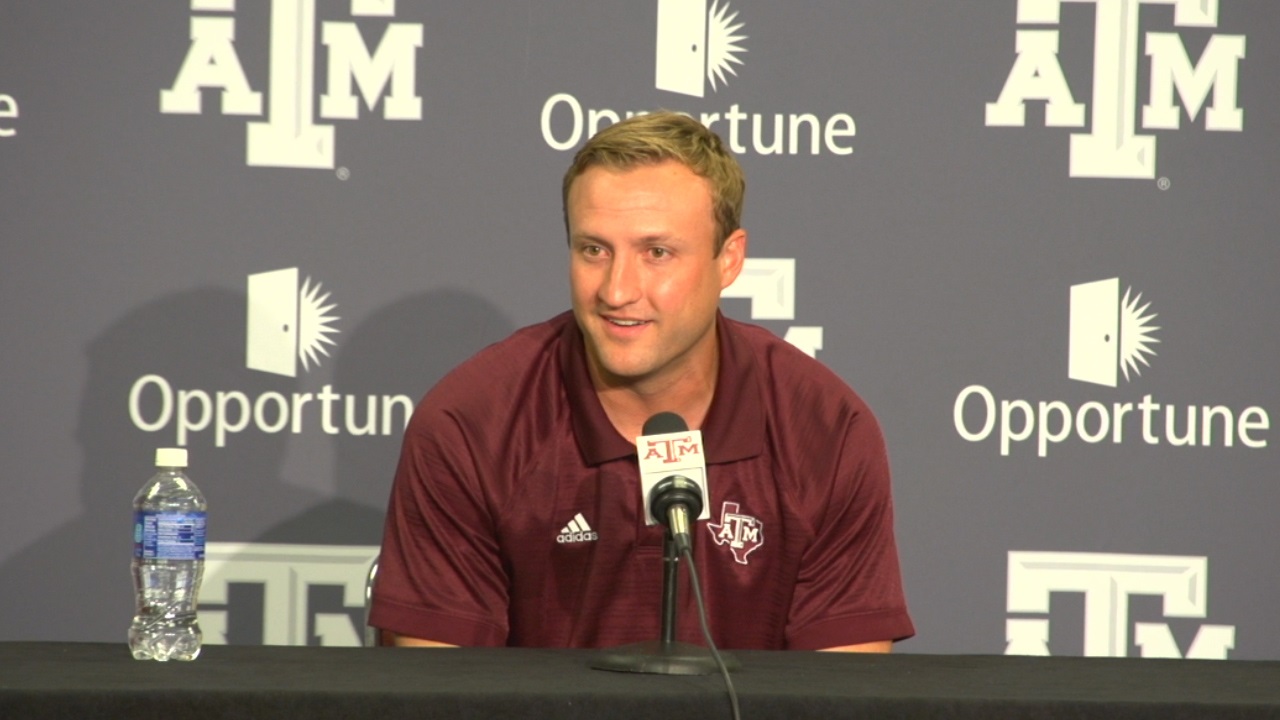 Kevin Sumlin
Jake Spavital
Mark Snyder
Kenny Hill
Germain Ifedi
Sabian Holmes
James White
Brice Dolezal
Daeshon Hall
Donnie Baggs
Deshazor Everett
Texas A&M Football
Getting healthy, Rice next on Aggies' minds
---
Kevin Sumlin
"How about this place? Nice, huh? A bit more room. Too formal? (Laughter.) I just want to start out where I left off the other night, just wanted to thank our fans. In a situation like that where it's two hours or it seems like forever, when you've got a bunch of coaches and 100 guys just literally locked up in a room for a couple hours, to play — we talked about the three ways of being ready to play, physically, mentally and emotionally — it's hard to keep that emotional level. It was hard for me to come back out there.
"But to walk out there and see our fans who hadn't left really gave us a lift to start the game and, particularly, when you have 104,000, it's a big deal, but I know there's not any place else where there's 38,800 students at the game. We don't take that lightly. We're very appreciative of that. It's what makes Texas A&M very unique and makes Kyle Field one of the great places to play in all the country. I just wanted to thank everybody for that. Let's see if we can continue to raise those numbers and break a couple more records for attendance in the next couple weeks."
On whether the coaches have a strategy about when to play certain teams and bring in certain recruits...
"You're talking about two different strategies. People who complain about schedules, what's unique about Texas A&M is people come to see US play. That's important. There are a lot of places where they're coming to see certain games or certain opponents. Like I said, 38,800 students doesn't happen a bunch of places. For us, from a recruiting standpoint, it's not about the opponent. It's about, every game in Kyle Field is a big game.
"When you have a venue like we have and you have over 100,000 people no matter who you play, it's literally never about the opponent. It's about us. We're very sensitive to high school schedules and ... there are times and schedules to get guys here and we have an 8:00 game this weekend. That will be easier for guys to meet with their team and then come here than a 2:30 game. It's about when we can get guys here to see the atmosphere when it's convenient.
"The big change, I think, that happened here when we got here, recruiting has changed so much. It used to be that getting guys here for the game day experience was a big deal. So many kids are committing early and then what happens in the offseason, because of the different schedules and all-star games, the facility piece became very important. 'Coach, I didn't see the game, I didn't see the atmosphere.' You walk out in a stadium and they all look the same when they're empty. The facility piece became important because you're only looking at six or seven opportunities for guys to be here. Getting 25 guys into that window is a hard thing to do. That's why the facility piece became important, so they could see the other parts of the program."
On Jarvis Harrison...
"He's worked extremely hard. I think it was an eye-opening experience for him. Whenever a team is successful, and particularly the group you're with is being successful, you start to look around and say, 'Hey look, we talk about opportunities here. You're only guaranteed 12.' And we're playing for 13 or 14. Two are gone, and he's got 10 more that are guaranteed. He's figuring it out. He'll be alright.
"To play at this level, you can't take it for granted. I'm not saying that was necessarily the case, but it's more important to him now than maybe it was six months ago."
On the OL playing cohesively now and Harrison's place in it...
"I'll put it this way, he's not just going to walk back out and start this week. Because the other guys are doing pretty well. He's a good player. But he needs to play that way. And he will. We've got some maturity in our offensive line that we don't have at other positions and a talent level that's pretty good. That's why you can go on the road and play 99 plays and not have a false start penalty. People say that's coaching, but the coaches don't play.
"It's not going to be easy, but he's played a lot of football here. We're wanting him to play."
On Terry Joseph...
"I think he's spent a lot of time trying to really corral our secondary and make decisions. We've got a lot of pieces that can play but having to make decisions on leaving guys in one spot, trying to make them better, trying to create better eye discipline, and discipline in our secondary, is a big deal. We cut a couple guys loose in the first game. I was pleased to see, people say it was Lamar, but we played a lot of guys in the secondary last week and didn't have those types of issues.
"Rice will challenge us this week with play-action and eye control and things that we didn't do well a year ago. We're more physical, tackling is better, where we've got to make strides is being consistent. We had to get better at safety, our safety play had to be better. The decision to start a true freshman was difficult, but Armani has been pretty good. I think (Joseph) has brought a toughness to the secondary that we needed. They're getting better.
"He's a good coach and a good recruiter. It's good to have a New Orleans guy. There's a lot of one-way streets in New Orleans and I get turned around. He's made some inroads with guys there in recruiting and he's done a heck of a job with our secondary so far. It's a work in progress. To take certain guys off the field in that room is hard, to make a young guy play the way he's played is hard. We've got a redshirt freshman, a true freshman and upperclassmen out there, so it's both ends of the spectrum. And guys want to play. But he's done a good job."
On Rice...
"David Bailiff and I are good friends. We were neighbors, pretty much, lived in the same neighborhood. When I was a coordinator here in 2001, long time ago, he was the defensive coordinator at TCU. We were doing some things differently offensively and it was the beginning, really, of the 4-2-5 and I didn't understand that, so we'd have some late-night talks after games and then not long after that we're playing each other for the Bayou Bucket and living near each other.
"He's done a fabulous job with that program. Not a good job. To be where they are and to win that league, to come from what Rice used to be as a program to being consistent, to playing the games they've played, to go to Notre Dame, come to our place, they're not going to be afraid. They were prepared last year. They're going to challenge us with eye discipline, with play-action, with different motions and things like that defensively. And offensively, that's where he cut his teeth. They're going to be tough. They're going to change it up, try to get after our young quarterback, and there's nothing in that program that says they're going to be the least bit intimidated to come in and play us.
"They had a bye week and two complete weeks to prepare for us. We're going to get their best shot."
On his willingness to play freshmen and other young players...
"I don't bring guys here to stand next to me on the sideline. The best guys play. What happens in this program, what we try to do, is tell players, 'Listen, what practice is about is you gaining the trust of your coaches and your teammates. You're going to make mistakes, but for us to put you on the field, when we put you on the field, all 105 of us, we're trusting you, along with the 100,000 people, to do what we've asked you to do the best you can and be consistent with it. If you can do that, it doesn't matter.'
"Experience is relative. Just because you're a junior, if you haven't played, what kind of experience is that? We're recruiting at a level where guys are coming into this program to compete and play, and we give them that opportunity based on merit in practice. If you give us the best chance to win, we're going to do that. This league has shown you that football has changed so much because of, one, early graduation — you have a number of guys who come in January and go through spring football — and a situation where guys are here in June and we're paying for summer school before their freshman year.
"They're here for seven weeks and that's a chance for them to get acclimated to college life, and with the new rule we get to meet with them two hours a week. All the installations are in. And Larry Jackson has the chance to get them in the strength & conditioning program for seven weeks. It's different than the day my dad dropped me off and you went to a meeting, signed a bunch of paperwork and they handed you a playbook. You didn't know anything, you didn't even know the guys on the team. They (now) have two months before practice starts and we practice, and they're comfortable.
"The only thing they haven't seen at that point is a game day and how they react. It's a huge advantage and it's why you see a bunch of younger guys playing right now, I think."
On the results from their walk-on program...
"It starts with 38,800 students coming to the game. We have a number of people that come out. We have a walk-on tryout period and you'd be shocked at the number of guys that come to that. We can only have so many guys in our program, but we could easily have 150 guys in this team. We've been able to put guys on scholarship since we've been here; I'm sensitive to that, I was a walk-on and got a scholarship. There are guys we miss in recruiting, too. Never underestimate guys who have a passion to play the game and will work at it.
"We've been able since I've been a head coach to do that, and particularly since I've been here — put at least a couple guys on scholarship. Even with what we're doing in recruiting, I think that's important. It shows that it's not just a show. We've got guys out there playing. And it gives hope to everybody. This is the home of the 12th Man, right?"
On his quarterbacks...
"I'd like to see them play really well from here on out. They're guys who compete. You've heard me say before, they've made each other better in practice. If people really knew what we charted and what we did all through camp, how close the completion percentage was, the (TD-INT) ratio, they were separated by maybe three percent. That really helped in the analysis of who was going to play (chuckle). They've both been helping each other. The biggest thing I see, which you can't be fake about, is how they support each other. The conversations we have, 'Kyle's going in, Kenny, you're going to start the second half,' the conversation they had after Kyle threw the interception, it wasn't a bad deal.
"The first guy going in there after Kyle threw a touchdown was Kenny. That doesn't happen a lot of places. It starts with them. This team is one that genuinely enjoys being around each other and roots for each other's success. When you see those two like that, then you see our fifth-string tailback score and we almost get a penalty with guys leaving the bench to go down there, that's a big deal. As a coach, that's when you say, 'Hey, this is a team that enjoys playing the game, but enjoys each other.'"
On keeping guys fresh for late night games...
"We have about the same routine wherever, whether we play at 11:30 or 8:00. Just a longer day in the hotel. Fans like late games, we hate it because we have to sit around all day. There's only so many meetings, so many meals, so many walkthroughs. There's only so much you can do. I understand it, particularly this time of year it's a lot cooler, but if we had it we would get up, eat breakfast and go play.
"But it'll be a great atmosphere for us. We get that. We've just got to change up Saturday a little bit, don't do as much Friday night, go to a movie, come back, have a snack, go to bed, let them sleep in a little bit. Nothing real different."
On the team's injuries...
"We've got a couple guys, we'll see what happens. This is the first day in pads today. Cam is a big guy; I don't know what his status will be this week. I thought Caden Smith, another walk-on, played really well for us this week. And BA (Brandon Alexander) is getting some run now. He's played a lot more, become more consistent, been the back-side tight end for us. We've been developing him. But I don't know if Cam is going to be ready to go or not.
"We played Mike Matthews a little bit; it was important for him. He probably shouldn't have played, but he came to me and said he wanted to play. I think that consecutive-start thing is important to him because of his brother. He's better this week. Tra Carson, we'll see. I'll tell you what else is happening around here, guys are getting healthy in a hurry because James White came out of nowhere and looks pretty good. There's only one football; you stand around here, you may be standing around for a while.
"We're not where we want to be. I think we've got a ways to go with these young guys. This is the first time in years that we've been ranked back-to-back years in the preseason. So this program is coming from a ways away. To be where we are, to try and grow, it's an ongoing process. We've got a lot of games, a lot of football to play. We've got a lot of young guys who've got to grow up in a hurry and we're going to put them out there. But I'm really pleased with how they're approaching the week. We'll see what happens."
On team chemistry perpetuating itself across several years...
"Every team is different. You never know. When you have as many young players as we have, that chemistry can be a tough thing for older guys who are not playing. You look at our secondary, like I said you've got two guys that've played a lot of football and two guys who haven't. There are guys on the sideline who've been here a while. That takes chemistry and it takes guys embracing some people. Particularly on defense, we've got two seniors in the secondary and that's about it. Our linebacking corps is led by a sophomore, a transfer who broke his ankle, Justin Bass was a walk-on, a bunch of guys are playing.
"So the chemistry can be hurt unless you have guys in a leadership role who say, 'Come on, let's go,' like Julien Obioha, Deshazor Everett and Howard Matthews, who gets challenged every week to be better but is also a big part of Armani Watts being able to just play football, because he's lining him up and making checks."
On student turnout at A&M being organic or manufactured...
"It's a bit of both. At Texas A&M, football is a part of your collegiate experience. That's not the case everywhere. I've been a lot of places — too many, probably — from the Pac-12 to the WAC, the Big Ten, the Big 12, I've been a lot of places and coached games. There are not a lot of universities that have the same sort of student-football relationship that we have. It's part of the collegiate experience here. It's why you've got E. King Gill. It starts with the 12th Man and ticket pull and people standing in line.
"There are some people playing Division I football that don't have 38,000 people at the game. It's part of your collegiate experience here. We try to interact as much as we can with the students, I try to get out and do some things with them and be accessible, but the other part is we don't isolate our players. Our players are on campus, our stadium is not 10 miles away from campus, people are walking through and walking around, the only thing they get mad at me about is music on Thursday. Students like that anyway. Professors don't, but we work through that.
"It's a unique situation here. And we're really appreciative of that."
---
Jake Spavital


On Kyle Allen's first game...
"I thought he did pretty well. We went out that first drive and he executed it pretty cleanly until that third-and-2 call. We did a play-action pass and he got caught in a bad situation and wasn't smart with the ball. After that he consistently ran the offense pretty well. For your first time in front of a crowd like that, he played pretty well."
On whether A&M did better taking shots downfield...
"I thought he (Kenny Hill) wasn't as accurate with those intermediate-to-deep balls as he should be, but coming in I wanted him to take more. We hit some at times, but definitely when you take that many shots it changes up the rhythm of your offense. I just wanted to see how they'd handle adversity. He'd throw an incompletion and then he'd come back and (complete another)."
On James White...
"That's another guy that we've been pleased with in the game-time atmosphere. We went to him in a couple third-and-shorts in our heavy set and he was getting big gains. I was very pleased with James. I definitely think he's going to be a very good back in the future."
On Speedy Noil...
"We started off the game with that post play to him because we wanted to take a shot and see how he'd react. He did an unbelievable move and was wide open, Kenny underthrew him a bit. Speedy's going to find many opportunities in the end zone. He gets better each day. He's a very explosive player and you're going to see many plays made by him in the near future."
On Allen's arm talent...
"Kyle has one of the strongest arms I've been around. It comes out clean, it comes out spinning. We knew Kyle would be playing in this game and we wanted to see if he was capable and could take those shots downfield. He's going to continually keep getting better. He can make all the throws. It's impressive how the kid can sit back in the pocket and make those throws. He does have a great arm."
On having two guys that are capable of running the offense...
"That's huge. It's a great situation to be in because, say something does happen to Kenny, I feel very comfortable with Kyle going in there and continuing to run the offense with the way it's going now. That's big from a play-calling standpoint as well because you don't have to scratch out half your playbook or game plan."
On the O-line's success and Jarvis Harrison's place...
"They've done great the first two games. The continuity they have, I think they've done a great job of just blocking anything. With Jarvis able to play this week, it'll create more competition and I think these guys will elevate their play even more. I've been in places where we didn't have five offensive linemen, but to say you have six that can play at this level, that just shows what Coach Anderson's been doing and how he's recruiting."
On his name popping up in coaching searches, such as SMU...
"That just shows that we're doing our job right here. It's only week 2. We've only played two games. Normally that only happens at the end of the season. It's an honor to be mentioned in that group, but I'm not even worried about that right now. It's about getting the offense going the way we should be going heading into conference play."
On Edward Pope...
"I think Pope plays with the most energy of anybody out there. He loves to play the game. He's blocking hard, running his routes hard, celebrating, competing the whole time. That's a guy that we knew was going to be pretty important at the receiver position this year because he's already had game experience in previous years and you've got Speedy out there with him at the X position. It's just a great one-two punch out there with Pope and Speedy right now. They (all the receivers) seem to not drop too many passes.
"The way we operate with the quarterbacks, they're going to throw to guys who they're most comfortable with. In the first game they threw it to everybody. When we get into games where they're playing man press you'll see who the quarterbacks start throwing to, and I think Pope's one of those guys."
---
Mark Snyder
On Rice QB Driphus Jackson...
"He's a good player, he played against us last year and I know Coach Bailiff really likes him. He runs their offense really well, brings some athleticism to the quarterback position and they're doing some good things with him."
On using this game as a measuring stick for the defense...
"I don't think there's any doubt. They pushed us around a bit last year, it's no secret there. That'll be where we see how far we've come, and those conversations start today."
On Myles Garrett...
"Just glad he's on our team, let's put it that way. He brings some athletic ability to that position and being able to put he and Dae Dae on the field at the same time gives us some athleticism. He's still got a long ways to go, but it's very comforting as a coach to see that you can put people out there who can create pass rush and allow me to be more flexible with what we do coverage-wise.
"To his credit, I walked in there Sunday and he's watching film by himself. That tells you as a coach that he knows he's going against guys just as good as him, and he's preparing for that."
On the biggest steps forward from the secondary thus far...
"Armani has been a pleasant surprise. He's added some stuff to our back end. Terry has done a good job of getting across his message that we need to become more physical, more disciplined. I've been real pleased with the progress of those guys. We'll see more over the next couple weeks about where we're at."
On the linebackers...
"I think they've played well. I wouldn't say they've exceeded expectations. We needed them to play well and thus far they've done that."
On Nick Harvey...
"Not real flashy out there, but we've got to play Nick more. He's a very confident kid. I like Nick Harvey. He's got a bright future, and we'll see a lot more of him this week."
On whether he got to experiment vs. Lamar...
"I was most happy with the 1s playing a clean game. We played a pretty clean game on defense. When the 2s went in, there was not much drop-off. We used to put the 2s in after we got up on people and they'd push us around and I was unhappy as a coach even after a win. These guys are playing (well) within the defense."
On whether the defense can handle being on the field so much with A&M's offensive tempo...
"It has not been an issue. It's been an issue the last couple years, but we're staying fresh. Right now we're rolling people and we're staying fresh."
On why A&M is better this year against play-action...
"We're a bit more mature, we've got guys that have played, and we've got talented young guys that come from good backgrounds. You've got to credit their high school coaches. This is a new year. This is 2014; 2013 is gone. The kids know that, they sense that. They'll be ready to play."
On Terry Joseph's strengths...
"He's from New Orleans, so that helps (from a recruiting standpoint). From a football standpoint, he's very detail-oriented. He'll talk about the front, not just the secondary. A broader perspective of how the defense works — not just what's my role."
Never miss the latest news from TexAgs!
Join our free email list