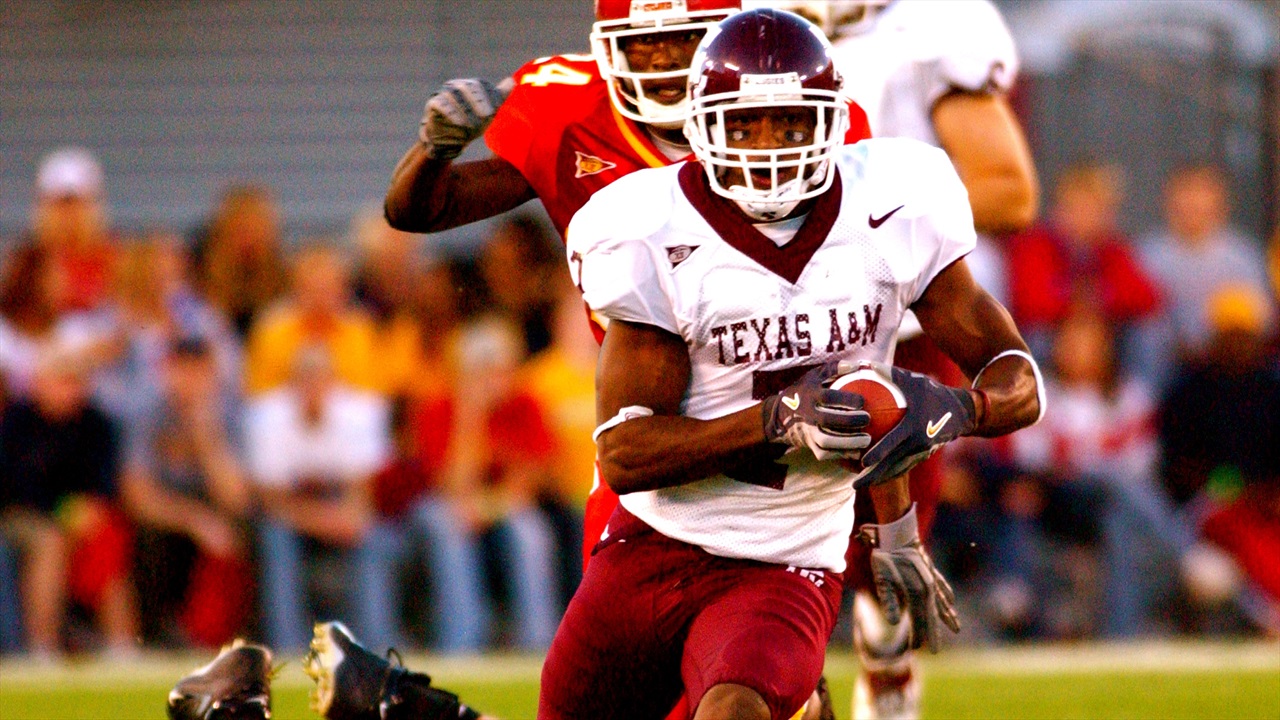 Texas A&M Football
Aggie Flashback with former wide receiver Jason Carter
---
Key quotes from Jason Carter interview
"I'm blessed and am just taking it one day at a time and just living life, it's been an awesome ride so far. I'm enjoying fatherhood now and coaching now."
"My brother was a huge Aggie fan growing up and asked if I would consider A&M and I said no, just messing with him being an older brother. Then Coach Slocum came in said this could be a place for me and they were one of the first places that got on me. I was a big Mama's boy so I wasn't going anywhere."
"Going to Nebraska to play quarterback was very tempting. I knew I wasn't going to be able to play right away at A&M, but going to the Aggie games and seeing how Kyle Field was second to none, when it came down to making a decision, it was a no brainer for me as far as going to A&M."
"I was never afraid of competition, I actually wanted competition and seeked out the competition."
"My last year was crazy because I had to really buckle down. I ended up having to take 22 hours and got eligible and got a year back and it was like a load lifted off my shoulders. It was stressful."
"My mama just said to keep my faith and if you're willing to work, you can get it back. A&M had some great teachers around me and we got it done."
"Playing wide receiver was a lot different than quarterback. At quarterback you're in control and at wide receiver you kind of have to let the game come to you. You still gotta work and do everything you can to get open and catch the ball, but it's just a different approach."
"I was just a football player. Whatever they needed me to play I was always willing to play, I just loved playing the game. If they would have asked me to play outside linebacker, I would have played it."
"Growing up, the Aggies that I watched, they never quit. They always played hard and so I didn't sign up to lose at A&M, everything I thought about A&M was big time football. It was unfortunate that we didn't do what we had planned to do."
"Kevin Sumlin was always one of my favorites. He's so charismatic and confident and has a brilliant offensive mind."
"Coach Sumlin is probably the biggest reason why A&M is where it is. When he took over, A&M took off. He's the captain of the ship that makes everything go smoothly."
"Johnny Manziel played well, but he had a supporting cast. He had some left tackles that kept him safe, he had a first round wide receiver on the other side that made him pretty good too. You know it's not taking anything away from Johnny, because I think that kid is amazing, he's outstanding, he plays it hard, he's fiery, he's a competitor but I think A&M's success is three equal parts."
"I have kids ask me if they can get a scholarship to A&M, and I tell them you have to be big time to go there now."
Never miss the latest news from TexAgs!
Join our free email list