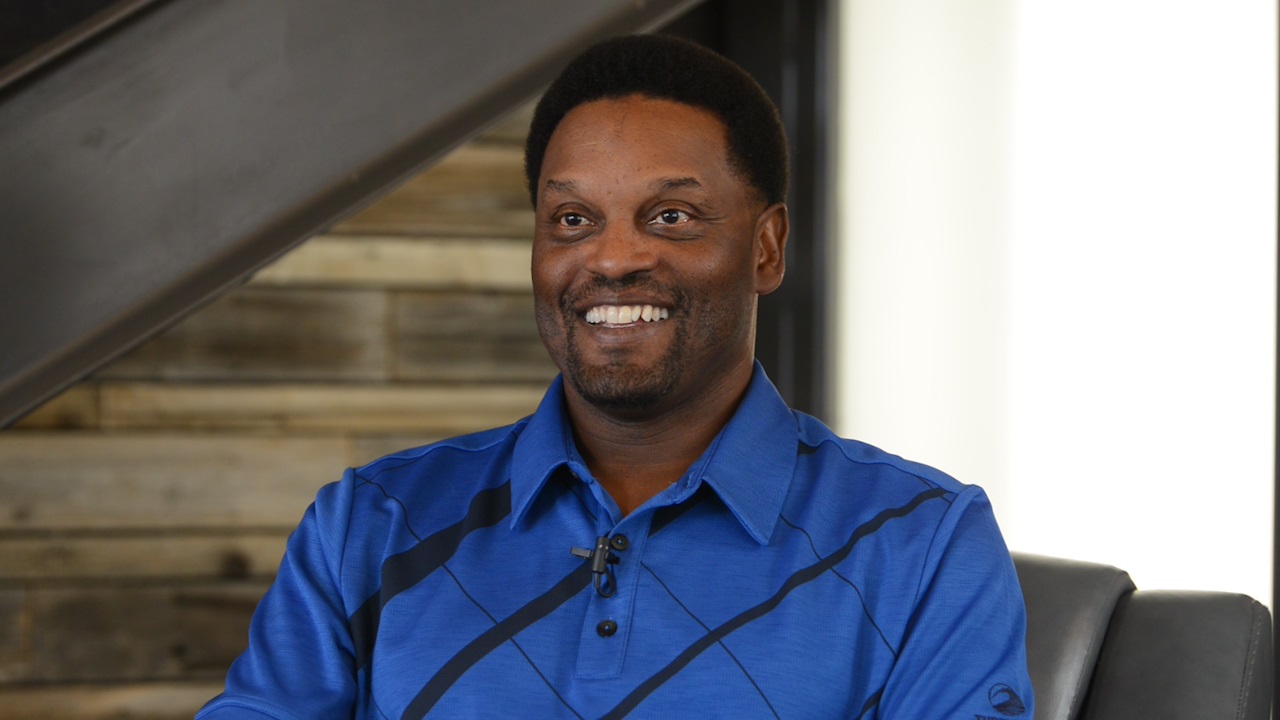 Texas A&M Football
Exclusive: Kevin Sumlin assesses spring results, Part I
---
On the thing he was most encouraged about coming out of spring…
"I think we had a couple real goals offensively, defensively, and special teams-wise. On offense, we have to find a quarterback and replace a great player. The good news is that we have guys that are here are talented —
Kenny Hill
and
Kyle Allen
. I've said before that it's not as much on either of those guys to make us work as it is on the experience of the offense. It's incumbent on the other ten guys to make the offense quarterback-friendly, along with the coaching staff.
"We've got a talented offensive line. We've moved some guys around, but they've played a lot of football. Running backs have played a lot of football.
Malcome Kennedy
has caught big balls in big games. We've got a bunch of guys there.
Cam Clear
has come to the forefront. Offensively, we have to find a quarterback, establish our identity, and get those guys to play. Defensively, same thing. We have to get better on our front and get better at safety. I feel like we made some steps that way.
"Special teams-wise, we probably feel as good as we've felt since we've been here. We have a Ray Guy finalist in our punter
Drew Kaser
, who is one of the best in the country.
Josh Lambo
did a nice job for us last year.
Taylor Bertolet
was strong kicking off the ball. Special teams-wise, we have to feel good about where we sit as far as our specialists as we continue to grow them."
On what he looks for when recruiting quarterbacks…
"There's time when you are looking at mechanics, smarts and a lot of things. I made a mistake as a young coach just going off ability. (Ability)'s part of it; football knowledge and football IQ is part of it, too. The more I've done this, winning becomes a big factor. You look at the guys that have been successful and the guys that are here now, Kenny Hill won state as a junior and didn't lose very many games ... neither did Kyle Allen. Winning and being talented really, really helps. When you have a guy that is talented but doesn't win a lot in high school, sometimes it becomes not his fault that they didn't win. That kind of keeps going throughout his career.
"The ability to win games and push your teammates also, and be talented, is one thing. Our evaluations have been pretty good so far and I don't think that's going to change any time soon."
On any young playmakers emerging…
"I think this is going to take place through spring, through summer, and through fall. Just like Mike Evans (and Johnny Manziel), we were in a place where we weren't sure what we had with either one of those guys. Are we going to have two potential top-ten picks? I hope so. I don't know that for sure right now, but we have talent. Some of the young guys, with the addition of Kyle Allen and
Speedy Noil
, those guys are explosive. It's just a matter of what they can handle. Going in to the first game, it's not a warm-up game. It's a conference game on the road in a hostile environment.
"Like I said, Malcome Kennedy has made big plays for us time and time again, starting with the one at Alabama a couple years ago, which kind of put him on the map. We need him to continue to do that. The other guys on the perimeter that have some experience, but haven't been in that lead role, they're going to have to step into it and really pick up where last year (left off) where Travis Labhart and Derel Walker came in with 1500-1600 yards of offense out of those two guys, that people didn't even think we were going to have."
"It's interesting. Spring is a time where we communicate with players. Germain wanted to play tackle, yeah okay, whatever. You've been a guard and you're 325. It's amazing to me, a lot of times guys work harder at something that they really want. Germain, I didn't think would last out there very long, but he just kept working at it. He's smart, he's athletic, he's tough and he's really big. Those are three good things to start with. He's been effective.
"Ricky came and, coming off the knee, he wasn't running as fast as he was when he first got here. He's keeping his weight down. He came to us and actually said, 'Hey, look, what about getting me closer to the football, maybe playing kind of a hybrid position, move around, kind of a slot guy.' He was effective doing that. He's a big guy. About like the way Jermaine Gresham was when he first got to Oklahoma. Jermaine was keeping his weight down, though. Now Jermaine is 260 and playing pretty well for the Bengals.
"I'm not saying that Ricky is going to be that big, but he's got really low, like seven-percent body fat, and he's almost 240. He's starving himself to keep him where he is right now. So we'll see. Maybe he'll give him a little growth and maybe he can still do some things on the perimeter and inside, which will increase his value, but also increase our offensive potential."
On seeing more of the version of Clear that was utilized against Duke…
"I think so. Junior college players, kind of like Derel last year, about the time they figure it out and we figure them out, they are out the door. We're trying to get this one figured out a little bit quicker and get him involved this year in the offense. Obviously, he is a very, very talented guy, and can be a real weapon for us particularly with a young quarterback."
On the mid-termers producing in the spring…
"You look at the two junior college offensive linemen, who were highly recruited, came in as advertised. Just because you don't come in here and start from day one on the O-line — anywhere, but particularly here — doesn't mean you can't play. Those guys can play, they've added depth there and understand the system.
"Kyle Allen and Speedy are guys that should be going to prom next month, but have handled college life, have handled spring football, and have done a nice job. They are two guys that are going to compete to be on the field. They came here in January to play next year. How they have practiced, how they've approached everything, there is no doubt that's what they want to do and that's what they're trying to do, and they've done a nice job this spring trying to prove to everybody that they are ready to play."
On his evaluation of the biggest shortcoming on defense in 2013…
"We've got to fix a bunch of things. We didn't have a lot of depth in the front, and that lack of depth wore guys down. We had a bunch of injuries up front, but some guys kept playing. A lot of people don't know that
Daeshon Hall
had surgery on both shoulders.
Jay Arnold
had shoulder surgery.
Darian Claiborne
had shoulder surgery. It's young guys playing in the SEC. We didn't have them. Those were shoulder situations throughout the year.
(Gavin) Stansbury
limped the last four or five games. He was in a boot. It was just a lot of different things that were nagging and doing some things.
"From that standpoint, we are getting those guys back healthy. We got them fixed. They weren't in spring football, so it's hard to evaluate our D-line. What it did do was give some of these other guys, the Taylor brothers, a chance to play and prove what they can do. Guys up front that haven't done,
Justin Manning
, who was highly recruited,
Hardreck Walker
, give them the reps they need to get better, because those other guys played a bunch last year. They learned under fire. That was the positive. Now, it's kind of harder to evaluate coming out of spring where we are. It'll be a lot easier to do that during fall camp when we have all those guys. We will certainly have more depth and more pieces.
"Are we going to be better? We have to be. The second part is our safety play has to be better. The addition of Terry Joseph, bringing him in and understanding what we are trying to do and making some changes coaching our players a little bit different, I think we've seen a definite improvement there."
On his level of encouragement with the progress of the linebackers…
"I'm really encouraged with the progress of
Jordan Mastrogiovanni
. I think Jordan is what we are looking for. Here's a guy that was between Oklahoma, Notre Dame and us. He's a MIKE linebacker; he's 230 (pounds). In a lot of programs he wouldn't have played last year, but he did. Putting Darian at a disadvantage early by playing him in the middle, because he is not as big at 220, those guys, for Jordan to really make strides to be a leader on defense was important — and he did that.
"
Donnie Baggs
moving back out of the inside gives him a little bit more freedom, because he really is more of a space guy. He's really a pass-rush guy. He was a hand-down D-end in high school. Linebacker is a little foreign to him. It's hard to make the move from down to up. It's a different instinct, different skill. Moving outside gives him a little pass-rush action and he likes that.
"The surprise of the spring was
Shaan Washington
. He's a guy that's pushing to get on the field. He's a long guy, 6-3, 230 guy who is very athletic. He played a lot of special teams for us last year. Really kind of raw in space, but this summer is going to be big for him. He's going to push these guys all over the place, when
Tommy (Sanders)
gets back and Darian's out there, but Jordan being in there gives us kind of a steady feel on the inside which we've been missing since we've been here."
Never miss the latest news from TexAgs!
Join our free email list