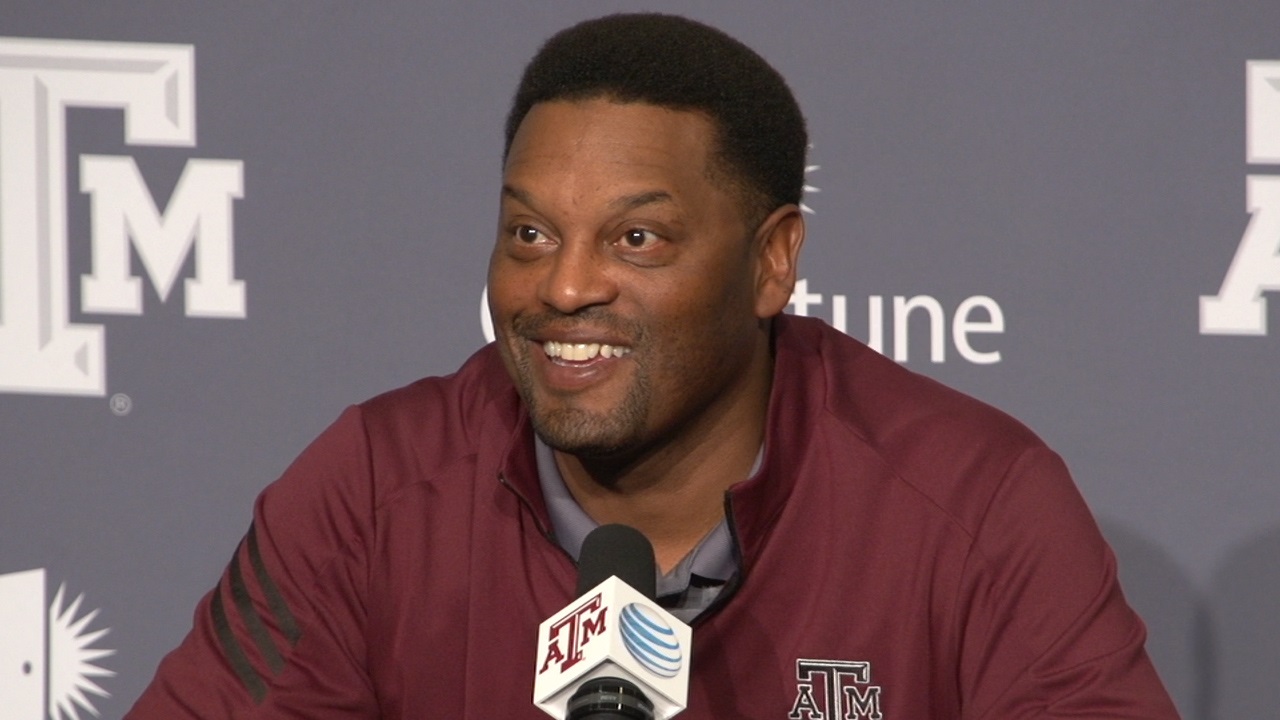 Kevin Sumlin
Clarence McKinney
Mark Snyder
Ben Malena
Malcome Kennedy
Travis Labhart
Nate Askew
Toney Hurd
Texas A&M Football
Press Conference: A&M gets set for MSU, home finale
---
Kevin Sumlin
On his stress levels and what he does to relieve it...
Sumlin:
"Winning is winning. Stress level in this job is hard to describe. I think a lot of people think what you do on Saturday is about all you do. There's a lot of things that go in. I was listening to Herm Edwards the other day say, 'It's like being in Las Vegas. There's no clock.' There's no, 'Oh, it's five-o'clock, I can go home.' You do the job until you get done what you need to get done for that day, because you owe your team the best plan. That's the way coaching has been.
"Because of that, you lose track of time, and eating habits, and everything like that. I was fortunate to be around a program like Oklahoma, where Bob (Stoops) is extremely conscious of the health situations because of his family — everybody probably knows the story of his dad — so the environment was created. ... We're extremely conscious of it. It's just part of the business, part of the makeup. What's interesting is, when I go talk to young coaches, I write up there, '12 x 3 = 36.' All the hours you put in for recruiting, fundraising, all the other jobs, you're judged on 36 hours of work (each year). That's a pretty stressful situation."
On De'Vante Harris...
Sumlin:
"Because of the situation early in the year, he started slowly and didn't get a chance to play. I think he's developing as a player. He's got great confidence that gets him into trouble sometimes. He's got to play more consistently. He's got great tools, but he needs to be more consistent in his play. And he's got to approach his strength and conditioning, his weight, to really become a great player. One of the biggest steps from high school to this level, and certainly to play at an even higher level, is to understand that you're gifted to be here. The challenges when you walk on that field in this league, the guy staring across from you is gifted too.
"So what's going to be the difference? How am I going to continue to excel? I have to raise my game in the classroom and physically. For the small guys it's probably the hardest thing. The big guys, they know it. They run into each other all the time. The young guys have always faster and quicker than everybody and they rely on that until they run into somebody and get pushed around. Certainly he's been getting better, but he needs to take the next step — take that step off the field and make sure he's the player he's capable of being. Which is as good a player as there is in this league."
On no off-field headlines concerning Johnny Manziel...
Sumlin:
"That's just normal, isn't it? What he's doing right now is playing football. From when he got back here until camp started, a lot was made of some things in the offseason and the scrutiny he was under is probably unlike anybody else in the country or ever has been in college football. He's back playing football, he's doing what he likes to do and I had a number of questions today comparing where he is today from where he is last year, and he's obviously better."
On Case Keenum's success and developing two great quarterbacks...
Sumlin:
"I think Case, obviously — I haven't watched a lot of NFL football — I texted him the other day and said that's probably the first game I've watched from beginning to end. Two things about him, he's confident, he's a leader, he's been around football all his life and you can see that. No situation is too big for him. Sound familiar? I've said that about another guy.
"He handles it well. The biggest thing for him is to be the all-time leading passer in college football history, not be drafted, not dress for a game, be inactive for a year and a half, and then, when they activate you, start. He's had two starts — he hasn't won yet, which he'll tell you is the biggest thing — but he's developed some confidence in his teammates. Along those lines, let me say this.
"As an Aggie and as a friend and a coach, let's wish Gary (Kubiak) well. That was a scary situation at halftime. I haven't heard much today but I believe he's getting out of the hospital this afternoon. Wish him well and hope he gets back as quickly as possible.
"Fortunately we've made good decisions with who's going to play (quarterback), and there were a lot of people involved in that — Kliff Kingsbury, Spav — we've had a lot of talented players and coaches and we've worked through it. I think Case has always had that in him. Most guys that have that, all they need is the platform and the opportunity. And he's getting that right now."
On Mississippi State's size...
Sumlin:
"They're one of the larger teams we're going to play this year, including Alabama and LSU. What you see out of them as a team is operating one of the better offenses in the league, putting up over 400 yards a game; defensively, a huge defensive line and they can rotate. They've had a lot of guys drafted and they just keep coming back with more. We've got to find guys like that. We're trying to get there, but we don't have the depth they have.
"You look at them offensively, they've got weapons. Dak Prescott, that's a tough situation, our thoughts and prayers are out with the loss of his mother earlier this week. That's a difficult situation, for anyone but particularly for a young man. He's given them a new element, just a big, strong guy that can throw it, runs through people. It'll be interesting to see what happens this weekend. They have an experienced (backup) quarterback and he's ready to go.
"They moved the ball against South Carolina, they just turned it over. That was the difference. Defensively, what was South Carolina, 1-for-11? That's a huge stat for us. They've been one of the better conversion teams in the SEC the last five weeks. It'll be a huge challenge for us. We haven't seen a team the last couple weeks of this physical stature."
On Ben Malena and what he's meant...
Sumlin:
"Senior Day brings about two things. You've got three groups of guys — walkons who've toiled, some have gotten scholarships, some have stuck around; you have junior college guys who came into a situation, like Derel Walker and Steven Jenkins; and you've got the guys who've been here four or five years. Ben has been around and had some great moments here. He's really been an emotional leader for us, maybe not as much as y'all see during the game but in practice time and things like that. There's a reason he's a captain and plays special teams. He's been a leader by example, but this year it's been a vocal leader.
"For all the seniors, but for him in particular, I can see this being an emotional moment. I said last week, 'It's Senior Day and it'll be the last time we make that walk ... it's also the last time Kyle Field will ever look the way it looks.' It'll be a historic moment for players and fans. After Saturday, Kyle Field will look completely different forever. The ability to play in that game for everybody, coach in that game or be a fan at that game, to me, is a big deal. Jake (Matthews) walked up to me after that and said, 'Coach, I've never thought about it that way. You're going to make me cry.' He didn't look like he was about to cry, but I think it hit him. It's really a historical moment."
On where he wants improvement this month...
Sumlin:
"Across the board. You need to be improving at this time. We've lost guys for the year from injury and whatnot. What I'm looking for is we've improved some defensively the last two weeks. We're going to see how much we've improved. We get Cedric Ogbuehi back and we'll see if we can pick up and get back to full strength with our starters.
"With the way the schedule sets up, it's the opposite of last year. We went five of six on the road early in the year; this year we played a lot of home games, but after Saturday we've got a bye week and we're on the road at LSU and Missouri to finish up. I don't think I've done that before. The way we finish up is going to be big, but getting our guys back, Alonzo (Williams) on defense and Cedric on offense, it'll be exciting to see."
On getting the ball to Cam Clear more...
Sumlin:
"We've got one football. We've got one guy with 1,100-something yards. Once he stops doing that, we'll get the ball to him more. We can't get every guy 50 balls. Cam understands that. He's playing well. His time's coming. The way we are offensively and what we're asking him to do as a first-year player, he's doing that. He's blocking well at the point of attack; when we're throwing it to him, he's caught it. He understands where he is and what he's doing in the big scheme of things. We've been in so many spread sets with Malcome and Mike Evans and lately, shoot, Labhart, we have to spread it around. In certain formations he's in the progression — it just doesn't always happen that way."
On talking to underclassmen considering the draft...
Sumlin:
"Fortunately I've been around it a bunch, either as an assistant coach or a head coach. What we try to do is provide our juniors or third-year players with as much factual information as we can get. We have an NFL analysis that everybody has; fortunately we've got our contacts in the NFL that are able to talk generally about some things. And we sit down with the family and give them all the information, give them advice. Just like last year with Luke (Joeckel), not so much Damontre (Moore) — he had made his decision earlier — with Luke and with Jake, I was able to visit with both their families.
"What I tell the guys is, 'I'll give you all the information. Then, if you ask me, I'll tell you what I think. If you don't ask me, I won't sway you.' Both situations, I told them what I thought."
On whether he does that analysis for every draft-eligible player...
Sumlin:
"There's some guys that, you're not even playing as a junior, why would I do an analysis? Everybody knows who we're talking about. If people come to me and ask me to do an analysis, we'll do that. We don't do it for everybody."
On Tra Carson...
Sumlin:
"We'll see. The official diagnosis was a sprained neck, which sounds ... painful. But it was never as bad as we thought. He was never unconscious, he was never without feeling. Those are good signs. He was in a neck brace yesterday, he's improved today, so we'll see. He wants to play, but we'll see where the doctors say he is at the end of the week. He's walking around. He never had to go to the hospital. He looks like he was in a car accident. He's walking around and stiff; a bit like whiplash."
On having an increased pass rush the last two weeks...
Sumlin:
"It's been extremely important. Shoot, up until two weeks ago against Vandy, we had as many sacks in that game as we had all year. We went in with seven and doubled 'em. We've been able to turn it up a bit. I'll say this too, here's the other issue — early in the year we had guys get loose, but because we were taking some chances we had no contain on the other side. So a quarterback flushes and we're not holding gaps and the quarterback runs up the middle. We've been a lot more sound. It's not just running to the quarterback and getting him, they have a plan too. You need to maintain your gap structure. That's really helped us."
On Malena's biggest moments as a leader...
Sumlin:
"There's been a bunch of them. From the beginning when he came and talked to me about his role. Every time he wants to talk, he gets to talk. That's not the case with everybody on the team. Halftime at Vanderbilt was probably one of his biggest moments. I was not pleased with how we played and I think I let our team know that when we came in. As coaches we go and make adjustments and with four or five minutes left, I come back and get them up and go.
"When I came back, the guys were already circled up (around Malena) and was reading them the Riot Act. Then he said, 'Let's go.' I said, 'Alright, what he said.' (Laughter.) That was a pretty good moment for him."
On his favorite memory of Kyle Field as it is now...
Sumlin:
"Probably the first time being the head coach running out of that tunnel, against Florida. It didn't end up the way I wanted it to, but that was a big deal. We changed how we entered the stadium. First time coming back here and being the head coach, you'll never forget that."
Clarence McKinney
On Mississippi State's size...
McKinney:
"This is probably the biggest defense. Not just the front, they're big across the board. You're talking 6-5, 250 linebackers. We have D-linemen not that big. We've got a big challenge ahead of us."
On Mike Evans' yards after catch...
McKinney:
"We don't chart yards after the catch. For us, it's not really a big, important stat. We just want them to catch it and get first downs and touchdowns. Individually, drops (is the big stat they chart)."
On Manziel's off-field silence this season...
McKinney:
"I don't expect anything less. Johnny's a part of our team and he's done the things that we've asked him to do. I only expected him to do those things. It's what he did last year. I don't know how to answer that. I heard that he tweeted this and that. I never saw it. I never pay attention to Twitter. When we ask him to be here and ask him to do things, he's always done what we ask him to do. I haven't had any issues with him."
On Manziel's problems hooking up with Evans early against UTEP...
McKinney:
"Johnny, early in that game, it may have been the second play, threw a ball to Mike that probably should've been caught. Johnny wanted to go back to Mike and give him another chance to catch the ball. So, the next play, he went back to him. That's just the trust the quarterback has with the receiver. Eventually they got it connected."
On having Ogbuehi back...
McKinney:
"It's very important. You always want those five guys that have played together, know each other's tendencies, if one guy steps one way he expects the guy to be right beside him. Those guys are our starting unit that have played together. It'll be exciting to have them back this week to play that defensive line."
On Manziel going repeatedly back to receivers and how they handle it...
McKinney:
"We just want him to go through his reads and make plays. He has the innate ability to, if the play doesn't work the way we draw it up, he has the tendency to try to make it work. More often than not he does. We're not going to try to change it."
On what he saw from the young guys against UTEP...
McKinney:
"Really good to see Kenny (Hill) come in and get some quality snaps, run our offense and do those things he's going to be expected to do when it's his turn. A guy like (Garrett) Gramling, who hadn't played a lot, stepped in when Ced was injured and showed he can play at this level and be successful. Our running backs are young and they've been playing for us. A guy like LaQuvionte, we saw what he could do with the ball in his hands."
On having the number of options in the backfield they do...
McKinney:
"It's really helpful to have more than one guy. If you've got one guy and he goes down, you're scrambling for the next guy. It's unfortunate that Tra went down, but the next guy up is as good if not better. That's a really good position to be in as a running backs coach."
Mark Snyder
On Howard Matthews' surge...
Snyder:
"He's played really well. He's kind of our captain back there and he's starting to see some things. Because of that, I'm starting to blitz him some more and get him a lot more involved in the game plan."
On the freshmen's growth...
Snyder:
"It was a 60-minute inside drill, really, kind of game. We still had some freshmen mistakes in there, but the good thing was they got corrected. Understanding the importance of what would happen against a good team if we had those mistakes, that urgency was there. Especially from Isaiah (Golden)."
On Dak Prescott...
Snyder:
"He's a big, strong kid. He's near-bigger than our whole front. He pushes the pile for five or six every time. He's such a strong kid that yards after contact, there's three, four, five, six in just about every game you watch. They do it all with him. And he can throw it a little bit."
On the decision to move Mark Hagen to the sideline...
Snyder:
"It's been having a real good effect. We were having some issues getting personnel up top and we have a young coach on our staff that's a smart kid and is going to be a real good coach someday. We had someone come to us and say, 'Let's put Jeff in the box for personnel reasons.' We thought, 'That'll allow us to move Mark down for the linebackers.' It's been a real good change for us."
On whether 'coaching on the field' is growing in any of his players...
Snyder:
"I have, it's coming. It's definitely coming. It helps getting to watch SEC teams, with guys like Darian (Claiborne), you watch older linebackers and see how they handle their business on Saturday. He's done a good job all year getting us lined up, but you see more guys now getting comfortable with Darian. He's the voice, he's the mouthpiece. To answer your question, yes, a lot better feedback on the sideline. Being able to get after them without feeling like you're going to lose them, those things are coming."
On what's next for the defense...
Snyder:
"Continue to improve and keep playing with confidence and keep a game plan together that they can handle — which is starting to broaden now for us — and continue to play fast. And good things should happen for us."
On De'Vante Harris...
Snyder:
"De'Vante's growing. We sat down with him last week, me and Coach Yates, because he's got so much talent, about consistency in all phases of his life, on the field and off the field. Just consistency. The first touchdown was on him. He's played too much for that to happen."
On Hagen's impact on the sideline...
Snyder:
"I'm so involved in the game, you'd have to ask him that question. The communication on the sideline, before the play. I'm signaling things before the play. But kids are comfortable with him. They've come and told me that."
On Noel Ellis...
Snyder:
"We're trying to get him ready. He's going to get a lot of playing time. Because he's going to be the guy next year. We're trying to get him prepared and ready to roll."
Ben Malena
On the offensive proficiency this season...
Malena:
"We're more diverse, especially at the running back position. Last year we really had two guys, me and Christine, because Trey wasn't having as big a role as he does now. Now we can rotate multiple guys in. And throwing the ball, Manziel is a way better passer than he was last year. He's doing less scrambling and he's putting the ball on the money every single time."
On Tra Carson...
Malena:
"I talked to Tra after the game. He was in the training room; his neck was a little stiff. He didn't practice yesterday, but he was in the practice room."
On whether he's leaving the program in good hands...
Malena:
"I really can't answer that question. That's going to have to be something those guys are going to handle. But I can tell you that I've done everything I could to try to make sure this team is in good hands."
On taking Manziel's greatness for granted...
Malena:
"When someone is great, in all forms of life, the only thing you expect from them is greatness. Manziel is great, and that's what you expect from him. He works so he can keep that greatness on a week-in, week-out basis."
On Senior Day...
Malena:
"It's going to be an emotional day, more exciting than anything. I look at it as a celebration. You came here, you did your dues, it's all part of life. It means you did it right."
Travis Labhart
On Senior Day...
Labhart:
"You dream of playing on Kyle Field. I take it for granted when I go out there every day. It's going to be an emotional game. ... When you're out there playing, it seems like it goes by so much faster."
On Mississippi State...
Labhart:
"We've talked about how big they are. They're a big team, probably the biggest team we've played all year. Obviously I'm not the biggest guy, so I've got to use things like my quickness and my smarts to get open."
On getting better as the year goes on...
Labhart:
"Toward the end of the season everyone's playing their best football. If we had the same Steven Jenkins (early on) we do now, he would've played completely different. Players get better as the season goes on."
On the legacy of this senior class...
Labhart:
"I think there's a lot still to be determined. There's a lot of leadership that wasn't always there early in the year. Guys like Ben Malena have stepped up and taken it on themselves. But there's a lot of season left — three games — we're going to see."
On what makes the offense run so well...
Labhart:
"Hard work in practice. Leadership in Johnny; the Johnny this year, a lot of people look at his stats and what's changed, the biggest thing to me is leadership. I had a drop and a fumble against Vanderbilt and was on the sidelines frustrated and didn't want to talk to anybody. He sat down in front of me and said, 'I have complete faith in you.'"
On Manziel's big fame in a college town...
Labhart:
"I feel for him sometimes. I want to ask him to go places, Breakaway or a movie, and it's tough for him because people want to take pictures. It was the same way with (Ryan) Swope. But he does a great job of including those people and saying, 'Yeah, I'll take a picture with you.'"
Toney Hurd
On his changing role...
Hurd:
"Lately we're playing a lot of base, because of the teams we're playing. I've been a nickel my whole career. Noel coming in and playing, it's just a young guy getting an opportunity. Floyd's coming in and playing free safety. ... I'm just embracing my role."
On what Ellis has shown...
Hurd:
"He's had a few plays out there. He's growing and ... he'll be a big player for Texas A&M."
On this senior class...
Hurd:
"I feel like this senior class, we lost a few guys, but as a whole we have a lot of seniors that worked hard and were dedicated to being leaders on the field. It'll be very emotional. My family will be out here, it'll be my last outing on Kyle Field. I just want to be remembered for the things I did here."
On the defense's current confidence level...
Hurd:
"Our confidence is high. Coach Snyder's putting a lot of guys in position to make big plays."
Never miss the latest news from TexAgs!
Join our free email list