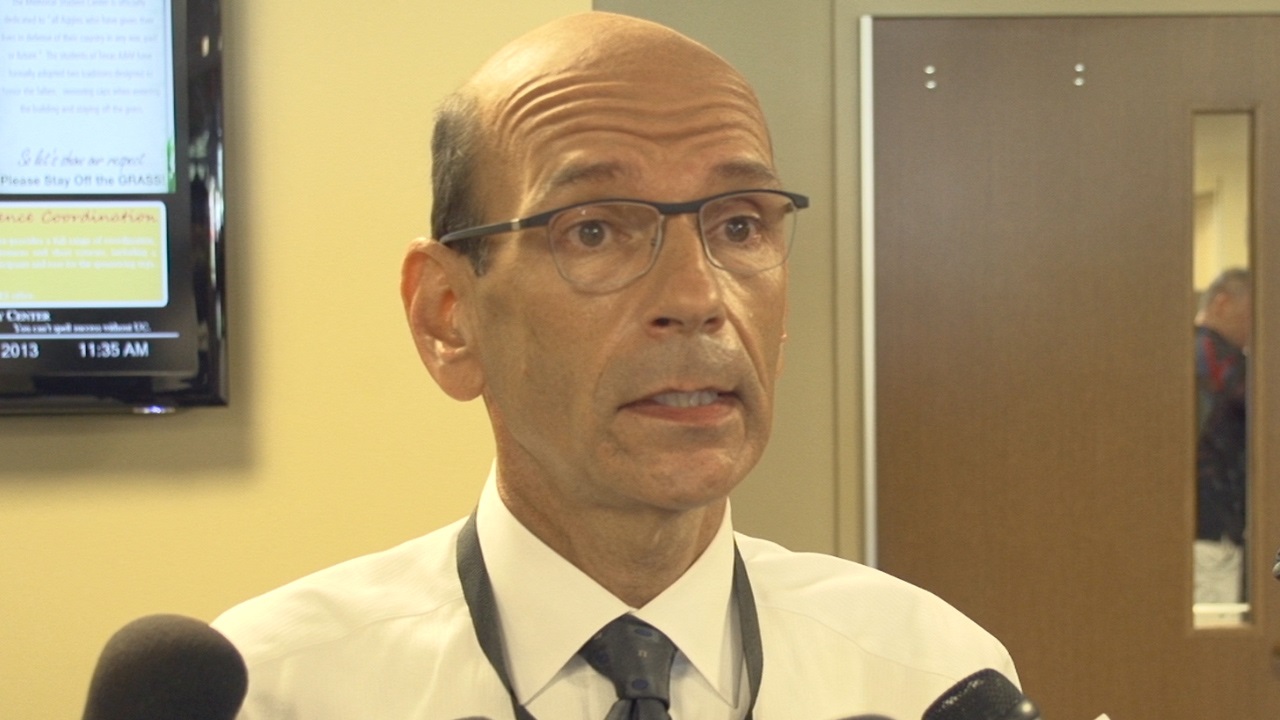 Paul Finebaum
Sam Ponder
David Pollack
Texas A&M Football
College GameDay crew preps for A&M-Alabama
September 13, 2013
15,573
---
The weight of the season's biggest game isn't lost on the prominent members of ESPN's coverage crew, who are in College Station to take it in. Paul Finebaum, Sam Ponder & David Pollack shared their thoughts.


Select Paul Finebaum Tweetable quotes
"When the game gets underway, I think the nation will be pulling for Johnny Manziel."

"Manziel is the reason why tomorrow's broadcast will be a record number. It isn't Nick Saban. Manziel is different. He's new."

"We've really never seen anyone quite like [Manziel.] I don't know if we'll ever see anyone like him."

"Manziel's reputation has certainly taken some hits. But if he knocks off Alabama, forget Time Magazine. He'll be in Time Square."

"Well, since I'm in Texas, obviously A&M is going to win (laughter). He's sticking with 'Bama."

"When [ESPN] introduced me, I said, 'Alabama will win game easily.' I wasn't thinking clearly and have backed away from 'easily.'"

"I was thrilled to see A&M come into this league two years ago. I thought the way A&M was treated by Texas was unforgivable."

"I applaud President Loftin for showing guts and for saying, 'We've had enough. We're not going to be in Texas' shadow anymore.'"

"A&M playing its most important game in history on biggest stage in sports. And in Austin, Mack Brown is fighting for his career."

"The arrogant Longhorns. The world revolves around them. And they're not even playing second fiddle. They're in a world of hurt."

"A&M has made its mark. A&M will never been irrelevant again. Will Texas stop being irrelevant? That is a better question?"

"A&M has best coach and best player in the state. And for the first time in my lifetime, they have the best program in the state."

Never miss the latest news from TexAgs!
Join our free email list