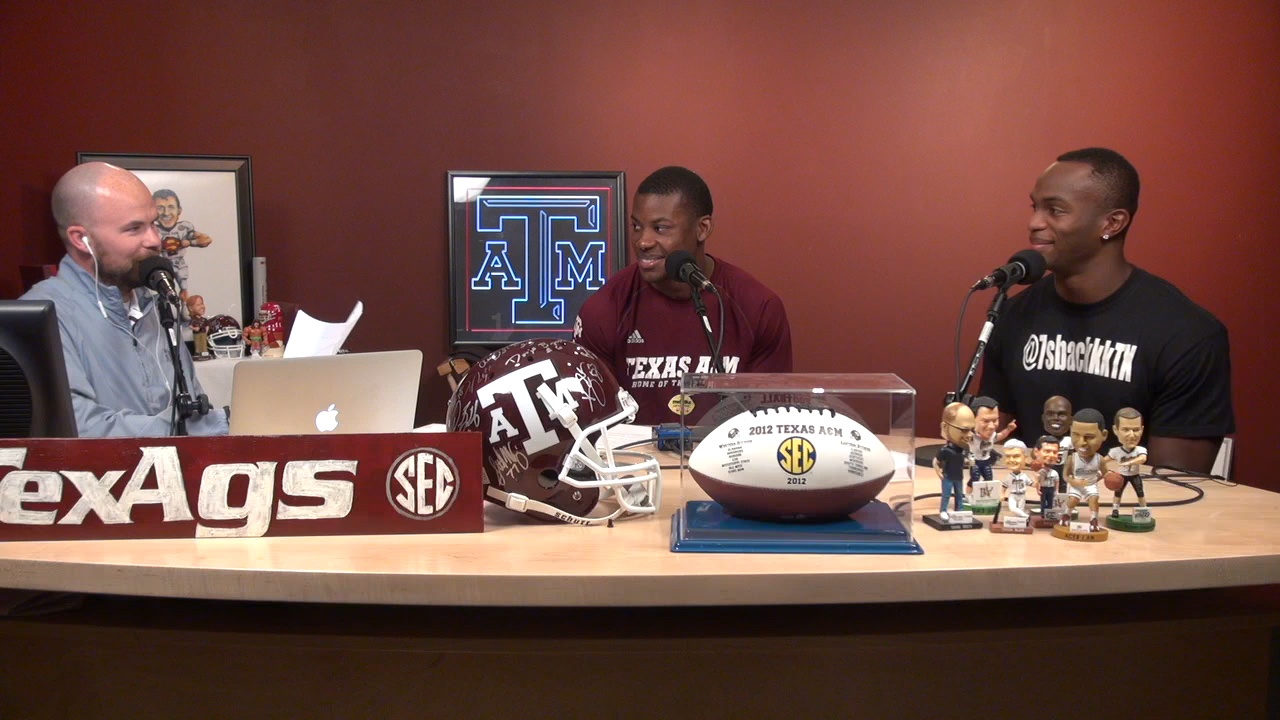 Texas A&M Football
Eazy Nwachukwu & Steven Terrell look back on time in Aggieland
---
Quotes from Eazy Nwachukwu
"Coach Jordan came to watch me in high school and wanted me to do 1-on-1s. I grabbed Steven and he got the better of me."
"My eyes were set on the Northwest a little bit when I was getting recruited, but I couldn't say no to A&M."
"I looked at Pro Day as a chance to show what I can do."
"Jerrod Johnson was with us step by step telling us how everything goes. He's been through it and helped us a lot."
"The thing about Allen is that it's basically already a college. They prepare you for everything that will be thrown at you."
"Steven is a guy that wont yell at you but if he needs to get on you, he'll get on you. He does everything the right way."
"All the exposure after my freshman year got to my head a little bit. I was lucky I had guys like Coach Sherman to keep me working."
"You think you're here forever when you get here as a freshman. The next thing you know, you're the guy leaving."
"We went through so many bad times in 2011 where we didn't make the plays. This group of seniors knew what we had to do to take the next step."
"Sumlin brought in a type of swag and confidence and expected us to win a lot of games. He thought we could win all of them."
"Spencer Nealy and Ryan Swope would give us one scream and we would be ready to go. It was time for the world to see what A&M had."
"One play that stood out to me most was when Swope scored the last touchdown against Ole Miss. It was his time to shine."
"Thanks to the Aggies for all the years and the great ride. We had so many good times and relationships we will have forever."
Quotes from Steven Terrell
"In middle school Eazy would score on the first play of every game, but my team would still win the game."
"Eazy works at getting better and has a passion for the game. If you can't find him, he's probably in the film room."
"College went by so fast. I still remember moving into Reveille Ranch freshman year. I'll be talking about my career forever."
"I got asked a million times if we were ready for the SEC. I wanted people to know we were a great team too. We had to show it."
"If I had to choose one word to describe the locker room before the Bama game, it would be 'confident'. We were ready to play."
"We won the Bama game in practice, not on Saturday. The scout team killed it that week."
"My favorite play of the season was when Matthews hit the receiver and Porter picked off the ball in the Bama game."
"Thanks for everything. It has been an honor to play at Texas A&M. I thank God every day to be around all the Aggies."
Never miss the latest news from TexAgs!
Join our free email list