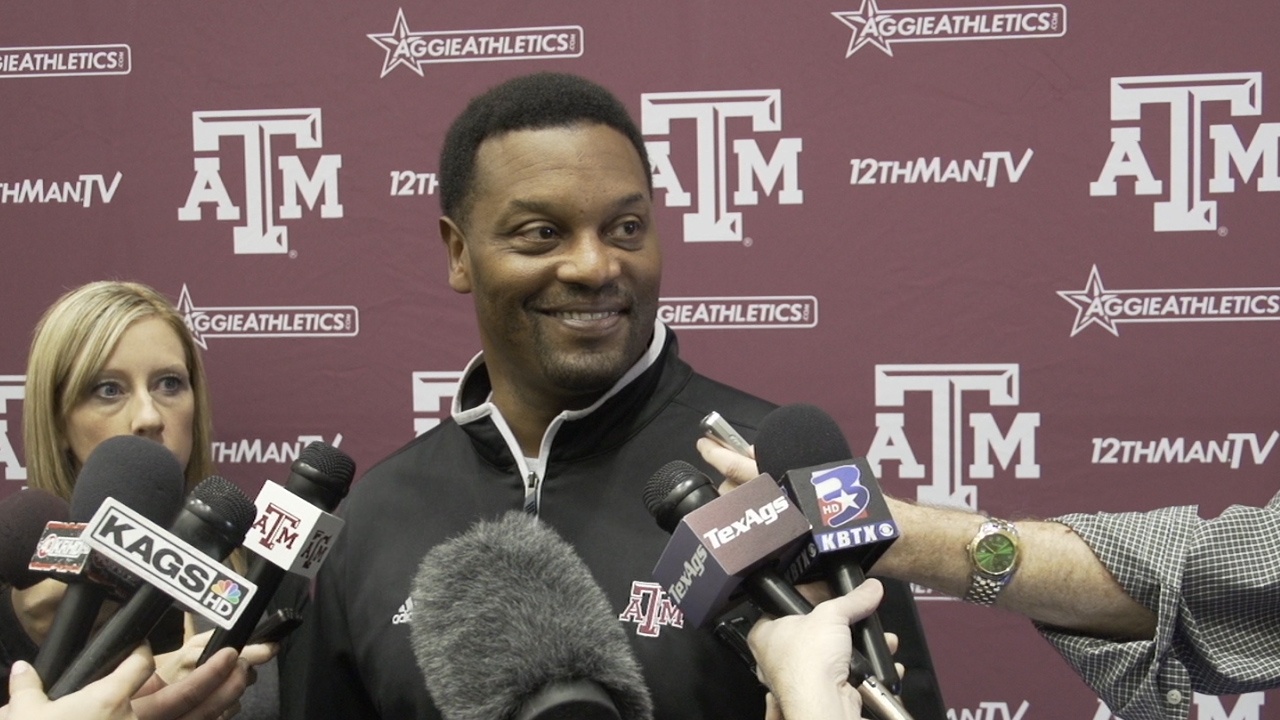 Kevin Sumlin
Christine Michael
Ryan Swope
Luke Joeckel
Damontre Moore
Dennis Allen
Texas A&M Football
Pro Day participants assess the day's results
---
See below for select quotes from the day; full interviews in the videos above.
Kevin Sumlin
On what kind of pro he thinks Damontre Moore will be…
"You utilize the bench press to get off the ground. I don't know. People have asked me today. There's a lot of people, with numbers, that put up pretty good numbers that don't end up playing at all. I think, for him, the key is going to be the evaluation off of video and how he played. Certainly people wouldn't regard him the way they do, as a projected first round pick, if he hadn't have played extremely well, so there's a combination of different thoughts, different opinions.
"I'm not a guy that's involved in the draft. Obviously, a lot of people have a very high opinion of Damontre and that comes off of the way he played, and he played with great effort, was extremely productive, and had a tremendous year playing for us last year. Based on that, all I can go off of is him playing football."
On what kind of pro he thinks Luke Joeckel will be and what it would mean if he went as the top pick…
"What it would mean is, it would be the third time in three years that we've had a first round draft pick. I think that's probably a lock as it is. The number one pick overall, that's another situation. Again, here's a guy who has had a really, really productive career, had a really, really strong season last year. He played very well in the Big 12, but moving to the SEC and playing against some of the top pass-rushers in the country, he played extremely will.
"Here's another guy that he's got the intangibles, he's got numbers, more than anything else, proved it on video that he's an exceptional player and is going to make a great pro."
On what he has told people about Christine Michael…
"I told them that he's extremely explosive. He's a guy that's got a lot of talent. I think the question was, 'Is he healthy?' And I think you can see he's very, very healthy now and I think he's ready to go."
On if there was any surprises at Pro Day…
"It's hard for me to say. There's always a surprise. It's kind of like college football. I tell you that every year. We sit there the first day and we always ask about the highest recruited guys and just like this team this year, we had a guy that nobody ever talked about, Julien Obioha, start every game for us and play every snap. There's probably guys like that out here right now.
"Steven Terrell has had a really, really good day today and guys are asking me about him. Here's a guy who has won a bunch of academic awards, he ran well, jumped well, did nothing but play good football for us. Days like today help people and that's the reason why we have Pro Day and I'm very, very thankful that we have the number of guys that showed up here today just to evaluate our guys. That's great for us."
On whether he thinks Ryan Swope helped himself…
"I think it shocked people that he ran as fast as he ran at the combine. That's one thing that helped him. His workout today probably helped him a little bit more. Most people think he's a little guy, just like I did when I got here. I didn't think he was going to be a big guy at all. (But) he's 6-0, 205 and he runs like that and can move and do those types of things. You put that all together and that's the kind of picks you're creating.
"That's why, like I said, that's why these days are important for people to see, because television only shows so much and in person, he's a little bit bigger guy than you think."
Christine Michael
On how pro day went…
"It was a blessing. We talked yesterday, it was just fun to be back with my teammates, fun to be back in this atmosphere. It was a blessing, man. I had fun."
On his personal grade and effort…
"I did well. I feel like we did well. We all did well. We all came out here, we've all been working out for the longest (time). We all just had to put it together, come out today and perform."
On how he feels at this point after all the injuries and adversity…
"It's a blessing man. Some would say it's a miracle; it's just more of a blessing to me because a lot of guys don't come back as strong. A lot of guys don't come back like they were before. It was just a blessing from God that I did (come back from both injuries). Like I said, it's just a lot of fun going on."
On possibly being back to 100%...
"Yes, I feel like I'm 100%. I stayed to train and rehab both legs to make sure they're good to not cause another injury or if I feel any pain, I'll ice them down. I take good care of my legs, man. I'm trying to take care of my body more going to the next level. I'll be OK."
On talking to teams who have asked about the injuries…
"Some asked, some haven't. But I feel like I've proved that at the East-West (Shrine Game), the NFL Combine and just put it all together coming out here."
Ryan Swope
On how he felt he did today…
"It was a good day. My goal was to just come out here and compete with the other guy and work hard. It was a good day for us. Jerrod was really spinning the ball really well. He looked great out there, along with EZ and Kenric and Christine Michael. We were competing and we were having fun."
On whether going through the combine makes Pro Day easier…
"Yeah, I think so. We all have that chemistry with Jerrod. He's just a good leader out there and we could just feel that vibe. The balls that he was throwing today were incredible. He was really spinning the ball well."
On if his 40-time at the combine surprised him…
"No ma'am, it didn't surprise me. My goal was to go in there and run fast and compete and try to be in the top five, top three, whatever it was. I was just trying to go out there and set the standards high and just execute everything. My technique was really well and I trained hard. I was just blessed. I'm real fortunate I got to go out there and get the job done. My goal was low 4.3's and I've had a few 4.2's hand-timed, so I knew what my standards were at."
On the responses from the NFL scouts after his 40…
"It's been positive. It's been real positive. Guys have come up to me, congratulating me. I think some people might be shocked. They thought I was a possession receiver, but like I said, it was an opportunity for me to go out there and showcase my speed."
On if he has gotten a positive review on his health…
"Yeah, I have. I've had a lot of great feedback and I feel really comfortable with my body right now. I feel the most comfortable I've ever felt. I'm 100% healthy and I'm feeling good."
Luke Joeckel
On how he performed today…
"I think I did good today, a lot of standing around and waiting for the position drills. There wasn't any testing (for me today), but I really felt clean in the position drills. Getting back and doing football things, that's my thing, not running on the track and all that. It was a fun day."
On the possibilities of being the number one pick…
"It's hard to swallow really. What an opportunity. I've been working hard every day to achieve that. It's still a long process until that. I've knocked out two things with the combine and now my pro day. However, I've got a much longer process with team meetings and such. April 25th, draft day, is going to be a big day. It's going to be a lot of fun."
On the advantages of playing in the SEC…
"Going against the best competition is going to get me ready for the next step. The guys I went against this year, five of them could go in the first round and I really think it has helped my game. Jake (Matthews) could say the same thing."
On how much his life has changed in the last few months…
"It's gotten a lot different. I always try to be the same guy. You can ask any of my friends, I'm still the same goofball, idiot that I've always been. It's just a lot different. Going away and training just for the combine all day every day for just 6-7 weeks was a lot different than I'm used to. Being away from my brother and stuff like that. I'm glad to be back in College Station for a little bit working out here. I'm going to be flying out to different places to see different teams but College Station is home again. It's nice."
On what it would mean to A&M to represent a top ten pick for the school for the third year in a row…
"It's huge. A&M, when Coach Sherman recruited me here, he wanted to put A&M back on the map. He wanted to bring notoriety back to A&M and especially in Texas and stuff like that. That's why I came to A&M, jut to be a part of that. Having three years in a row of that happening, and of course Johnny winning the Heisman, it's a great time to be here in College Station."
Damontre Moore
On how he performed today…
"I think I did alright. I got my bench press up, I had a decent time on the (shuttle). Drill work was all right, I tweaked my hamstring but I put my best foot forward. At the end of the day that's the best thing you can do and let God take over the rest."
On what teams think about him…
"Honestly, the feedback I've gotten is to work on my pad level a little bit. Really the main thing is I need to get healthy. I've been fighting through it and I've heard mostly positive things."
On what he expected to run in the 40 at the combine…
"If everything was perfect I expected to run in the 4.7 range, but unfortunately circumstances happened and I didn't get the numbers I would have liked to have gotten. But I felt confident about my game film, chasing receivers down the field all year. We just felt like I shouldn't run it today, because it would hurt me if anything."
On the best thing is he can bring to a team that drafts him…
"I'm just a young energetic kid, like a puppy. You know, you bring him home and you got him for a reason, he has a lot of potential and he does everything you like. But, you want to groom him and so he's just really eager to learn. I feel that fits me exactly and I'm going to work hard and run people down just like I have while I've been (at A&M). It's the same game, just a different stage."
On whether Von Miller has given him any advice…
"Yes, I'd say the most important advice he's given me is to do what I came to do. Most people have been doing this for at least 12 years or more than that. It's just another day. You've got your audience, smile, go out there and (play football). This is something you've been doing from day one, just the only difference is there's a bigger audience. But, if you don't look at it like that, things will take care of themselves."
Raiders HC Dennis Allen
On how good it feels to be back…
"Good. I don't recognize the place. I think it's been 10 years since I was actually on campus here, so it's impressive, all the things that they've done here as far as the facilities are concerned. I think its great for A&M."
On what stuck out during Pro Day…
"Obviously there is a lot of talent here, and watching the linebackers workout, I was impressed with the linebackers' workout. Obviously Luke (Joeckel)'s workout was a good workout. I'll tell you a guy that was interesting to watch work out was Ryan Swope. So this is really my first experience of really getting a chance to see these guys in person. So we'll get a chance to kind of go back and watch them. Watch the film and watch the video not only of this workout but really of the season and kind of watch how these guys play."
On Luke Joeckel as a pro prospect…
"Well, I think he was impressive on the tape. And just watching him out here and getting a chance to visit with him, I he's not only a good football player but he's an impressive young man. And I think that's the thing that, when you look at him, that's the thing that says he's going to make it in the National Football League"
On what was particularly impressive about Ryan Swope…
"Well I think when you look at him, just watching his athleticism, just how he runs and the way he runs routes, I thought that was impressive to see. You can see it on tape, his toughness and his love of the game, but really getting a chance to see him in person and seeing his athleticism was impressive."
On so many Aggies getting attention from the NFL on Pro Day…
"You know, it's good. I take a lot of pride in Texas A&M and still have a lot of affection for this school and the people here. It was good for me to get back and see a bunch of people here. There's a lot of people that are still here that were here when I was playing. So it's been a fun experience for me."
Never miss the latest news from TexAgs!
Join our free email list