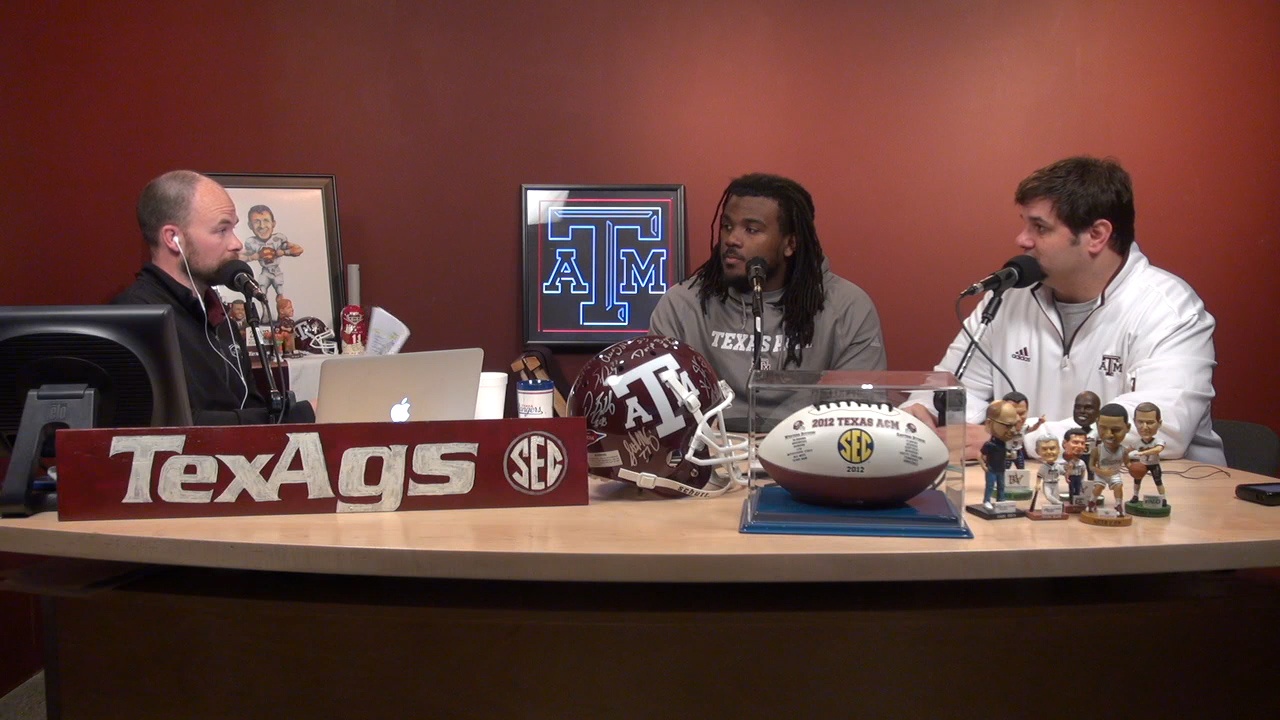 Texas A&M Football
Patrick Lewis discusses Pro-Day, his time in Aggieland
---
Key quotes from Pat Lewis interview:

"I have been training for Pro Day in Dallas. I wasn't invited to the combine, unfortunately, but we all have our different paths."
"[The NFL] is something [players] wait for their chance for their whole lives... and it's finally here."
"A lot of people weren't invited to the combine and have gone on and had successful careers. Hopefully I am one of them."
"Texas A&M is here. We have a lot of talent and we have displayed it."
"Winning the Co-MVP for the team meant a lot... it meant my team looks up to me."
"Coach Sumlin is a great guy. We relate on a personal level. He knows what we are going through right now."
"You have to praise him [Sumlin] for how he handled the team. We hopped on his train and he got it rolling."
"Coach Sherman is one of the best human beings I have ever met in my life. We still keep in contact."
"I like my chances [in the NFL]. I got to play in two different styles of offense... I learned a lot."
"Last year in the pro-style offense, I would hand over my tape from the K-State game. This year, I tell scouts to watch the Alabama game."
"Luke Joeckel should not be passed up... his first day was going up against Von Miller. His progression is incredible."
"The way that Luke jumped from high school straight to the college field is amazing."
"After the Florida game, I realized we could be pretty good. We only lost by 3 and it wasn't anywhere near a good game"
"Coach Sumlin said after the Florida game 'if you didn't believe me then, you can believe me now.' Then it just clicked."
"As a senior class, we made a vow to each other that we don't want to leave in tears.. unless they were tears of joy."
"We are brothers. We made a vow to be leaders and that's what we did."
"I feel like this year's offensive line will not have a drop off. They will just keep rolling... and get better from here."
"From day one, Johnny came in as a man of perfection. He wanted it to be perfect. He was almost like a coach."
"We knew what Johnny wanted. We played to his level. We didn't want him to be the only one making plays."
"Against Alabama... I'll never forget it... next thing you know we saw #2 fly by and he was gone. He does a good job."
"In 2013, I am excited to see Derel Walker get out there. He has some amazing talent... I'm ready for the world to see him."
"It took a lot of studying to transition to the new offense. I really had to focus. Once we got it clicking, we got it clicking."
"I appreciate [the NFL] giving me the opportunity [tomorrow at Pro-Day]."
Never miss the latest news from TexAgs!
Join our free email list