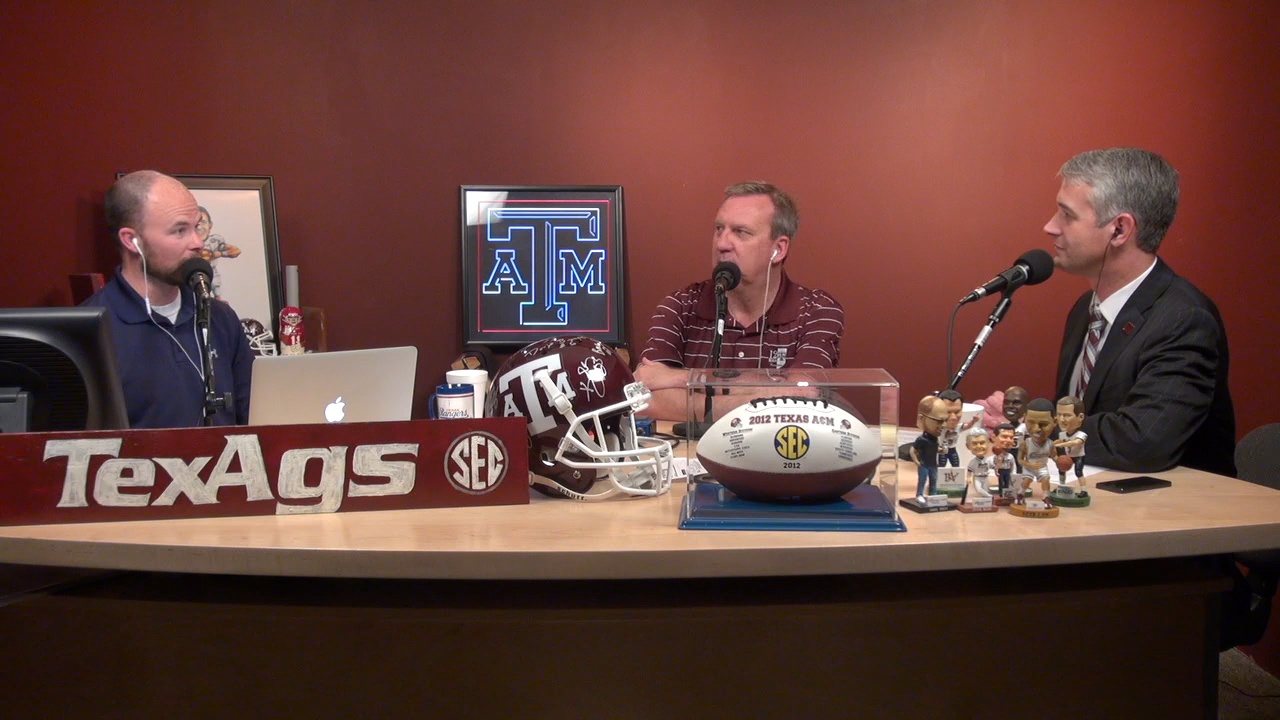 Texas A&M Football
Jason Cook - aka "The Master" - talks marketing moving forward
---
Key quotes from Jason Cook interview:

"I was excited for our team for winning International Brand Master. That includes all the marketing professionals across campus."
"We were running national commercials in SEC games in 2011. We were posting on other SEC fan sites. Lots of brand building went on before SEC play."
"TexAgs played a big part in winning the award. An online fan vote was 20% and the TexAgs community stepped up."
"Commissioner Slive later found out about the award and decided the SEC needs to do what A&M is doing, both in terms of the brand but in academics as well."
"The SEC was very proactive and decided to stop rushing the court/field in all sports. No one wants to pay the fine."
"A&M jersey sales, including all numbers, brought in $44,563. People think millions are out there for Manziel to have a cut of."
"We're having 'ESPN day' in April. Two hours of spring game coverage and two more of softball on the main channel."
"Elston Turner deserves all the love the Aggies can give him on senior night tonight."
"The SEC splits up the conference basketball tournaments. The women will be outside of Atlanta and the men in Nashville."
"Ryan Swope is a great ambassador for A&M and the SEC. We need people to vote and share the link on Facebook."
"We reached out to SEC schools on the vote. They were excited to help last year, but after the season they aren't so helpful."
"The LSU rivalry is going to grow. It's not just about football. It can be about basketball,we know it will be about baseball."
"One thing people will look back on in Slive's tenure is the lift in academics in the SEC. A&M and Mizzou are both AAU schools."
"There is not another conference in the country that is doing as much for academic progress as the SEC."
"Spring retail product has shipped, but the big push will be around the time school starts in August."
"There are products from other schools not moving off the shelves which is affecting our ability to get new product in stores."
"In the past, we used to have to pay incentives for people to partner with our brand. Now people are coming to us."
"Sales of A&M licensed product from Under Armour is up 53% this year."
"We're at a different place than last year. We've introduced A&M on a national stage and now we're getting our message out."
"Our tailgating at A&M has grown. Sept. 14th will be absolutely crazy and tailgating at Spence Park will continue to grow."
"The lone star logo is something we rolled out in our move to the SEC. It's very important to claim Texas for A&M and the SEC."
"The lone star logo is a secondary mark, but it's not going away. We're actually amping it up a bit."
"We got an exemption from the SEC in order for the corps to chase down the yell leaders on the field after a game."
"It's a great time for A&M. We need to sell out Kyle Field for the Maroon and White game."
Never miss the latest news from TexAgs!
Join our free email list