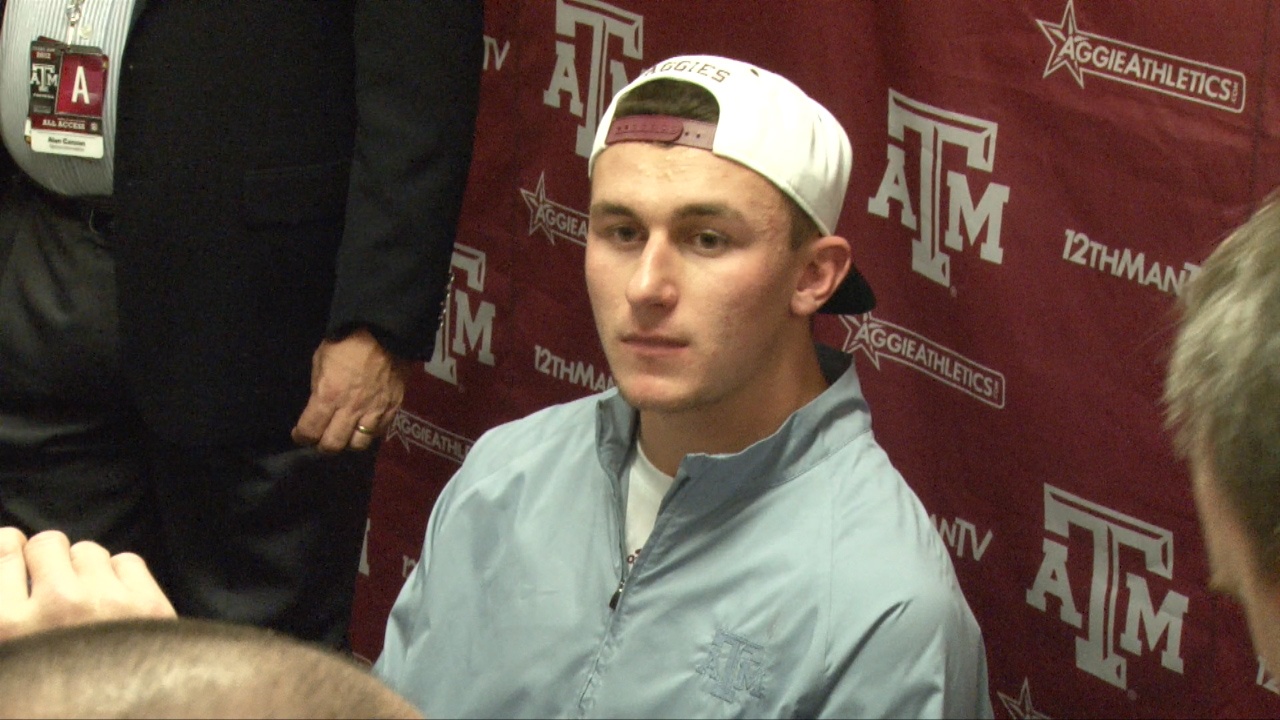 Manziel Video
Manziel Audio
Texas A&M Football
Johnny Manziel meets with reporters at halftime of A&M vs. UF
---
Note: Video file is only a portion of interview ... full audio also available.
On whether he pays attention to what players like Russell Wilson and Collin Kaepernick are doing in the NFL…
"Of course. The way they play impacts my life in the future. When you watch what Wilson and Kaepernick have done this year, you see the change in the NFL and what you can do with a mobile quarterback. For me, even though that is down the road and not really a focus to me, I still look at that."
On his conversation with Texas A&M AD Eric Hyman…
"I had a talk with Mr. Hyman before the Heisman [presentation] and he's had some contact with my parents. But I don't feel like I'm doing anything extreme. I'm getting everything taken care of in my life first and foremost and I'm having a good time with the free time that I do have. I'm still a normal college kid. He's the athletic director and we respect his opinion. I talked to him and you listen to what he has to say. He's a big influence in my life."
On being back in College Station after nearly a month away…
"I'm very glad to be back. The past couple of weeks have been very hectic for me. There was a point there where I couldn't wait to get back to College Station and get back to a regular life. It was good to get back to school and have some normalcy with that."
On whether he's spoken to Notre Dame's Manti Te'o since news of the girl friend scandal broke…
"I have not. I was with him on Saturday and Sunday at the Walter Camp Awards. I talked to him just as normal and just as any other day. He's a great guy."
On his reaction to the Te'o news…
"Just like anybody else's. My mind was blown. My roommate and I saw a Tweet and it told us to look on the Internet. My roommate told me, 'You'll never believe what just came out.' Nobody could believe that. It was a shock to the entire sports world, and being the sports fan that I am, I was just as shocked as everybody else."
On what the focus will be for the team heading into the spring…
"There are a lot of things [to work on] as a team. I sat down and talked to Coach [Larry] Jackson yesterday just about how important this is. A lot of people want to talk about being a top ten team in the country and one of the best teams in the country. For us, we need to do it and we need to live up to what we say we're going to do. For us, moving forward in the off-season, it's big for us to implement what we want to do moving forward."
On being ranked number one heading into next year by a couple of publications…
"It is what it is. We were [not ranked] going into the year. If we're [ranked high] next year, we're going to treat it the same way. We're going to come out and play like we have a chip on our shoulder regardless."
On head coach Kevin Sumlin being deserving of the national coach of the year award…
"It's awesome what he's done with this team. The transition that it took being a first year coach and then having us adapted to Coach Sherman [was difficult]. For Coach Sumlin to come in and do the job that he did with players that he didn't recruit here … and with the way that he's handled this team and this year and how the season turned out, he's very deserving of whatever comes his way."
On whether he needs to be more careful on the Internet in light of the Te'o news…
"I think so. The Internet is a tricky, dangerous place for sure. We see that time and time again. For me, it's definitely something where I might have to hit a save on a draft every now and then on a Tweet. If that's the worst that comes out of it then I'm okay with that."
Never miss the latest news from TexAgs!
Join our free email list